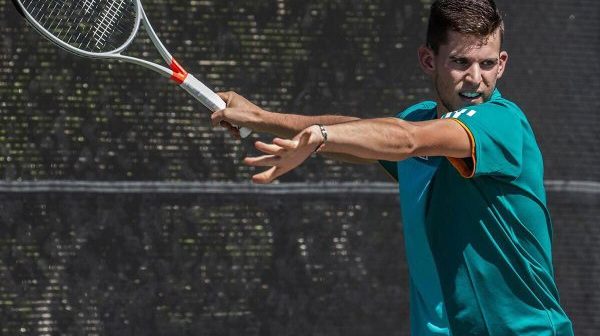 The interest around both Babolat's new racquet, initially titled Project One 7 and it's main ambassador, Austrian wunderkind Dominic Thiem, has been massive. Thiem rose in the rankings like a wildfire last year and ended up inside the top ten (currently he's at 8).
So the stakes are high this year. Will he live up to his massive potential? For Babolat I'm sure this is a big question as well, since Thiem has the potential to become a racquet poster boy with his new Babolat Pure Strike (they say Thiem still uses the old model under the new paint job, but it's not confirmed – what is true however is that it has a 18×20 string pattern).
Thiem is deceptively strong and creates massive racquet head speed in his big swings and that's what makes him exciting to watch. I think he's pretty much the perfect ambassador for the Babolat Pure Strike
 and Babolat desperately needs to reignite the model after the "failure" with the previous, in most players view, rather "boardy"-feeling racquets.
Thiem is stringing his Babolat Pure Drive with Babolat natural gut
in the mains and RPM Blast
in the crosses (you can buy this in a hybrid set
 as well). This gives him an arm-friendly, yet control-oriented setup.
NOTE: Recently Thiem is rumoured to be testing out a full setup of Babolat RPM Blast instead of the hybrid with gut.
The Babolat Pure Strike has received rave reviews and seems like a great modern weapon for an attacking tennis similar to Thiem. If you've tried the racquet, let me know what you think in the comments field.
Here are the strung specs of the Babolat Pure Strike 98
Specifications
Head Size: 98in²/630cm²
Length: 27in / 68,5cm
Weight: 11.3oz / 320g
Unstrung Weight:
10.8oz / 305g
Balance: 33,02cm / 4 pts HL
Unstrung Balance:
32cm / 7 pts HL
Swingweight: 323
Stiffness: 67
Beam Width: 21.3mm / 23.3mm / 21.3mm
Composition: Graphite
Racket Colours: White/Orange
Grip Type: Babolat Skin Feel
String Pattern:
16 Mains / 19 Crosses
Mains skip: 8T,8H
String Tension: 50-59 pounds / 23-27kg