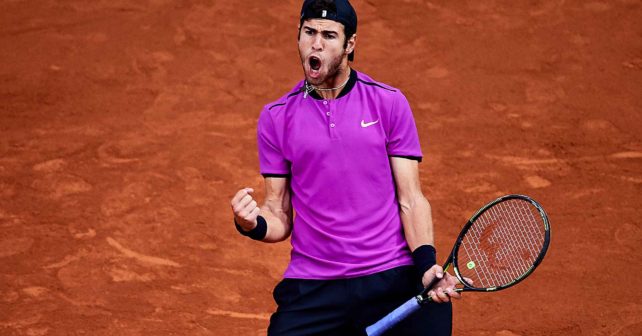 Karen Khachanov is a promising 21-year-old Russian tennis player who just beat Tomas Berdych in the French Open. What racquet does Khachanov use?
Khachanov is using the Wilson Blade from 2015
with 18×20 string pattern. Weirdly, Wilson hasn't given him a paint job version of his racquets for the French Open and so he's endorsing an older model than the current line with Countervail or the limited edition with reversed colours (read a review for the Wilson Blade with Countervail here).
It is even weirder that he was using the Wilson Blade Countervail paint job earlier in the year as you can see in the below paint job. Does this mean he tried the new Countervail series but didn't like them or that he's superstitious or is his racquet really a pro stock version, for example a Wilson H22? If you want to know more about pro stock tennis racquets, I suggest you read this post.
A lot of pro player racquets are a complete mystery since it is rarely what you see, but what is underneath the paint. If you want to read more about the racquets of the ATP professionals, I suggest this post.
And if you know more about Karen Khachanov's racquet and strings – feel free to add your thoughts in the comments below.
Here are some facts about Karen Khachanov:
BIRTHPLACE

MOSCOW, RUSSIA

RESIDENCE

DUBAI, UNITED ARAB EMIRATES

PLAYS

RIGHT-HANDED, TWO-HANDED BACKHAND
Karen Khachanov is currently ranked 53 in the world and has won one ATP title in Chengdu last year.
If you're interested in the Wilson Blade 98
or another tennis racquet, below are some articles to get you started.
Racquet buying guides
Here is a great racquet buying guide to get you started.
What tennis racquet should I buy?
Top tennis racquets to buy right now
The Gear of the Year 2016
Tennis racquets for juniors
Tennis racquets for kids