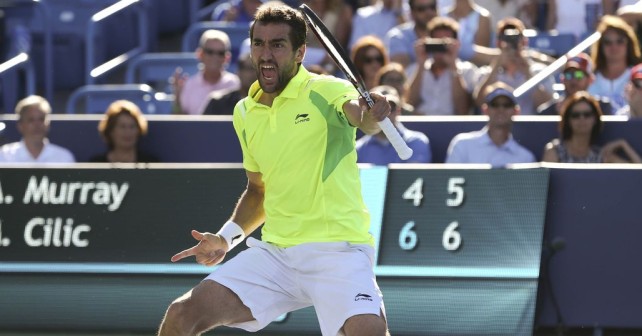 Marin Cilic become more than a one-slam-wonder yesterday when he won the Cincinnati Masters title, beating Andy Murray 6-4 7-5 in a match where he played close to the form of his 2014 US Open title.
A lot of people are wondering what kind of frame gives Cilic the power to hit through the court and his opponents like that? I can tell you it's a quite powerful frame, but not from the stiffness, but from being quite heavy in the head. The paint job is a Head prestige graphene
xt mp (he used to use a Radical paint job for a long time), but the model is a pro stock with the code TGK 231.3 which means it is the mould from a Head Microgel Radical MP with an open string pattern.
I used to own and use one of Cilic's actual frames and another TGK 231.3 and they are really nice-playing frames with nice feel, but also good spin. There was a quite a bit of lead tape on Cilic's frame which increases the swingweight and makes it play more powerful, but without lead and silicone it wouldn't be the same. The Head Microgel Radical MP
is one of the most popular "platform" frames which are great for customizing with lead and silicone (or blu-tack). Cilic's frame also has a custom molded L4 grip, not in the rectangular Head shape, but more Wilson-like, similar to the TK82S pallets. (Since it doesn't come with pallets, you can't change the grip size.)
If I remember correctly, the specs were around 350 grams strung with a balance around 32,5 cm. He uses Babolat VS 16 Natural Gut in the mains and Big Banger ALU Power 1.25 in the crosses. Tension around 25-26 kg depending on conditions.
Here are some pics of my Cilic frames: