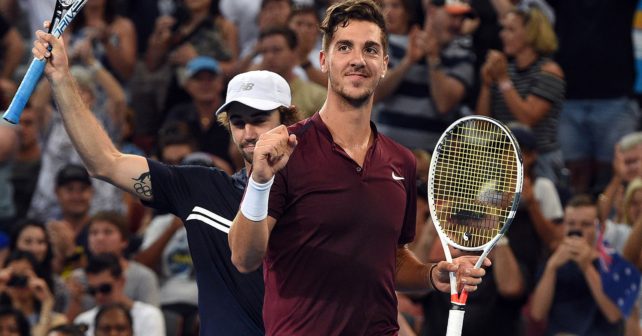 Talented Australian Thanasi Kokkinakis has returned to the ATP Tour with a different racquet than his previous Babolat Aero Pro Drive. Now he's using a Babolat Pure Strike 18×20 strung up with Babolat Pro Hurricane Tour 17.
Kokkinakis is a talented player who was pretty all of last year due to injuries (shoulder, pectoral and groin injuries). Let's see what results he can produce in 2017. This is how he commented on the challenges for this year:
"Health, that's literally it," he said. "I know my level and know I can get back up there pretty quick but you can't do that if you're not on the court. It's only up from here."
I think he's right about that. At the time of updating this post he has a challenging match ahead of himself against Juan-Martin del Potro (read about Del Potro's racquet here) in the first round of Wimbledon. He's using his Babolat Pure Strike 18×20
strung with Babolat Pro Hurricane Tour
. If you want to read more about the well-reviewed new Babolat Pure Strike, read this post (the racquet was previously called Babolat Project One Seven) although it's focused on the 16×19, the difference in string pattern is not very big since the 16×19 pattern on the Babolat Pure Strike is quite tight in the center.
Both Thanasi Kokkinakis and Del Potro's toughest opponent is their health and let's hope they can both remain injury-free for the rest of 2017. Tennis is a tough sport on your joints so rest, recovery and fitness is becoming increasingly important every year.
If you're interested in what racquet Kokkinakis best buddy Nick Kyrgios is playing with, read this post. And if you want to buy the new Babolat Pure Strike 2017, these are some preferred partners that you should check out:
WHERE TO FIND THE BABOLAT PURE STRIKE 2017
Europe
Racquet Depot
Pro Direct Tennis
USA/CANADA
Tennis Express
Do It Tennis
Amazon.com