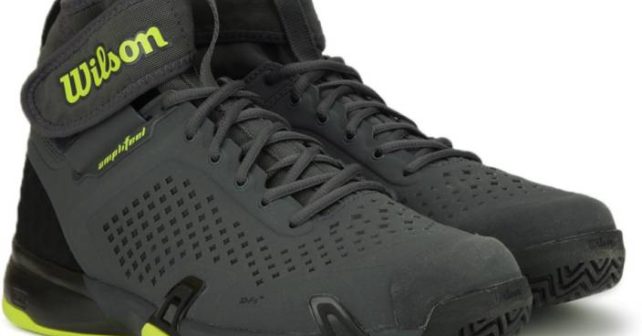 Wilson were kind enough to send me some Amplifeel shoes for testing. The Wilson Amplifeel tennis shoes is for sure a funky-looking shoe, taking inspiration from Air Jordans and other high-tops.
If it's good-looking or not is highly subjective of course. Same goes for how the shoe plays, but I hope my review can shine some light on pros and cons with the Wilson Amplifeel shoe that was previously tested and used by Jeremy Chardy.
What is the point of the "shoe sock" that makes the shoe more difficult to put on? One word: stability. And it does work, if you have any ankle or achilles heal related problems, the Wilson Amplifeel shoes could be your best friend because you do get massive support with these shoes and they feel lighter than they look on the feet although they are by no means a light "speed" shoe.
I've used the Wilson Amplifeel shoes
for a couple of hitting sessions and I do enjoy them quite a bit. Not as much as my beloved Asics Gel Resolution 6
to be honest, but I have slightly narrow feet so they just fit me better. I used to be use the Wilson Rush Pro 2.0
, which is a great shoe, but I think I had the same issue with those shoes as I have with the Amplifeel ones – they didn't breathe well and my feet ended up sweating far more than they usually do.
Since I have only played them for about six hours or so, I can't say much for the durability of the shoe, but I have a feeling that won't be an issue. The shoes also come with a six month outsole durability guarantee.
Here is a short clip from the first hitting session with the Wilson Amplifeel shoes:
Regarding comfort, which is a key factor to most tennis players when using a tennis shoe, I'd say the Wilson Amplifeel shoes, are quite comfortable (not as much as the dreamy Nike Vapor Tour 9.5
for example, but I have other issues with those shoes), but I'd definitely urge you to try them on before committing since it's a unique shoe in the market place with the mid-cut and the "sock". Also, people with narrow feet have complained about toe-jamming with the Wilson Amplifeel shoes, but I haven't experienced any of that so far personally.
On another note, I think it's smart to really spend time choosing a good tennis shoe for you. This website usually writes mostly about racquets and strings, but the shoe and your body is in general vital for your enjoyment of the game, although it's not as fun shopping for shoes as it is to buy and play-test a new tennis racquet.
What tennis shoes do you use and what do you like about them? Please comment below!
WHERE TO BUY THE WILSON AMPLIFEEL SHOES
Europe
Racquet Depot
Pro Direct Tennis
USA/CANADA
Tennis Express
Do It Tennis
Amazon.com