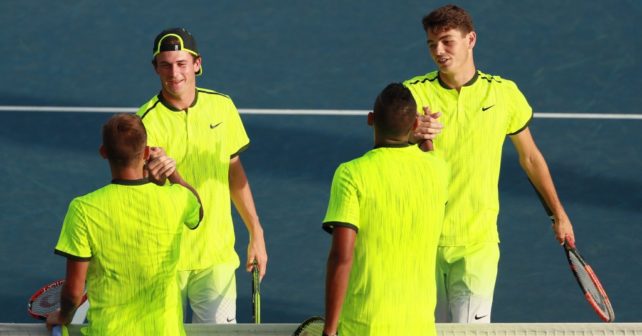 I've gotten some questions from friends who watch tennis on TV why the players are wearing the same design outfit during the match, sometimes making it difficult to make out who's who.
The answer is really quite obvious, yet the question makes sense. Let's say Nike sends the same kind of outfits to their sponsored players Jack Sock and Nick Kyrgios. Sock and Kyrgios are obviously then under contract to use this gear for the entire tournament, well likely longer than that. This makes sense. Nike wants recreational players to buy the gear their favourite players use.
But what doesn't make sense is that they don't use alternative gear in case their opponent is also sponsored buy Nike and wears the same outfit. This is what I don't understand. This happens in football and should be quite easy. The rule could be that the name on the left of the draw sheet wears the original kit and the guy to the right wears the secondary/alternative kit. Or something. This is not rocket science and will make tennis look more interesting for the casual observers as well as less ridiculous for us die-hard tennis fans.
Nike is not the only company that does this, but it's the most aggressive with its sponsoring so this is where the risk is the biggest that two players will wear the same outfit. They could at least have different colour-ways so one players wears pink and the other player the grey outfit with the same pattern? Just like promising Belorussian player Ilya Ivashka and Kyle Edmund below.
This is not a huge issue obviously, but I guess I'm just wondering why the sportswear companies are not bothering with this since it could be quite easily fixed.
What do you think about the issue with the same outfits on court. And what did you think of Nike's most recent line of tennis wear as seen above? Please let me know in the comments below!
***
Do you like Tennisnerd? Don't miss a word or video by stalking us on social media. Every like and follow is appreciated!

YouTube
Instagram
Twitter
Facebook Page
Amazon Influencer
Buy tennis gear
EU
Racquet Depot
Pro Direct Tennis

USA
Tennis Express
Do It Tennis
Amazon.com
Racquet buying guides
Here is a great racquet buying guide to get you started.
What tennis racquet should I buy?
Top tennis racquets to buy right now
The Gear of the Year 2017
The Gear of the Year 2016
Tennis racquets for juniors
Tennis racquets for kids
Popular posts
What the ATP pros play
Questions about pro stock tennis racquets
Is a pro stock racquet better than a retail one?
Do professional players change racquets?
Racquet Commitment Issues