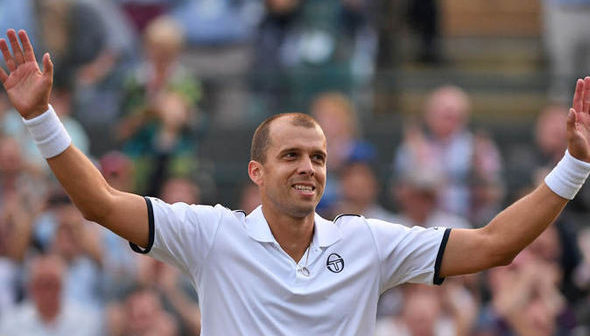 In my predictions ahead of the tournament I had a hard time seeing Nadal go far in the Wimbledon draw. And in a marathon contest, he lost to Gilles Muller in five seats.
Gilles Muller is having the year of his life (read about his racquet here), he has won two ATP tour titles (the first ones in his long career) and yesterday he beat Nadal (read about Rafa's racquet here) with the amazing scoreline 6-3, 6-4, 3-6, 4-6, 15-13 after four hours and 47 minutes.
"I haven't really realised what just happened. It's a great feeling," said Muller after his win where he was two sets up and Rafa came roaring back to push the match into a fifth set. It was impressive to see Muller hold his nerves and fighting off a number of break points and being able to stay focused and fit and beat one of the best competitors in the sport.
Rafa hasn't had a good run at Wimbledon since 2011 so this is no shock to most of us, but after his fantastic season so far and his impressive first couple of rounds, it wasn't impossible to see him winning yet another slam. But against a big server on grass, you need some free and easy points and Rafa's game doesn't allow him that.
Now Muller goes on to play Cilic (racquet info here)  in the quarter-finals.
In other matches on Manic Monday in Wimbledon:
Federer played his fedtastic best and demolished Dimitrov in straight sets. Murray looked super solid against Benoit Paire in his straight sets win, Berdych squeaked out a five set win against Dominic Thiem, Raonic won in five sets against Alexander Zverev and Cilic beat Bautista-Agut easily.
Today we have the postponed match of Djokovic vs Mannarino to look forward to.
No next generation players in the quarter-finals? A slight disappointment. The familiar Wimbledon quarter-finals line-up shows how hard it is to beat and become one of the top players in the game.
What do you think of the Wimbledon quarter-finals? Please comment below.