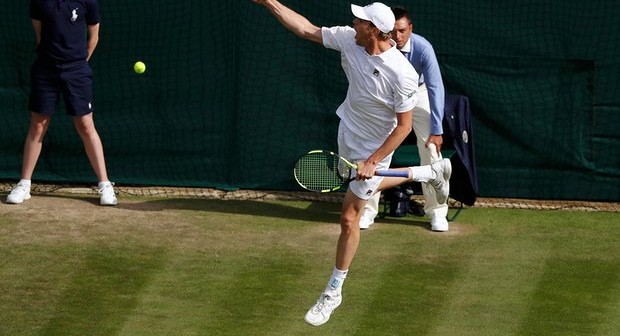 In my predictions I gave Sam Querrey a 40% chance to finish what he started against the world number one, Novak Djokovic. Djokovic had done it before (against Kevin Anderson last year) and like I wrote on Twitter:
"Djokovic will come back poised & with a clear strategy while Sam will feel like he can lose a lead, when before he had everything to win."
I really believed it too. But despite losing four straight games and the third set after they had resumed play, Querrey find his way into a tie-break in the fourth, which was extra impressive since Djokovic served for the set at 5-4. And in that tie-break he proved to be the strongest. He for sure had some luck on the way, but by playing aggressively and taking his chances he proved that he deserved to win the match (7-6 6-1 3-6 7-6).
What was most surprising in this match was Djokovic's lack of effort in the second set. Maybe he was shellshocked from the first set loss or something just misfired mentally, but it was odd for a player of his calibre and form to get so lost after a pretty normal first set loss in a tie-break to a big server. It's hard for me to understand how he lost that set 1-6 in the end.
What happens now? My pick to win the tournament is still Murray, but I really hope Federer can find his way to his 18th slam. Time will tell. The only thing we can know right now at this edition of Wimbledon is that it's going to rain.