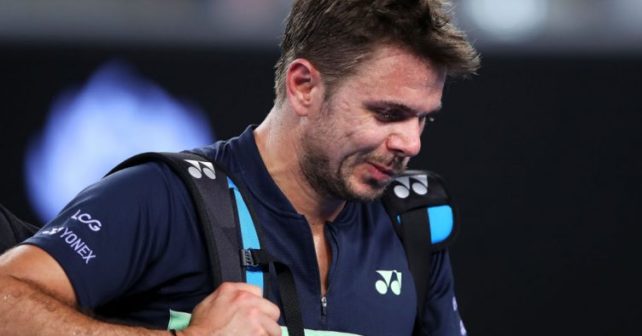 The plague of injuries on the ATP World Tour continues, Stan the Man has just revealed that he's out until the clay court season. And he's not alone.
This means that he will skip two twin Masters series tournaments in Indian Wells and Miami. Stan said: "Unfortunately I need to announce that I won't be able to play in Indian Wells and Miami. They are both amazing events but coming back from a big surgery is complicated and after having discussed with my team that it is best for me to build on the progress and go back to practice. I've enjoyed being back on tour matches and this gives me even more motivation to go back on the practice court. My goal is to find my highest level again and in order to do I will keep working hard every single day."
"I'm playing to be patient and give my body the time it needs, but as of now my goal is to come back on clay. I love that part of the season and hope to be ready by then. I want to thank all of my fans who are always a great support. I'm working hard on and off the court and hope to be back within a few weeks."
Stan joins a whole group of players that will pull out of Indian Wells: Andy Murray, Jo-Wilfried Tsonga, Richard Gasquet to name a few. Big question mark also if Novak Djokovic will be ready for the tournament that he has won so many times.
Rafael Nadal pulled out of the Abierto Telcel 500 ATP in Acapulco, Mexico earlier this week so there is also a question mark if he will be able to play Indian Wells or Miami. Most experts seem to agree that it would be a sensible decision for him to wait and recuperate in time for his favourite part of the season – the upcoming clay court tournaments in spring where he usually dominates.
I've written quite a lot about the increasing injuries on the ATP World Tour lately and I've wondered and keep on wondering what can be done to reduce this kind of dropout due to hurt players. Because it's definitely not good for the sport to have such a decimated field for a couple of the most important tournaments of the years. This begs to ask the following questions:
Is the tennis calendar too long and gruelling?
Are the new strings and equipment increasing the speed and physicality of the sport too much?
Do players need to be much more careful about their scheduling and if that is the case, will the way tour points are calculated need to reflect this change?
Would be interesting to hear your opinions here! Please comment below!
Possibly there is a combination of all of the above. Since most of your readers like tennis gear, I think definitely there is a point to the use of stiff poly strings and the wear and tear they have on the body. I think most of us could happily use softer strings like multifilaments
and natural gut
and still enjoy and play our best tennis.
***
Do you like Tennisnerd? Don't miss a word or video by stalking us on social media. Every like and follow is appreciated!

YouTube
Instagram
Twitter
Facebook Page
Amazon Influencer
Buy tennis gear
EU
Racquet Depot
Pro Direct Tennis

USA
Tennis Express
Do It Tennis
Amazon.com
Racquet buying guides
Here is a great racquet buying guide to get you started.
What tennis racquet should I buy?
Top tennis racquets to buy right now
The Gear of the Year 2017
The Gear of the Year 2016
Tennis racquets for juniors
Tennis racquets for kids
Popular posts
What the ATP pros play
Questions about pro stock tennis racquets
Is a pro stock racquet better than a retail one?
Do professional players change racquets?
Racquet Commitment Issues