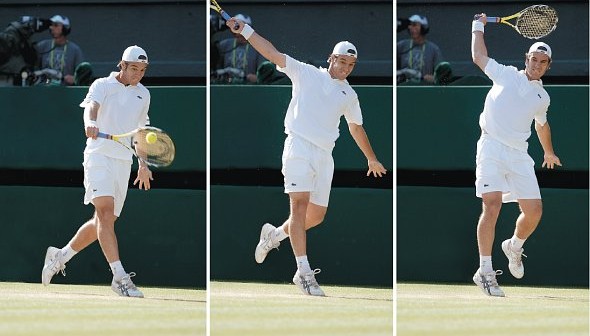 It's the shot that most people have great trouble executing properly – the backhand. Then you look at guys like Novak Djokovic or Andy Murray (double-handed backhand) or Stanislas Wavrinka or Richard Gasquet (one-handed backhand) and it looks so damn SIMPLE!
So how do you improve this often weaker wing? Well, you obviously have to make sure you practice it. Most people tend to avoid hitting the shot even in practice, because they're scared of fucking it up. Fear never got you anywhere in life, right? Hitting a backhand requires footwork and some technical basics, but the main thing is to put trust in your shots and that's all mental.
Okay, okay. Not everything's mental, because it's hard to build confidence in a shot without practice. Maybe I should rephrase that and call it determination. You need to be determined to improve your tennis, not always looking at the scoreboard.
If you're playing a league match or the club championship, this might not be the ideal time to dare the shot that you fear, but any kind of practice session or match you should focus on getting that glaring hole in your shot repertoire fixed. Tennis will be much more fun if you're not feeling like a beginner on one wing and a pro on the other (I'm not saying it's that bad for you, but for many club player it's exactly like that).
And there are things you can do to improve while sitting at your desk, you don't even need to go to the court. Here's my list of off-court and on-court tips to improve your tennis game.
1. OFF-COURT: Watch a lot of tennis videos and really study their shots. I suggest looking at a few practice videos of your favorite players. You can check out the Tennisnerd Youtube channel for a start (slowly building on it).
2.ON COURT: Tape yourself using your iPhone, digital camera or whatever recording object you have (mini-disc won't do :)). Then watch and see if you can identify where you go wrong. Are you really moving your feet properly in preparation for the shot? Are you starting your backswing early enough?
3. OFF COURT: Check out these excellent videos on backhand technique:
Coach Kyril's Two-handed Backhand Tip
James Jensen's Ultimate Backhand
The One-Handed Backhand Grip
How to Master the Basic One-Handed Backhand
Tennis Tips: One-Handed Backhand
Tennis Tips: Two-Handed Backhand
4. ON COURT: Get a ball machine and practice, practice, practice.
5. ON COURT: Play practice points where you're only allowed to hit the backhand.
6. ON COURT: Hit backhand to backhand with your hitting partner. This will give you more than another practice set where you both get nervous and stop hitting the ball properly.
More to come! Stay tuned /TN.