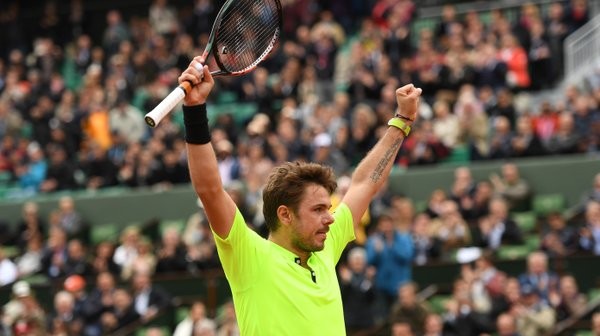 Stan Wawrinka has one of the biggest backhands on the tour. What racquet does he use to hit it? He endorses the Yonex VCORE Duel G 97 but plays the Vcore 95D.
(If you're interested in what racquets other ATP pro's actually use...read this.) If you want to know which tennis racquets you should get, they're are plenty of information to guide your decision in the posts in the bottom part of this article.
Stan Wawrinka advertises and endorses the Yonex VCORE Duel G 97 (330g) but plays with the Yonex Vcore 95D under a paint job. The Yonex VCORE Duel G 97 (330g) is a fine racquet in its own right if you can handle the weight. It really crushes the ball in Stan Wawrinka style with ample spin. If you think the 330 gram version (unstrung) is too heavy for you, you should check out the popular and well-reviewed 310 gram version: Yonex VCORE Duel G 97
Lite which offers similar playing characteristics but where you have room to customize it to your own preferred specs using lead tape
.
Being a Yonex sponsored player, Stan Wawrinka uses Yonex tennis apparel
and the excellent over grip Yonex Super Grap
. Yonex are usually adamant that their sponsored players use all Yonex gear, but guys like Nick Kyrgios have apparel and shoes by Nike etc.
If you really want to have the exact same specs on your racquet as Stan Wawrinka, then you should get a Yonex VCORE 95D and customize it to the beastly specs below. It's going to require some good technique and footwork to swing that racquet however!
Below are Stan the Man's real specs according to the Tennis Warehouse forums:
[Photos courtesy of ProStringing]
Stan Wawrinka's real racquet specs:
Racquet: Yonex vcore 95D
Paint Job: Yonex Vcore Tour G (330)
Headsize: 95 Sq Inches
Weight: strung: 372 grams (with overgrip)
Balance: 32.1 OR 32.3
Swingweight: 359-360
Stiffness: 63-64
Lead placement: 3 & 9 O'clock
Leads length: 5 inch
Grip: 4 3/8
Replacement grip: Yonex leather
Strings: Babolat RPM Blast 16g
String Pattern: 16×20
Tension: 27 KG(61 pounds) /25 kg (57 pounds)
Places where you can buy the Yonex Vcore Tour G and other tennis racquets.
EU
Racquet Depot
Pro Direct Tennis
USA
Tennis Express
Do It Tennis
Amazon.com
Racquet buying guides
Here is a great racquet buying guide to get you started.
What tennis racquet should I buy?
Top tennis racquets to buy right now
The Gear of the Year 2016
Tennis racquets for juniors
Tennis racquets for kids