Coach Evan Gaudreau is back with a match analysis of the French Open match between Sloane Stephens and Diane Parry.
Sloane Stephen vs. Diane Parry
Match Analysis by Coach Evan
Ps. Read more from Coach Evan here. We also did a recent podcast together here. Ds.
"I don't always drink, but when I do, I drink Dos Equis!"
Translation!
"I don't always watch the WTA tour, but when I do, I watch Sloane Stephens."
She's a pure ball striker. Anisimova is another one. I followed both on Instagram for a bit, but it got a little "chicky" for Evan the Meathead.
But that's neither here nor there and….
"When the money is gone, it is time to move on."
And, with all good ball strikers, there lies two worlds: the technical world and the strategy world.
I forgot to mention that good ball strikers tend to be "natural" athletes. Whatever that means.
They're athletic. Whether you believe they were born that way or molded is a moot point. Tennis teaches us that you don't have to be the most athletically gifted athlete to play at a high level. It also has a funny way of holding ball strikers in purgatory. Ball strikers tend to spend too much time on feel and how everything looks.
Aesthetically.
Which mirrors their Instagram posts.
Ball strikers smoke winners
Ball strikers generally have a checkered past too. That's why we delve into the swing and master the mechanics.
It's our way of escaping.
It's our way of happiness.
And it's a world we can control.
When I was a young player, I cared more about how my stroke looked and the shots I could create from "odd" locations than winning. It drove coaches crazy.
"Evan, you should've beat this guy one and one."
I shrugged.
"Seriously."
"Did you see the backhand I ripped down the line at three-all?" I said as I rehearsed the shot in my mind.
"Who cares? You lost that game."
"Or the backhand snapper I smoked crosscourt for a winner?"
The thought of the ball scooting by my opponent made me smile.
"Why are you smiling? If you were smart," the coach said frustratingly, "you would have won the match quicker. Instead, you play dumb shots."
"You're just jealous you can't do the things I can do with the ball."
"You're just stupid."
Trigger word.
"Fuck you," I said and walked away. I'm not proud of my language, but I don't mess around when the PTS trigger is activated.
Anyway.
All I knew was that I was happier when I hit great shots. I liked being able to show what I could do with the ball. Coaches tried to take that happiness away, verbally saying stupid crap, nonsensical selfish rants.
It's probably why I like to listen to the same song repeatedly until I hear all the pieces.
The guitars, the drums, the bass, and the lyrics.
Isolating each piece.
Right now, I'm listening to The Gaslight Anthem, "Dark Places."
Listen to this song.
Seriously!
Listen.
My my first girlfriend was my tennis racket
"My first girlfriend was my tennis racket," I used to joke with my buddies.
It's crazy, right? But there are only a few people worldwide who would understand. I had to "break up" with the technical world and move on and start "dating" the strategy world.
And let me tell you….the "break-up" was tough.
This is why I pick on players like Felix Auger-Aliassime. He's in love with his swing.
Haha. I can't help but laugh.
It's funny when I see myself in other players.
Why do you think Kyrgios travels without a coach?
Ok. OK.
Match time!
Back to the match and what a one-hander!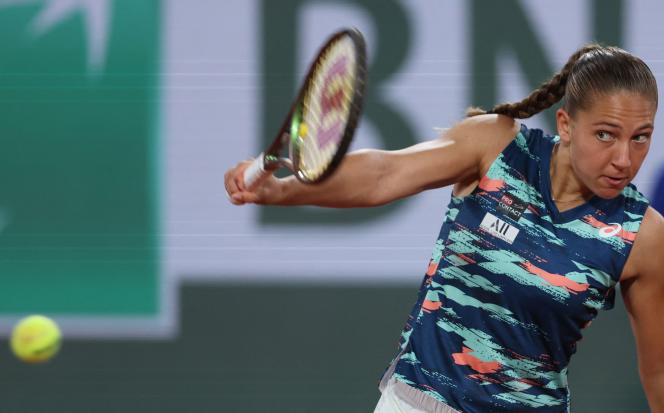 Diane Parry has a one-handed backhand.
How do you get after it?
Players with one-handers are "different." On and Off the court.
Generally, righty one-handers like the middle of the Ad side and create havoc from there with their forehand.
One-handers spend a lot of time training in that spot, so you have to put them on the edges (and sneak some droppers to the deuce side service box).
Notice the way Parry takes the racket back. All I see is thought.
A lot of thought into the swing.
Side note.
What's cool when coaching is when you see the player's eyes open a little more….like the lightbulb went on.
How many coaches have burnt bulbs?
Lots.
Both players are thinking about their shots…but Sloane has more life experience and she thinks more tactically now than years ago. She has made the transition mentally, but that "old feeling" will come back now and then.
Perfection.
Technique.
Sloane has the right focus
Sloane is getting it. She's focused more on her patterns than on her technique….then the process is belief in the plan.
Players at home stop focusing on stats and the scores.
The drills to take away from Sloane is to "tap" the center of the court and then hit the sides….but keep the rally going. If you pull the player off the court, tap the center, recycle the rally, and move them to the other side (or back).
There are many variations.
You can open it up and play until one player hits five winners and then switch roles (one player can only hit to the Deuce or the Ad side of the court).
You can also play open on both sides of the court.
Another drill is opens. Make a box on both corners on the Deuce and Ad sides and move the player back and forth.
Cut the Baseline on the other side of the court into "Fours" and have you or the other player hit from that spot, controlling the other player.
You can also do this with Fed ball to hit out on the ball and not have to worry about it coming back.
I call that drill "Cleaners" Or "Smokes."
It's fun to just "release" the swing.
I don't have all the time in the world. I have to go to work.
But I'm leaving you with homework.
Go watch the movie "Good Will Hunting."
Worst case scenario, watch the video scene "perfect for each other." That scene will give you a glimpse into what perfectionists think. I think it's funny that a movie made more impact on my life than a person.
P.S.
The song was good, right?
I wouldn't steer you wrong!