I have been testing two excellent bags from a smaller brand called ADV. A racquet bag and a backpack. This is my ADV Jetpack Backpack Review.
ADV Jetpack Backpack Review
I am a sucker for bags. I rarely travel to the tennis court with a backpack, but I know many that do. With the impressive pockets and features of the ADV Jetpack backpack, I might reconsider for times I don't need many racquets for testing, but at least I will bring it with me on my next flight.
I have never seen so many pockets in a backpack. The people behind ADV have thought of everything. Shoe compartment, cooling, cover for racquets, a holder for your laptop, water bottles, keys, passports…I am not joking that this is the most complete tennis backpack I have seen. Definitely worth checking out if you want a full-featured backpack for the tennis court (and your tennis travel).
You can get the Jetpack Backpack here. Use the code TENNISNERD10 for 10% off.
ADV Jetpack Backpack Video Review
Exterior Features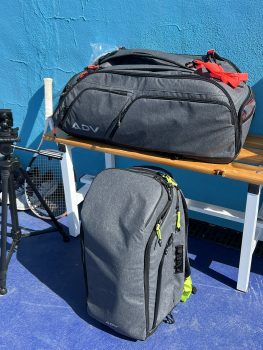 – Racquet Cape: Holds 1-3 racquets of your choice. You can cover your racquets from frame to handle OR use the handle latch only without the cape.
– Quick-Access Pocket: Phone, keys, wallet, two separate pockets with a velcro seal. Keyring clip. Mesh zipper pocket.
– Insulated Waterproof Cooler: Cheers! Store drinks and snacks here, or store your favorite jacket or hoodie for easy access.
– Bag Hook: Lob onto a fence, locker, hanging hook, or closet rod.
– Side Stretch pocket: For bigger water bottles, tripods, and yoga mats. The clip strap holds the item in place.
– Utility Loops: Easy to show your badges, credentials, key loops, etc.
– Laptop Sleeve: Padded sleeve holds up to 16" laptop.
– Bag Straps: Adjustable. Softly cushioned and hidden card compartment.
– Raised Air-Mesh Cushions: Airy ventilation after a match and plush support to added comfort.
– Luggage Loop: Give your shoulders a break on trips and rest your bag on your luggage handle.
– Shoe & Sweat Compartment: Dedicated, ventilated shoe compartment with a shelf for sweaty clothes.
– Match Tough Durability: Kordra nylon is lightweight yet military-grade weatherproof material.
– Standing Ovation: Stand up the backpack and grab what you need while keeping your posture
Interior Features
– Spacious main compartment: 15-liter main compartment for match or travel wear.
– Tablet/Portfolio pocket: Keep essential files, journals, tablets, or e-readers here.
– Side panel pockets: Store dampeners, grips, wristbands, socks, etc.
– Soft interior pocket- Soft velour lining protects valuables like rings, jewelry, and watches.
– 2 Large Mesh Pockets: Holds toiletries, sunblock, or medications.
– Shelving System: Once you hang your bag, your gear is easily visible and accessible.
– Laptop Access: Access your laptop from the main compartment.
Specifications
– Length: 21″
– Width: 12″
– Depth: 9″
– Volume: 26L
– Weight: 2.9lbs