I have been testing two excellent bags from a smaller brand called ADV. A racquet bag and a backpack. This is my ADV Jetpack Pro Review.
ADV Jetpack Pro Review
I tested the first version of the ADV Jetpack and loved the sturdy yet compact feel. Yes, I have special needs in terms of bags as I bring so much stuff to the tennis court, but for almost any other tennis player, the ADV Jetpack will be fine.
This Jetpack Pro V2 is even better than V1. They have listened to the feedback and it shows what an excellent product you can make when you listen to your customers.
The bag is still a bit too small for my needs, but I think pretty much everyone else will love this bag and the smart, elegant design it has.
You can purchase the Jetpack Pro V2 here. Use the code TENNISNERD10 for 10% off.
ADV Jetpack Pro Video Review
New features
– Added length for a better fit. Now holds up to 6 racquets and extended frames. (This was my only real peeve of the first version, so glad they fixed that!)
– Straps that can be detached and carried from the front, back, or removed altogether.
– Large main compartment with mesh side pockets for extra clothing, balls, racquets, and trophies.
– Secret stash pocket for cards, cash, and cryptocurrencies.
– You can now tuck the shoe compartment lining in the mesh door for more main compartment space.
– Utility loops to clip on your keys, bag tags, and your tourney creds.
– An even studier Tarpaulin backing to handle all court surfaces.
– A bigger side panel holds your match journals, important papers, laptop, and/or tablet.
– Even more subtle branding to make your game the center of attention. Not a walking billboard.
These are the features that remain from V1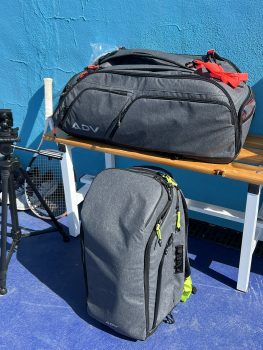 – Hook the bag to a fence to keep it free from court debris.  Stand it up to grab gear, and go.  Or lay it down the traditional way.
– Built-in cooler.
– Smooth gliding, luggage-quality YKK zippers to access each compartment.
– A weatherproof, durable, military grade Korda nylon outershell to keep your gear safe.
– Side organization panel to quickly store and find all your small gear.
– Quick access pocket for your phones, keys, wallet, etc.
– Separate dirty (or clean) clothes from everything else in a secret compartment.
– Reflective logos to be seen night
– EasySpot neon inner lining to help you quickly find gear
Specifications
– Length: 29.7″
– Width: 11.5″
– Depth: 12″
– Volume: 62L
– Weight: 3.6 lbs