Fellow tennis nerd and buddy Henrik Wallensten is back. This time with a Slinger bag review, the most popular ball machine in the world?
This Slinger Bag review was done during a week where Henrik got to borrow and test the Slinger Bag from FK Sports Nordic. Henrik has now reviewed this product for the Swedish Tennis Magazine as well as Tennisnerd. Word over to Henrik.
What is it?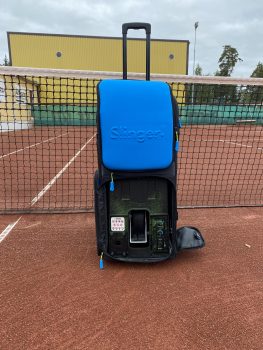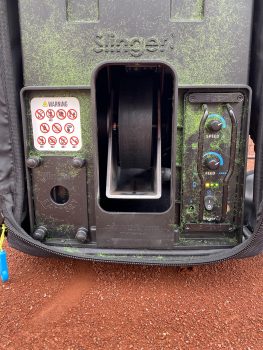 I get a lot of questions about ball machines, but I can't give any straight answers since my experience is limited. The Slinger Bag is a portable ball machine that looks like a large sports bag with big wheels and a shoulder strap. In Sweden, they deliver the Slinger bag complete with a lot of accessories as well as 50 Wilson Triniti balls, an oscillator that allows the machine to shoot tennis balls from side to side, a remote control, and a ball collector tube. You can adjust the angle of the balls from a degree to 40 degrees and also adjust the velocity to simulate anything from hand-fed balls to regular hard-hit baseline strokes.
How does it work?
Hard-hit and heavy groundstrokes are something frequently stated by players who have tried the Slinger bag. It produces a really heavy topspin on the ball and if you do 50 shots in one sweep with the oscillator function, you'll get pretty tired. It's a really nice training session because the heavy topspin forces you to really move your feet and prepare your shots properly if you don't do that, your strokes will suffer, and you will hit the ball late because the ball kicks off as soon as it hits the ground.
The battery is removable and lasts for around three hours of usage. The machine weighs 15 kg and can shoot out balls in velocities between 16 to 72 km per hour. The ball container holds space for 144 balls.
Features and accessories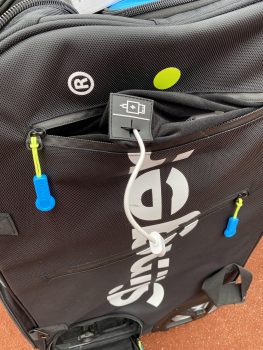 Remote Control
Oscillating Base
Telescopic Ball Tube Pick-up
Phone/Camera Holder
USB Charging Cable
1 Large Gear Compartment
4 Zipped Side Compartments
Rechargeable Battery
3-hour Battery Life
1-Year Warranty
Specs: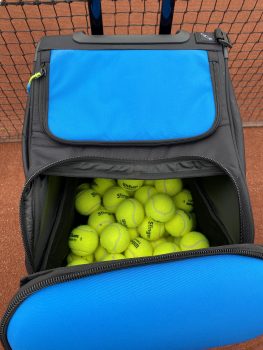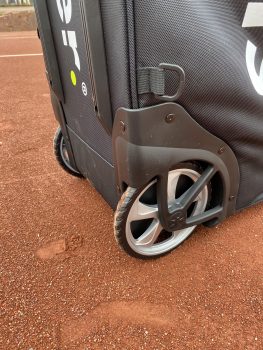 Weight: 15 kg
Speed: 16-72km/h
Battery Life: 3 hrs
Ball Capacity: 144
An appreciated machine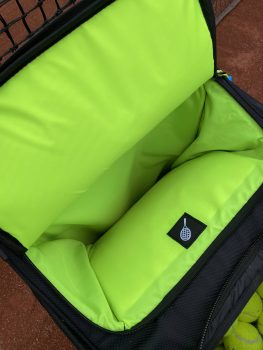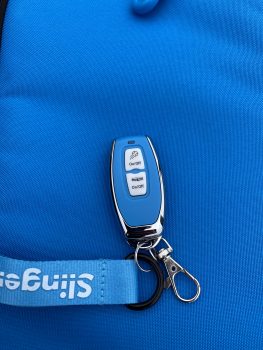 One smart and appreciated function is the USB output, where you can charge your phone while practicing. Speaking of a mobile phone, it also includes an attachment on the telescope-style handle to film yourself while training with the Slinger bag.
Overall, this machine was appreciated by all the players I tried it together with. It's a great accessory for improving your tennis. It might not have all the functionalities of more expensive ball machines, but it does the job, costs a lot less than most machines, and is easy to transport to and from the court.
You can buy the Slinger bag from Tennis Only, Tennis Warehouse Europe, or Tennis Warehouse.
Have you tried the Slinger bag?