I've gotten some requests to talk about what tennis balls you should use. I have ordered a variety of different tennis balls to get going.
There are different things to consider when you consider the question of "what tennis balls should you use?" My number one tip is to not go for the cheapest possible ball. That will give you a less consistent bounce and durability. As long as you go for a quality ball, you should be fine. But some balls are made for clay, some are made for hard courts, some are better for ball machines and there are even balls made to play on higher altitudes.
Tennis balls for kids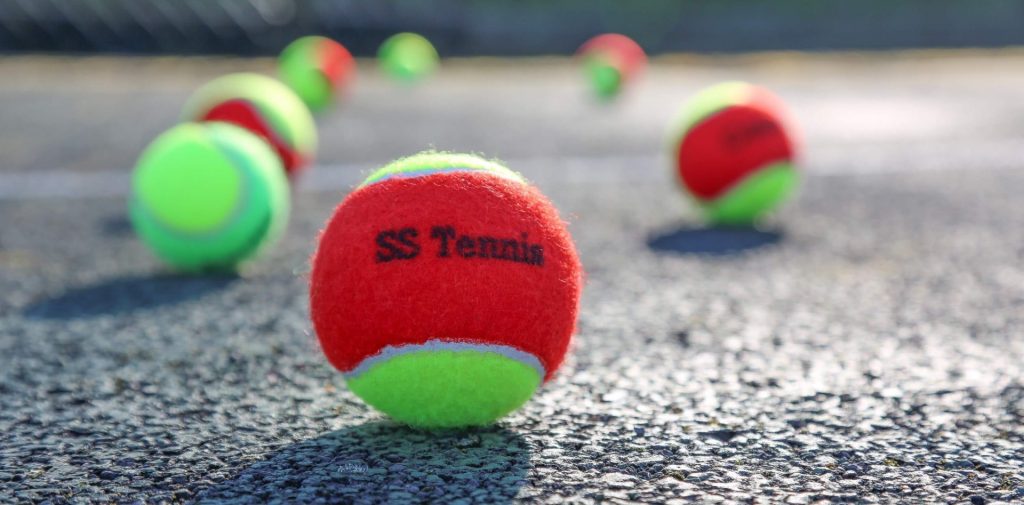 We should not forget that kids and juniors should play with different balls until they turn around 12-13 years old (depending on their physical ability/size). Ages 3-5 should use foam balls, ages 6-8 should use red dot balls, ages 9-10 should use orange dot balls, and ages 11-13 should use green dot balls.
What's the difference between a premium and a budget tennis ball?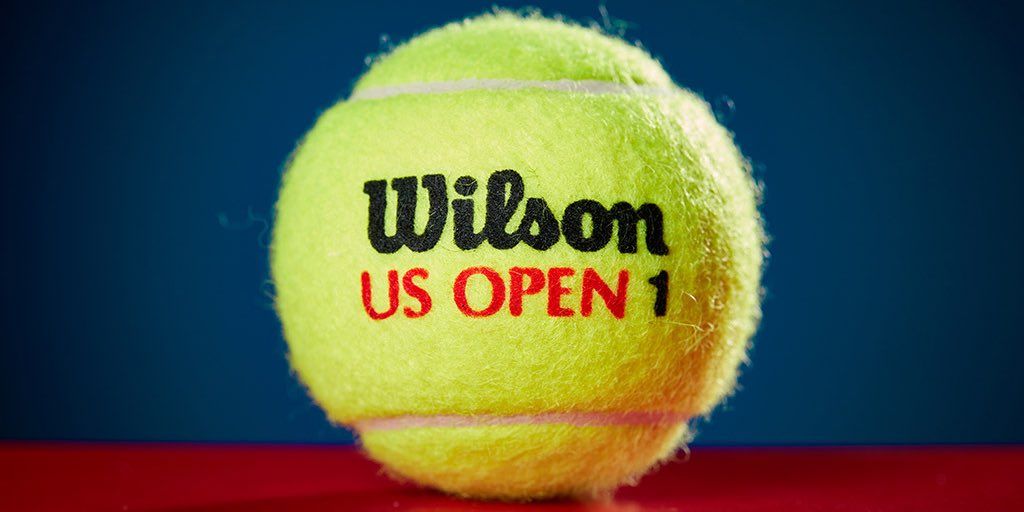 A premium ball offers more natural wool and woven felt for better durability, resiliency, and consistency. Believe me, it's worth the extra money if you can spend it. Premium balls all have a higher concentration of natural wool fibers and are made with a woven construction; similar to how a premium rug is made from weaving the materials together.
Pretty much every and any ball brand offers a premium tennis ball. I have written about HEAD Tour XT before, which is one of my go-to-balls but I also like Dunlop Fort All Court and Wilson US Open. You can find all these balls at my affiliates, Tennis Warehouse, Tennis Warehouse Europe and Tennis Only.
Budget balls are made out of synthetic fibers and a so-called needle-punch construction. You can play tennis with them, but you won't get a nice, consistent bounce and they won't last as long.
There is also an in-between solution called, which the tennis manufacturer industry has agreed (?) to name Championship. You'd think championships are the best balls, but these are slightly better versions of the entry-level balls. They are not as good as premium balls, but a better budget option. Just look out for the word "Championship" when you're shopping. Examples are HEAD Championship, Wilson Championship, or Babolat Gold Championship.
What is the difference between a clay court ball and an all-court ball?
In Europe, they sell tennis balls for clay courts and so-called all-court balls. The differences are not huge. A clay-court ball is woven to stay cleaner and not absorb as much dirt/clay as a regular ball would. I also feel like a clay court ball lasts a little longer overall, but that might be my imagination.
In the US, the ball categories are not broken into clay and all-court, but extra duty and regular duty. Extra duty is more durable.
Pressureless balls vs Pressurized balls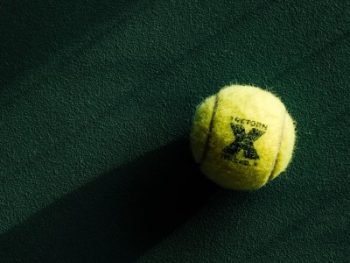 There are mainly two types of tennis balls: pressureless and pressurized. Besides the felt and the rubber core, this is the main component of a tennis ball: air or gas.
Pressureless balls are made of synthetic fibers and generally have a heavier, firmer feel due to the thicker core construction. I'm not sure if the Wilson Triniti Pro balls are any different, but I will know once I get around to reviewing them.
Pressurized balls are the most common these days and the only ones used on tour. They always come in a pressurized container that will give you a nice exhale-sound once you open it (feels like opening a can of beer :)).
Most pressurized balls are filled with air and have an air pressure rating of around 0.83 bar and 0.97 bar (12 and 14 PSI).
What about the rubber core?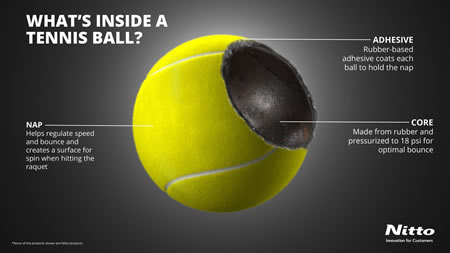 The rubber core of a tennis ball is made from natural rubber derived from rubber trees. A typical location for the sourcing of rubber is Thailand.
What does all this mean for your tennis ball buying?

Different balls perform in different ways. Some love lighter, livelier balls that bounce a lot straight from the can (I have experienced this with Babolat balls for example), some enjoy a heavier, slower feel (HEAD Tour XT is a good example), and some prefer a harder, firmer ball (Wilson US Open). I find a good compromise between slow and lively to be the Dunlop Fort All Court, which is one of my favorite balls along with the HEAD Tour XT.
I have also noticed that balls that come soft and ready to be played out of the can, like the HEAD Tour XT, are more likely to be gone in a shorter time than a ball that is a bit firm at first but softens up. I think the idea with tour balls is that they should be consistently playable from the get-go and not change too much during play. This is where both HEAD Tour XT and the Dunlop All Court are remarkably consistent. I also like Wilson US Open, but I feel they play a bit better after the first hour.
Like with tennis racquets, it's all a matter of taste. Some balls are better on faster courts, some on slower courts. You ideally want a softer, livelier ball on a cold day and a heavier, slower ball on a hot day for example. This works the same way as it does when you adjust your string tension to the climate. You'd ideally want a lower tension on a cold day and a higher tension on a hot day where the ball travels faster.
The pros are picky!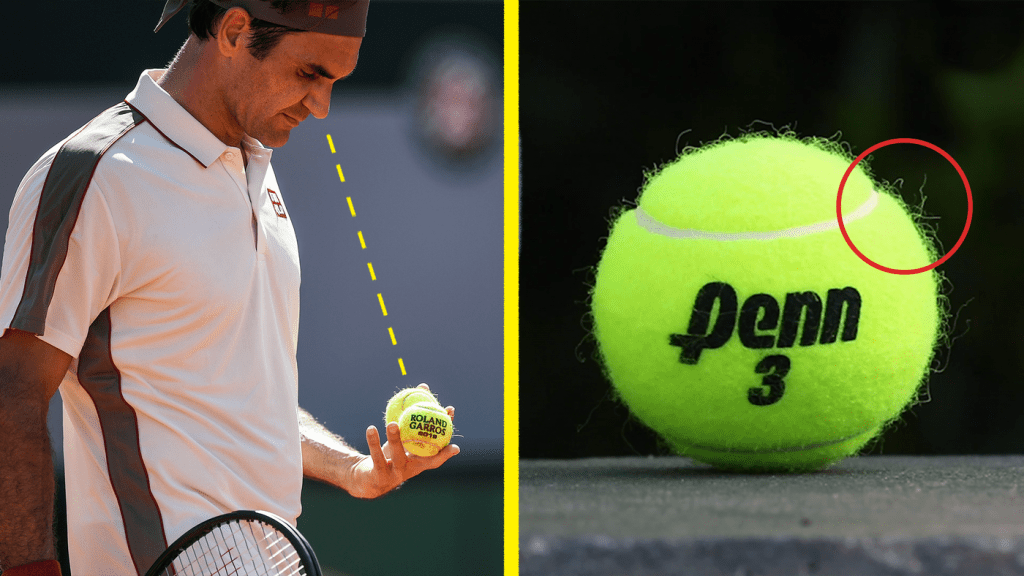 Tennis professionals live on the margins. It's a centimeter here and there. It's about who is the most zoned-in player on the day, but it's also about the gear. There is a reason they tend to show up with a few different tensions ahead of a match. To be able to adjust the power level based on the conditions and how they're hitting that day.
Tennis pros are also notoriously picky about the balls they're using. Different tournaments use different balls and this can become a hot topic before a Grand Slam or a tour event. Rafa was quite vocal about the balls used during the French Open a few years back, but he is far from alone. Players like to voice their opinions on balls and courts. A slow court and a slow ball can be a pain to play for some players who like to be aggressive, while a fast court and a fast ball typically favor the bigger servers and strikers.
It's all in the details!
Ps. You can find all these balls at my affiliates, Tennis Warehouse, Tennis Warehouse Europe and Tennis Only. Ds.
Now I'm keen to hear, what is your favorite tennis ball and why?