Sustainability is the word these days. Wilson launched their Naked racquets and their Triniti balls. Now it's time for HEAD Reset balls.
The HEAD Reset balls are a part of HEAD's ongoing "Rethink" initiative. Trying to find more environmentally sustainable solutions to manufacturing in an industry that creates a lot of waste. Tennis requires strings and balls to be replaced frequently and is pretty bad for being sustainable. It's not an easy problem to fix because you might have a performance problem as soon as you start looking into more natural products.
HEAD are honest in saying that the HEAD Reset balls are more for coaches and recreational players. You won't see these semi-pressurized balls on tour anytime soon. Like most non-pressurized or semi-pressurized balls, they don't give the same bounce, spin and feel as pressurized balls. If you want to learn more about tennis balls, check out this video.
HEAD Reset balls description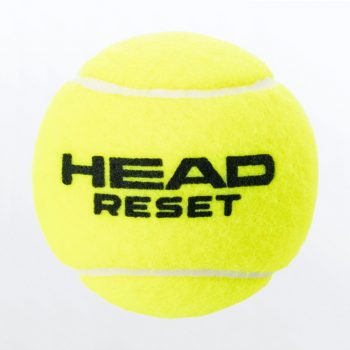 This is the product description on HEAD's official website.
Intense research and development and extensive testing have gone into developing the HEAD RESET Ball, a more sustainable choice for coaches and recreational players. As part of HEAD's RETHINK project to help reduce the sport's environmental impact, this semi-pressurized and durable ball has a special compound that includes pre-consumer recycled material. The special compound extends the life of a ball with 50% lower air pressure than standard tennis balls. The 4-ball carton is made from 100% recycled materials; instead of paper coating, the colors are printed directly onto the carton.
The price for a pack of 4 is 8 euros, which competes well with the Wilson Triniti, which retails for €8.50 on Tennis Warehouse Europe.
I will see if I can get a sample of the HEAD Reset line of tennis balls in the future. I'm a big fan of the HEAD Tour XT ball, which is one of my favorite tennis balls, but this one has a completely different target group. Comparing it to Wilson Triniti and Triniti Pro, could be interesting though.
Have you tried Triniti or Reset balls? What tennis balls do you play with otherwise?