I am starting to suffer a bit from soreness in my right arm. Nothing serious yet, but it has made me focus on string setups for tennis elbow.
Tennis can be a pretty injury prone sport and this time all the testing of different strings, racquets and grips have made my arm sore. I haven't suffered from problems of tennis elbow until I increased my testing of new gear. It will likely require me to structure my reviews differently and focus on string setups for tennis elbow (for a period).
I generally like a stiffer string bed and a controlled feel. The Wilson Pro Staff Six One 95 is one of my favorite racquet lines of all time and in the video below, I use one of beloved 6.1 95 nCode edition racquets with a hybrid of Luxilon Natural Gut and Luxilon Alu Power. (If you want to check out the Six One 95 Pro Labs edition, click here. ) But it's not the most arm-friendly racquet, especially if you string it with a full bed of polyester string.
Ways to help your tennis elbow heal
If your elbow is not so severe that you can still play, I really recommend trying one of these things.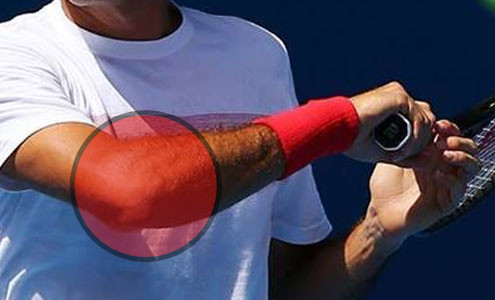 Use a full bed of natural gut or multifilament. In the video I use Tecnifibre Triax and Luxilon Natural Gut. Both are great.
For more control, add a softer poly to make it into a hybrid setup. I like rounder polys so they don't saw into the softer string.
For more spin, use a polyester string, but string it at a low tension. You can go really low and still get control with poly strings, but you need to hit with top spin. I have used tensions down to 42 lbs and my arm has felt great and I have gotten good performance out of them. In the video, I use a hybrid of Solinco Confidential 1.15 @ 47 lbs and Yonex Poly Tour Pro 1.20 @ 45 lbs in the Wilson Ultra Pro.
And if you're open to changing to a more comfortable racquets, there are some interesting choices such as:
Wilson Clash
Prince Phantom (O-port racquets are generally very arm-friendly)
ProKennex Black Ace
Angell K7 Racquets
You can check any of these racquets out at any of my affiliates. If you buy anything through one of my links, a tiny commission goes to Tennisnerd which helps the site stay alive.
Tennis Warehouse
Tennis Warehouse Europe
Tennis Only
Do you have any experiences around tennis elbow? Any tips you would like to share?