Our pickleball writer, Rush Walters, is back with a pickleball paddle review of the Stiga Aviox Fiber Poly Pro.
Stiga Aviox Fiber Poly Pro Paddle Review
Demo from Total Pickleball: Stiga Aviox Fiber Poly Pro
Check out our other pickleball paddle reviews here.
Specifications
Head Dimensions (Length x Width): 16 in. x 7.5 in.
Paddle Thickness: 13 mm.
Grip Length: 5 in.
Standard Weight: 7.8 oz
Paddle Material: Polymer Honeycomb
Notable Features: Composite Fiberglass Surface, "Diamond" Head Shape
Growing up with a Stiga ping pong table in my parents' basement, I have long been a fan of the brand. With being a big name in the ping pong industry, I am not surprised they began producing paddles. With the growing popularity of pickleball, this is an excellent opportunity for them to grow the Stiga brand. Also, although I don't give out bonus points, quite a few players at my community center complimented how the paddle looks. The green makes it stand out while giving it a robust and sleek visual design.
Initially, I thought this paddle would produce more power due to its thin 13mm build. My assumption was correct, but in comparison to its control, the power was reasonably similar. The paddle has more power than control, but not by much. I rated its power and control ? because the paddle is very versatile. When doing a little research on Stiga's website, they designed this paddle specifically to be an all-around paddle. Outside of spin & soft touch, the paddle is just a high-quality general paddle. Also, the paddle's power and control transferred into its ability to produce deep shots and dinks, which are just very average. It is very good for beginner to intermediate players, but I would suggest it for beginners.
Performance
Time Tested:__5+hrs_
Date(s) Tested:___6/29/22-6/30__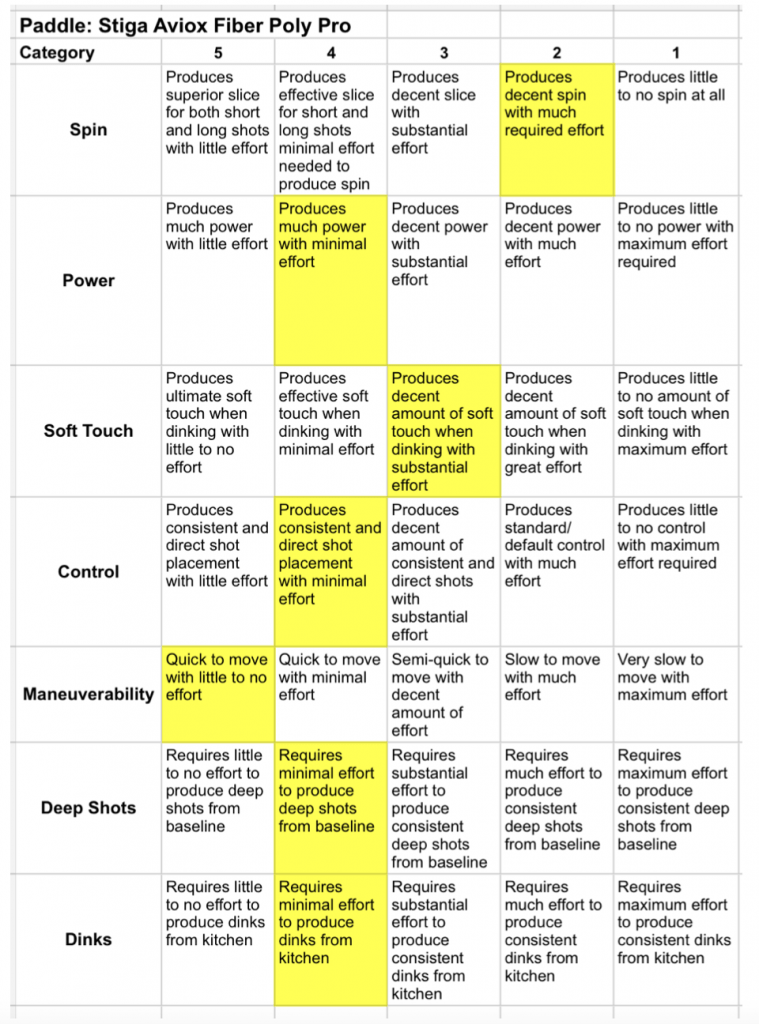 Final Grade: 27/35 77% C
Grading Scale:
A 100-90%
B 89-80%
C 79-70%
D 69-50%
F 49-0%
Conclusion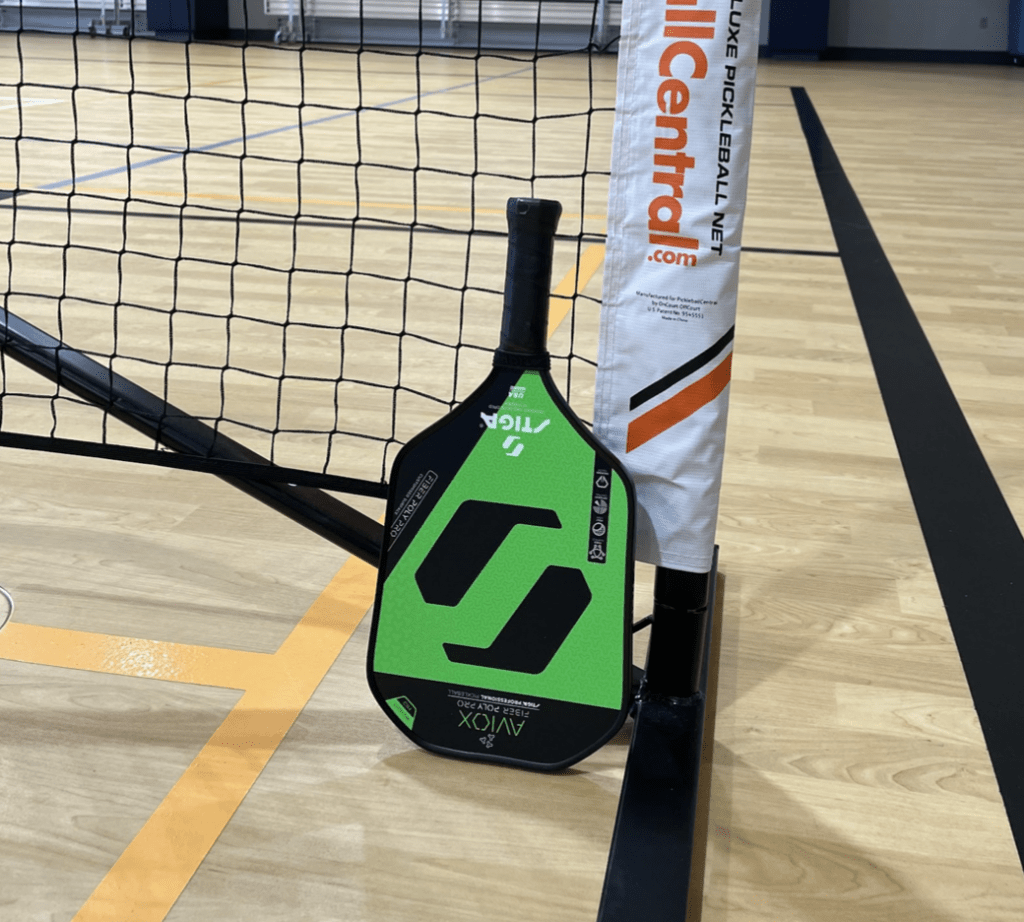 Again, visually it does have a pretty slick design. The bold green does pop. The paddle scored only a C because it truly is an average paddle. The paddle isn't bad by any means, just for the versatile player. Honestly, I'd recommend it for beginners and players who have not yet found their style of playing. I am more of a control and spin player, so the paddle didn't produce the results I wanted.
Nonetheless, it was still good quality, average paddle. When I did try to hit harder with it, I did notice how I lost control, and softer hits gave me more control. Although power was more substantial, neither power nor control stood out. One aspect that did stand out other than its colors was its maneuverability. I could truly get around at the net with ease, mostly because the design of the head of the paddle. Stiga calls it a "diamond head shape," you can see it in the pictures. The shape allows it to cut through the air with ease. Overall a great beginner paddle.
You can buy the Stiga Aviox Fiber Poly Pro from Total Pickleball