Iga Swiatek often seems unbeatable. Bagels and breadsticks. But Muchova wasn't having any. Still, Swiatek won her 4th Grand Slam title.
Iga Swiatek won her 4th Grand Slam
This is Swiatek's 4th grand slam in her young career. She turned 22 less than two weeks ago. But like Alcaraz on the men's side, she plays a game more mature than her age. She had many points to defend, which meant the number one ranking in the world was on the line in this year's French Open. But she managed to keep her cool and fend off a stern challenge from her fearless opponent.
It started in the usual way. Not quite a breadstick (6-1) or a bagel (6-0), but a convincing 6-2 first set. She did not slow down there but started 3-0 in the second set. The match seemed over. But Muchova relaxed and found her game, while Swiatek started doubting herself.
"Oh, my God, do you want to start that roller coaster?" Swiatek told reporters when asked to explain her emotions during the match.
The match featured a dozen breaks of serve and you could never really predict what would happen next. When Muchova won the second set 5-7, the match felt like a coinflip.
And Muchova was a break up in the third set, but Swiatek came back, got to 4-4, saved many break points and ended up winning the match 6-4 after a Muchova double fault on match point. Heartbreak for Muchova, but tears of joy for Swiatek.
Will Swiatek join the Greats?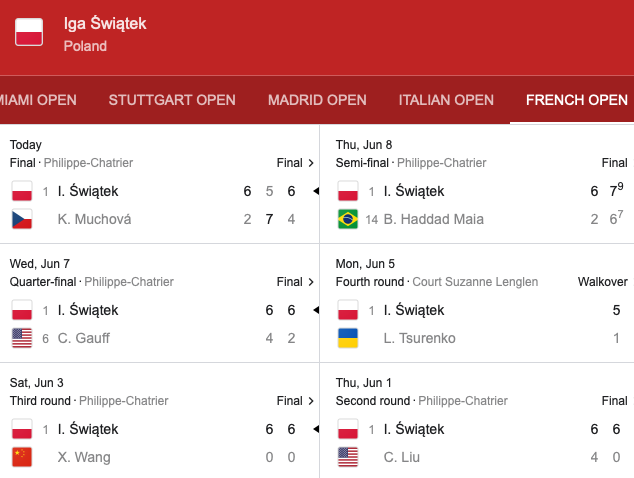 She is on her way! Swiatek now joins Monica Seles and Naomi Osaka as the only women in the Open Era to win each of their first four Grand Slam finals and the youngest since Seles to win consecutive titles at the French Open. She's also the youngest to win a fourth Grand Slam title since Serena Williams took the 2002 US Open.
This stat is from the WTA Tour website:
Swiatek's three Roland Garros crowns equal the lifetime achievements of Margaret Court, Arantxa Sanchez Vicario, Seles and Williams; only players named Evert, Graf and Henin have more. Only Court (95.5 percent) has a higher winning percentage at Roland Garros than Swiatek's 93.3 percent — in a single Grand Slam in the Open Era.
This is what Swiatek said after her win:
"Last year for sure, it was a confirmation for me that the first time wasn't a coincidence or something like that," Swiatek said. "This one, for sure, it was a little bit tougher in terms of injuries and the pressure, and also coming back to this tournament as a defending champion, I right now feel like it's a little bit different.
"I needed to really handle that."
And Swiatek does what she has learned to do well, handle it.
If you are curious about Swiatek's racquet, check out this post.
How many slams will she win in her career? Give me your thoughts in the comments below.