I have recently tested Improves.co – a new online tennis coaching website. I need help with all my strokes but focused on the forehand for now.
The idea of improves.co is for players to record themselves and then send over a video and get advice from a pro player or a top-level coach like Paul Annacone. I always recommend players to set up a tripod and analyze footage of themselves. It has helped me a lot. But sometimes you don't have all the answers to what you need to do to improve and then it's good to have a knowledgeable set of eyes on your game.
My Review of Improves.co – online tennis coaching

I sent a link to my latest Wilson nCode Six one 95 review, where I hit plenty of forehands, to Petros Chrysochos, a young tennis pro who recently won a Futures tournament in Sharm El-Sheikh and is around #380 in the world.
Petros was in quarantine when he got my video and had to record his reply from his hotel room. I would assume that it would normally be done on a tennis court, but I got the gist of what he was telling me and I agreed with every single part of it.
My issue has been overall been that I use my legs enough in my stroke. I don't bend my knees enough and they are often too close together. I don't really get into that loading position enough. It works better on some videos and sessions, but then I get lazy.
The below pic is a bit better. It's a decent ready position.
But I sometimes read the ball wrong and it looks like this: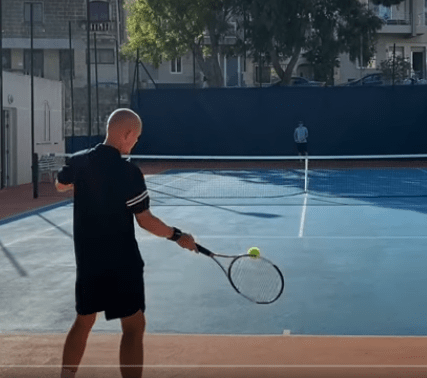 I raised this issue in a post on my Patreon page and some interesting discussions about reading the ball path correctly ensued. Reading the ball path properly is not something that is often talked about. It seems like the only way to train it is to hit millions of tennis balls!
Petros' analysis of my footwork issues
But Petros pinpointed my key issues perfectly:
I don't bend my legs enough.
My legs are too close together.
I need to focus on getting into the loading position.
And drive my shots more with my legs.
So that's what I am working on now. The analysis I got from Petros through Improves.co was definitely worth 20 USD! If you have a bit more money to spend you could even get Federer's and Sampras' ex-coach Paul Annacone to check your strokes.
The only thing I would be concerned about is that if the number of requests for video coaching grows, it will be almost impossible for the players/coaches to keep up. Because it does require them to actually watch a player's video and record their answer. But I assume more coaches will be added to the platform if it is successful.
I find this interactive approach is otherwise great. Yes, in-person coaching is always best, but in Covid times and in situations where you don't have a good coach available, video coaching definitely fills a gap.
You can check out Improves.co via this link
I am now keen to try one of the other coaches to work on my serve (as I said, my game needs a lot of work!).
These are the available coaches at the time of writing: (the service was just launched)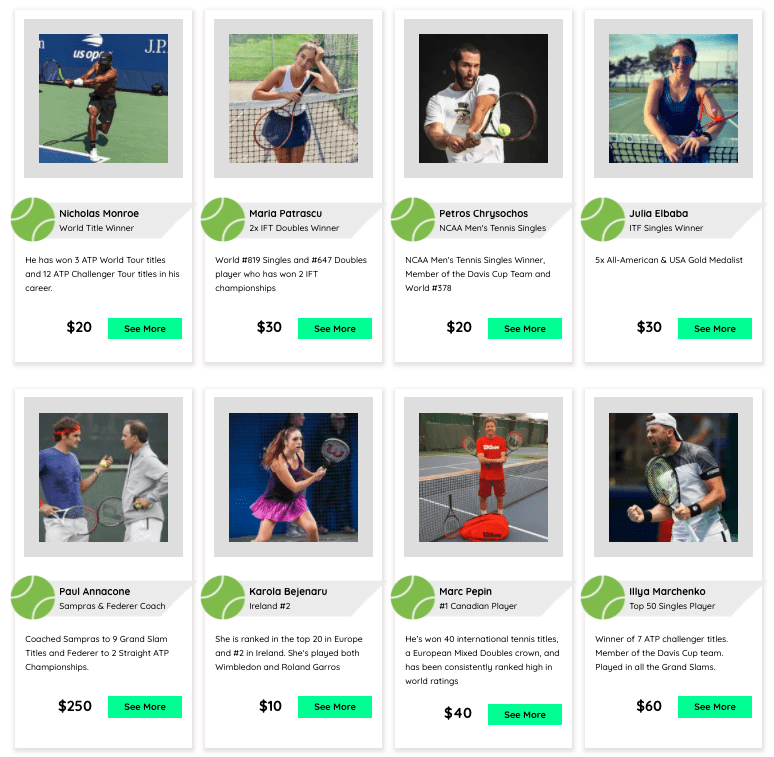 Summary
I enjoyed my experience with Improves.co, but I have only taken one lesson so far and can't vouch for more than that. I hope to be able to try another online coach as well and give you a more in-depth experience. If you try the website, please share your experience below so other people can get an idea of how it works, and if you liked it.