Italian tennis player Fabio Fognini is moving from Adidas appare
l to Italian brand skull-inspired brand Hydrogen. In the above pic he is posing with the Hydrogen founder Alberto Bresci, who closed 2016 with a 15% rise and a revenue of approximately 12 million euro.
Fabio Fognini joins his friend Simone Bolelli and Nikoloz Basilashvili in the Hydrogen team. If you're interested in Fabio Fognini's racquet, click here or please check out this list of ATP professionals gear such as Roger Federer, Novak Djokovic, Rafael Nadal, Stan Wawrinka and Andy Murray.
What do you think of Fognini's skull-infested Hydrogen kits? Please write in the comments field.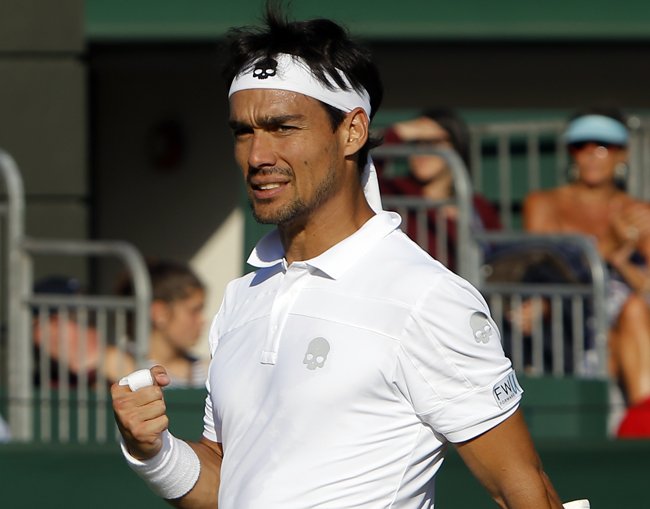 My opinion is that it's nice to see up-and-coming brands challenging the tennis giants of Nike
and Adidas
and with some clever use of brand ambassadors, I'm sure there is plenty of market share to take. Hydrogen resorted to one of the most iconic symbols in popular culture: the skull. And it seems to work to create buzz, especially in the more traditional atmosphere in Wimbledon where, during his hard-fought match against home favourite Andy Murray, a lot of people reacted to Fognini's apparel as aggressive (and I'm sure equally many wondered – "where can I buy it?".
Where can you buy Hydrogen apparel? You can for example check out Tennis Warehouse or Hydrogen's official website.
No matter what he wears on the court, Fabio Fognini is an exciting and talented player to watch. His biggest opponent has always been his mental stability, especially against weaker opponents, but when he is faced with one of the best players in the world, he usually plays his best tennis and has beaten Rafael Nadal three times, with twice being on clay!
If you want more to know more about tennis gear, tennis stories and news, subscribe to our newsletter below or follow us on Facebook, Twitter or Instagram.