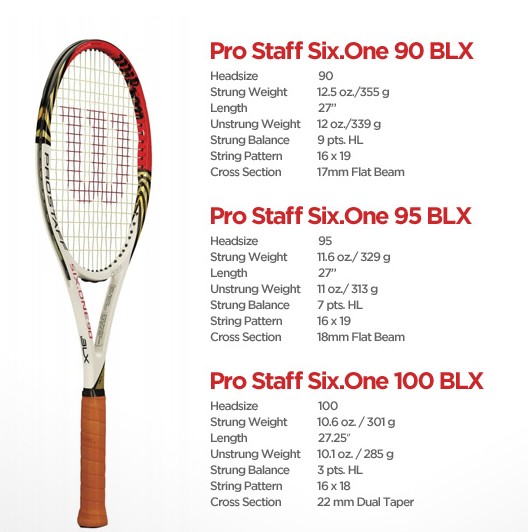 Wilson Tennis seems to head towards the Djokovic white (his Head Speed has this nice retro color) with their BLX series update and I'm not sure what to think of it. It
The biggest change to this series is definitely the introduction of the Pro Staff Six.One 100 BLX, which is a big increase in head size from the previous Six.One 95 BLX (16×18 string pattern) and also quite a drop in weight.  This should appeal to a big group of players who like the Wilson feel, but have felt a bit trapped by the head sizes. Looking at the strung weight of 301g it actually seems like a try to mimic a Babolat AeroPro Drive not to scare away players liking that kind of feel to the Wilson side.
What they've also done according to this information is decrease the weight of the Pro Staff Six.One 95 BLX a bit so as to make an easier swing and changed the string pattern to the more spin-friendly 16×19. Might be an interesting update and I'm really dying to try it, because the Pro Staff Series is a long-time favorite of mine.
What do you guys feel regarding the look of this quite big update to the BLX series?
Get the new Pro Staff series at Tennis Express