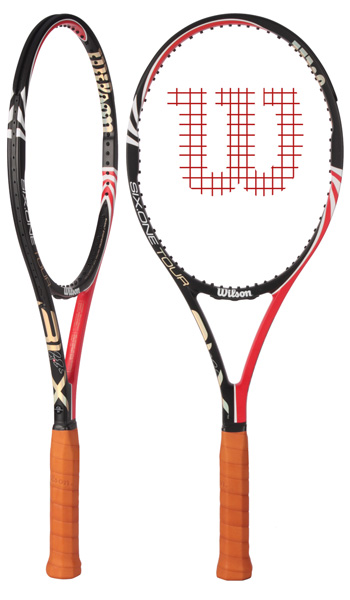 Being a huge fan of Federer and his fluid, cat-like movement, and his liquid-whip forehand, I of course wanted to play with the same racket as him. So I went out and ordered the Wilson K-factor (the previous technology, now it is BLX) Six.One.
On the first hit I noticed several things. The racket is pretty heavy to swing and as the head ("90) is very small you will frame some shots  (most rackets on the market that is around "95-"98 and in extreme cases "100). This is a players racket.
When I played well the racket made me play better, when I played badly the racket made me look horrible. But when you feel the ball on this racket, you feeeeeel it. And that is probably why the new line of rackets from Wilson has the tagline: "feel is elemental".
I gave up on this racket after a while, it was simply to difficult for me to maximize my game with this stick. Although it does make you feel Federesque and want you to hit shots with both flair and elegance. But you need to have the game to back it up, otherwise you will just a be a very classy looking loser. And nobody likes to lose on the tennis court.
That is why I changed to the Head Prestige Pro, which is lighter in weight (although at 320 grams it is still a player's racket) and the headsize of "98 gives me a bigger sweetspot. I enjoyed the ride with Federer's racket, and I like the illusion of being able to play like him at times. But in the end I was reminded that Federer is Federer, and there is a reason that he is only one on tour that I know of that uses this racket.
You can buy Federer's racket and my beloved Head Prestige Pro at Tennis Express. Tennis Express has the best prices on the market and free shipping on orders above $75!
| | |
| --- | --- |
| Headsize: | 90″ |
| Strung Weight: | 12.5 oz / 355 g |
| Length: | 27″ |
| Unstrung Weight: | 12 oz / 339 g |
| Balance: | 9 pts. HL |
| String Pattern: | 16 x 19 |
| Cross Section: | 17 mm Flat Beam |
| Grip Sizes: | 4 1/8, 4 1/4, 4 3/8,        4 1/2, 4 5/8 |
| Stock Number: | WRT70011U |