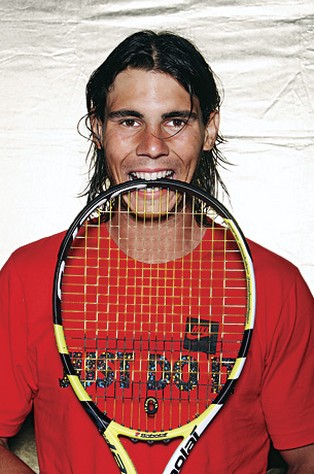 Rafael Nadal plays with a big loopy swing that creates an enormous top spin. He uses the Babolat AeroPro Drive GT and has recently changed his strings from the yellow Hurricane Tour to something like a Duralast that is supposed to give even more top spin and make it possible for him to hit flatter and play more aggressively.
You can see this during the clay season as Nadal looks as aggressive as in 2008 when i dominated the tour and overtook Federer as the #1 in the world. Then injuries came and he started to play more defensively, with a lot of balls ending in the service box, making him a target for big hitters like Söderling, Berdych, Del Potro and Cilic. And he didn't win a title for almost a year.
But Spring 2009 shows a new Nadal. More confidence, more aggression, the fist-pump and determination is back and so far he has demolished just about everyone and only lost one set, (one!), to Ernests Gulbis. It will be interesting to see if he can carry his confidence throughout the Summer and maybe win both Roland Garros and Wimbledon.
So you want to play like Nadal? Or you just like the way his racket looks? Then there is no reason why you shouldn't. His Babolat AeroPro Drive GT is surprisingly club-player-friendly for being a professional racket. It weighs only around 300 grams so it is pretty easy to get around, has a nice big sweetspot and is very spin-friendly. Of course, having played with this stick quite a lot (but changed to Dunlop 4D 300 Tour) I wouldn't recommend it to anyone not swinging big. You get a lot of power, but to maximize the use of the Babolat AeroPro Drive GT you need to have a spin-friendly swing.
For aspiring juniors this racket is perfect. Extra power, good control, good spin. For seniors who use a flat swing there are other rackets I would recommend. More about that later.
Where to buy this great racket? Just click the links above for best price and shipping options.