We rarely see something new on the racquet market. But you'll find it in this Angell ASi 2.0 review
I looked forward to this Angell ASi 2.0 review. Why? Because the Angell ASi 2.0 brings back injection moulding, an expensive process that was done on some frames in the 90s, like the Dunlop Max 200G, made famous by John McEnroe and Steffi Graf. Any racquet nerd would probably be curious how you can use this technology in a more modern racquet.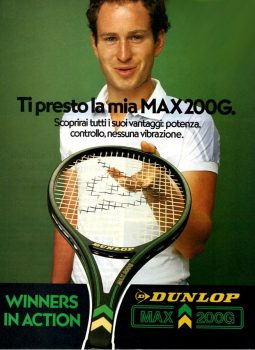 Founder Paul Angell said this about the ASi 2.0:
"Most players of a certain age will remember the last time an injection moulded racket was available (Dunlop Max 200G – TN)" said Paul Angell, Angell's CEO. "As the person who pressed the go button on the last ever production run of those frames back in 1996, it's been a career-long ambition to revisit that technology and all its benefits. Using a hybrid construction, we have created a perfect racquet for the modern game by combining the core strengths of two very different materials."
Tech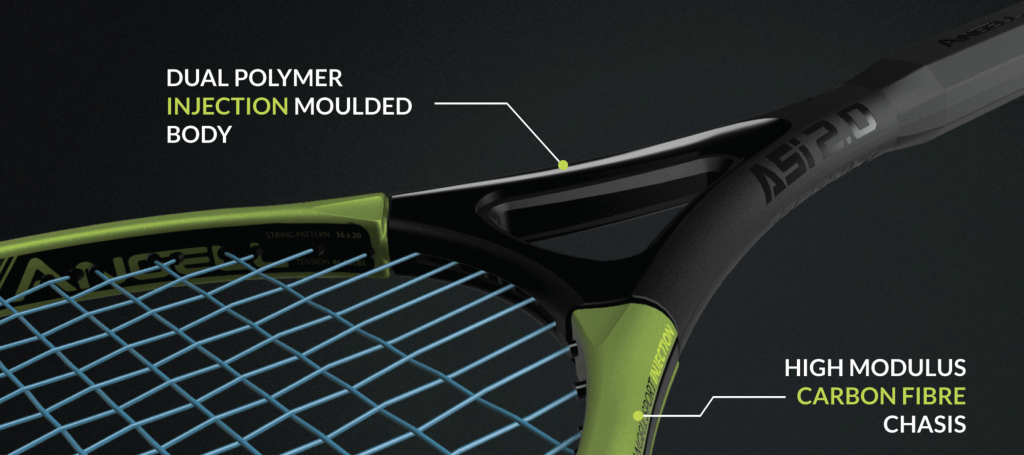 The Dunlop Max 200G has been widely regarded as one of the best feeling frames. It used a unique production method and material (short fiber filled polymer), which created softer frames with a dynamic stiffness. However, that frame's weight and head size are not viable to the modern game. The ASi is Angell's attempt at bringing the injection moulding technology into a modern racquet.
Paul Angell describes it: "The ASi 2.0 combines the advantages of thermoset carbon and injection moulded polymer to create a chassis and body hybrid frame. This gives the player all of the advantages offered by the original Max 200g while allowing the larger head size and faster frame speed that modern players demand. Injection moulding tooling costs are far higher than standard production moulds. Still, the result is a much tighter tolerance on parts production and a more solid, comfortable lower half of the frame."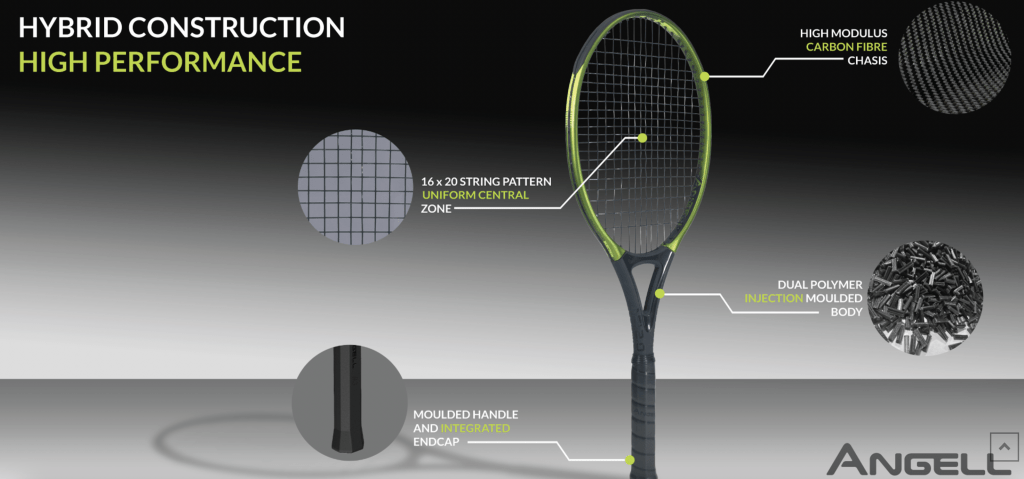 The idea behind the racquet is to make an arm-friendly racquet without dampening the feel of the frame. Today, many racquets are dampened by various materials in the handle or by foam filling the racquet. But according to Paul Angell, the foam-filling can result in a wide swing weight tolerance. We already have a "quality control" issue for tennis racquets and foam-filling does not make that easier.
Unstrung specifications
Headsize – 100 sq inches
String Pattern – 16×20
Weight -317g / 11.2oz (335g with strings)
Balance – 305mm / 12 pts HL (9 pts HL with strings)
Swing Weight – 262, (290-ish with strings)
Stiffness – 64RA (61 RA with strings)
Length – 27." / 688mm (standard)
How does it perform?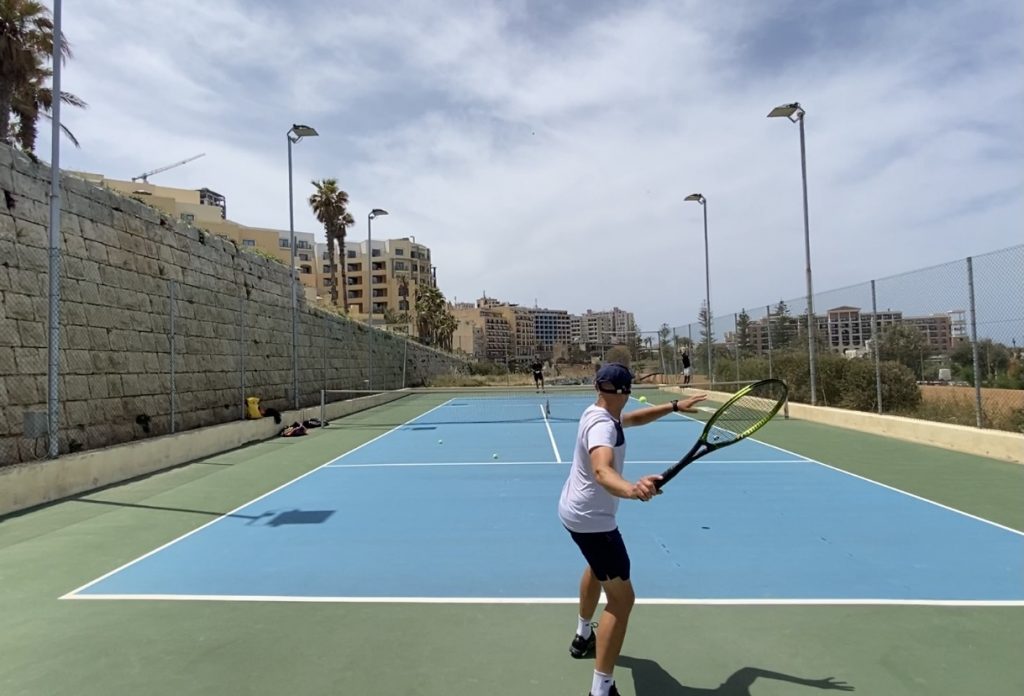 I was curious about this frame. There is not much innovation or new thinking in the racquet industry. Mostly there are subtle improvements to the cross-section (beam) or new material in the layup (what is inside the racquet) and fresh graphics.
That is why a new idea or a new line of racquets is exciting for a play-tester.
Video review
The Angell ASi 2.0 has an interesting spec in that it is a relatively heavy racquet with a low swing weight. It's an example of a frame where weight distribution tells the whole story.
It's a fast-feeling frame with a head-light balance and a low swing weight. A beginner could play with it despite being at a more advanced-level weight. So don't be concerned about the weight of the frame. It's all about where it is distributed. Many happy weekend warriors still use the Wilson Six One 95. It has a lot of weight in the handle, making it relatively easy to use despite the high weight (332g).
The low swing weight troubled me a bit before the test and on heavy shots coming at me and my fellow play-testers (I had three other players test this frame, 4.0, 4.5, and 5.5 approx NTRP level). We all struggled with stability in stock form. Heavy shots were not easy to meet with pace. For someone at a lower level where the pace and weight of the shot are not so high, this is likely not a problem. But I felt the need to add weight.
Customization and restringing
As soon as I added weight, first 3 grams, then 3 grams more at 12 o'clock and 1-2 more grams to reach my final spec. My finished specification was 353g, 9 pts HL or 31.5 cm balance, and a 321 SW.
Thanks to the low swing weight, the racquet isn't too difficult to maneuver, but it's stable enough to handle hard-hit balls in this weight class.
I first tried it with a black poly that it came pre-strung with, that I felt didn't grab the ball, as well as some of my favorite strings. As soon as I got Toroline Caviar 1.20 in there at 44 lbs, it opened up much better spin potential and control.
Pros and cons
+ Plays fast despite a higher static weight
+ The feel on impact is excellent
+ Control is awesome with the 16×20 pattern
– In stock form, it lacked some power for me
– Some players might be scared off due to higher static weight
Who is it for?
The Angell ASi 2.0 is for players who look for comfort, control, and feel in a fast-moving frame. The weight shouldn't scare players off as it's all about weight distribution. But I think more advanced players might struggle with the frame if they don't add weight.
Price
The process is labor-intensive and expensive, so the price of the frame is higher than other Angell frames at 250 GBP.
You can only buy the Angell ASi online from Angell Sports.