Finally got the chance to hold an Angell tennis racquet in my hands (Angell Custom TC 97 18×20) and will start play-testing it this week. Will report back on how it plays.
Some words about Angell Tennis:
Paul Angell runs Angell tennis, a tennis company which specialises in racquet customisation, but also sells tennis bags and strings as well as other tennis gear. Paul has more than 20 years experience in the tennis industry and has worked as head of design at Dunlop Slazenger and personally manufactured the final Max200G racquets for German sports legend Steffi Graf. He has also been responsible for racquet development for players such as Tim Henman, Tommy Haas, Nicolas Almagro, John McEnroe, Wayne Ferreira, Mark Philippoussis, Marat Safin, and Amelie Mauresmo.
He started Angell tennis in 2012 and has gained a loyal following, especially among racquet aficionados who crave a high-quality product customised to their liking.
It will be very interesting to properly test an Angell tennis racquet
which so many racquet aficionados and tennis nerds rave about on the forums. I will also play-test the Angell Halo string which is supposed to be a soft poly string with good spin properties. Reviews for both the racquet and the string to come so watch this space.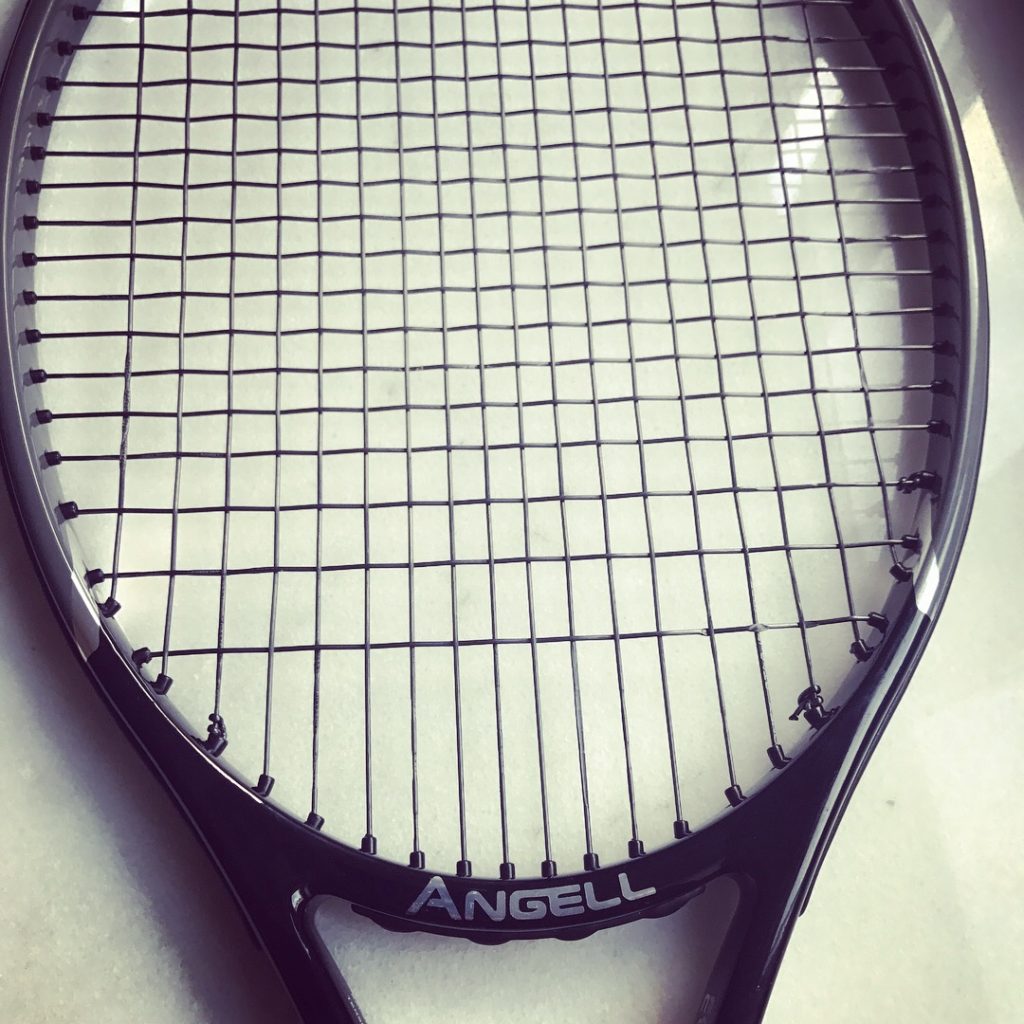 These are the specs of my racquet:
97inch headsize
66 RA pre-build stiffness
20mm tapered beam
New throat box section design.
Over frame grommet structure
High Modulus Carbon construction
Foam Core
Mine is 320 grams, 10 pts head light and has a 18×20 string pattern. Since I'm mostly playing with 16×19 these days (Yonex Ai, Babolat Pure Strike and HEAD Radical IG Pro being some of my go-to sticks) I'm curious to see how the denser pattern will affect my game. I've always been a huge fan of the Wilson Six One 95 18×20 so it's not a completely new experience, but we'll see how I'll deal with the lower trajectory on my shots.
Looking at the specs of the Angell tennis racquets, there are a few things that really interest me. The feel of the racquet in the hand is really nice, it has a classic touch to it and feels solid and the thin beam gives you that knifing-slice and drop-shot-volley inspiration. A lot of reviews talk about the foam-filled core which is supposed to give improved stability as well as a nice sensation when striking the ball. I really enjoy a racquet feeling solid and I hope this feeling will continue on court. I think the stiffness of a pre-build RA of 66 is right in my wheelhouse, even though I'm using a slightly stiff Babolat Pure Strike
as my match weapon of choice at the moment.
Have you had any experience with Angell racquets and/or strings? Please comment your thoughts about their products below!