Ferenc Ferdinánd Weisz is back with a guest racquet review (if you want to do one of these, contact us). The Artengo TR 930 Spin Pro.
I have been playing with the Artengo TR 990 Pro racquet since two years ago. This time is long enough to know something in-depth, like strength, weakness, response in different situations, and other properties. I tried many other racquets during this time, but I always felt this was perfect. Therefore I couldn't wait to try the new Artengo TR 930 Spin Pro.
The Artengo TR 930 Spin series offers three different models. The heaviest is Spin Pro with 300 g weight and 31.5 cm balance, ideal for stronger gentlemen and ladies with excellent technique. The next one is Spin with 285 g and 32 cm balance for players who want a bit lighter ones for better maneuverability. The lightest one is Spin Lite at 270 grams and 32,5 cm balance, which is nice for youth players who are now switching to the first adult-size racquet and lower-level ladies.
My actual and the tested racquet is pretty similar, but the black-blue 930 series is the spin, and the black-red 900/990 Pro series is the power series of Artengo. The balance is different. Instead of the typical 32 cm this is 31.5 cm. After I took it in my hand, I found the most significant difference: the length is not the standard 27″/68.5cm, it's 27.2″/69cm, which is between TR 990 Pro and Pro Plus, but beam shape and width is also changed. Other details are:
The same – 300 g weight. 645 cm2/100 sq in head size with a wide head shape. The very open 16×19 string pattern.
Manufacturing was accurate enough. I measured 301 grams and 31.8 cm balance on my test racquet.
Specification: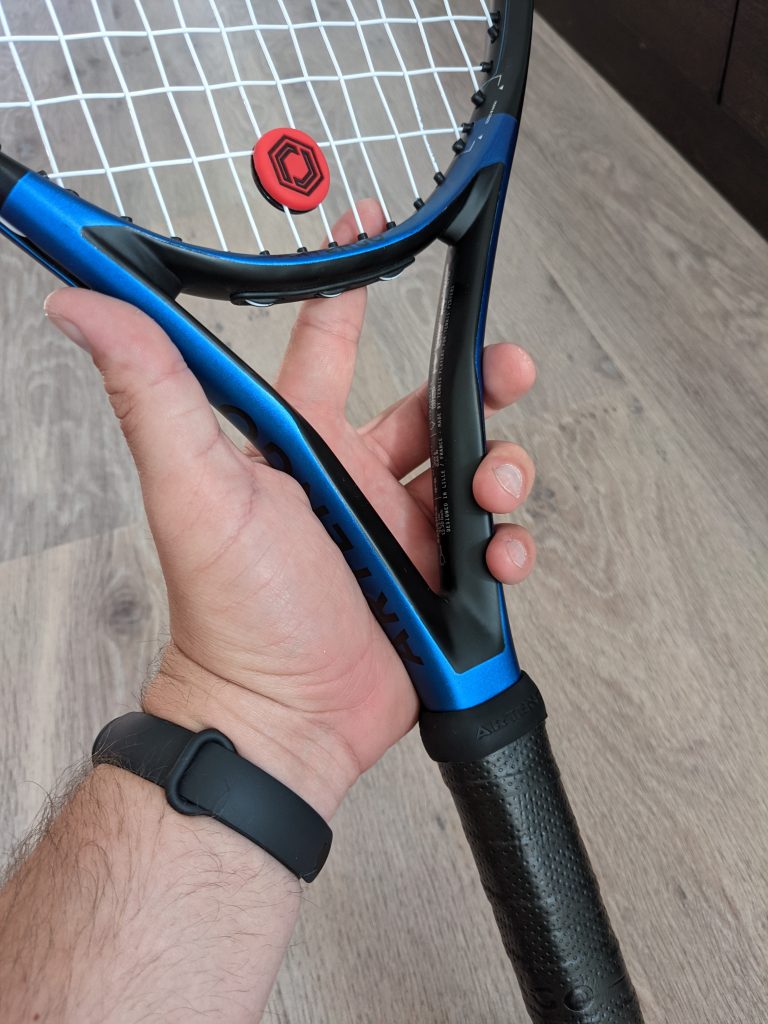 645 cm2 / 100 sq in head size
300 g unstrung weight
31,5 mm unstrung balance
16×19 string pattern
27,2" / 69 cm length
RA 72 stiffness
23/26/24 mm beam
In design, this one is pretty clean. The outside of the frame over the black has nothing. The visual quality of this racquet is excellent, I don't feel any difference between this and actual models of the most popular manufacturers like Head or Yonex. I say this as a stringer who works with many sticks. My favourite part of the design is the throat because this is specifically designed for one-handed backhand players, and their second hand finds a perfect position there.
We find the label about "Spin Concept Technology," this means how grommet holes at 12 o'clock are bigger, which helps more string movement for bigger ball spin.
After I had the first 'wow" feel, I cut out the factory string. I was surprised how the logo isn't stenciled on the string, but I found the reason: currently Artengo no longer uses the former round logo, but only has a text label.
I strung this racquet with my go-to string, Wilson Revolve 1.25/17 tensioned the same as in the 990 Pro, 25/24 kg (55/53 lbs). Stringing this racquet was easy. Knot positions are on the right positions. Next, I put an Artengo Tacky overgrip which fitted with the rubber ring included with the racquet (I love these pretty nice things), and also put an Artengo Antivib 990 damper then put it in my bag.
One thing was strange: the grip size feels smaller than my 990 despite all two are the same L2 / 4 ¼", and the grip section is also longer because of extra size, which will be comfortable for two-handed backhand players.
The shape of the grip is great, more rectangular than round.
How does it play?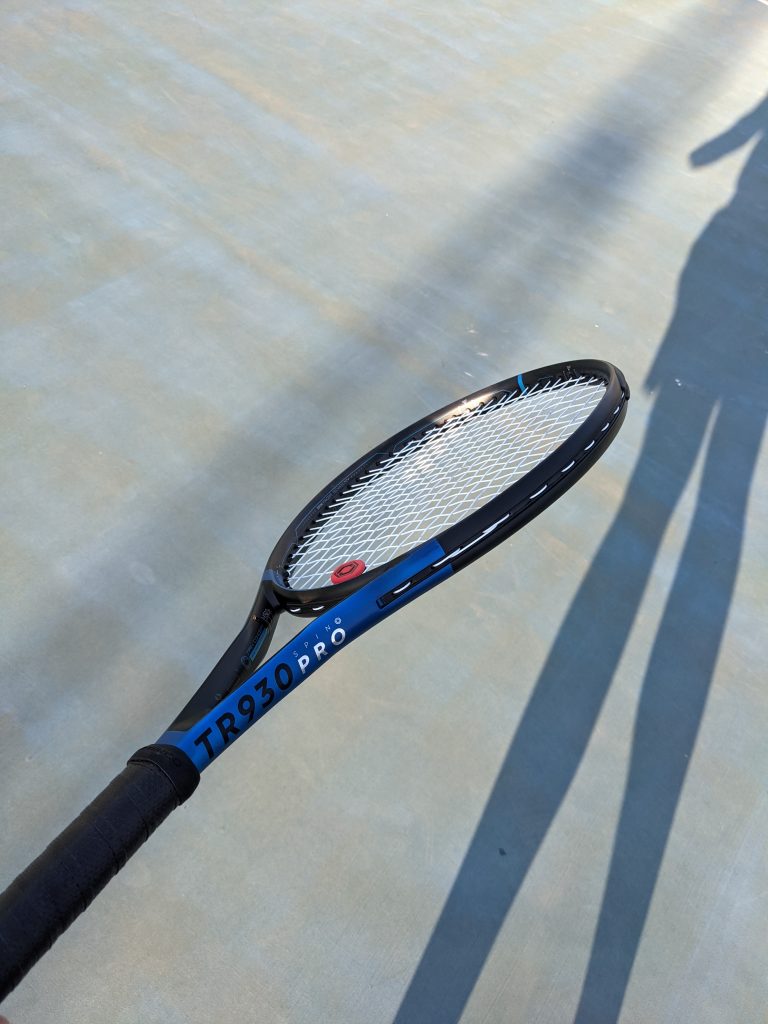 After the first hits, I felt this racquet fits me. It feels heavier than 990 Pro, but the same concrete, crisp feel I have, which I experienced and liked in, especially with fresh strings, I don't feel any sluggishness. This racquet delivers what we are waiting for: spin and power.
This racquet is relatively stiff, RA 72, generates a lot of power, and the ball flies well with it. Also, I can generate a lot of spin, and two things help produce rotations on the ball: the racquet head shape is really wide and round, and the 16/19 string pattern is as wide as possible. This helps the snapback effect, which is one of the most important things about ball spin.
Despite these two properties, if we want to hit big, we need nice technique. Since Nadal is a top player, top spin gets more and more attention in tennis, and racquet manufacturers like to release products that focus on spin, and this racquet is part of their aspirations.
However, let us have no illusions. This does not mean how the racquet generates top spin self, but with the correct technique helps it. TR 930 Spin Pro can cause a nice round ball path with speed and high bounce, especially on clay.
The other advantage of a wide and round racquet head is the extended sweetspot. This property and the good quality material means that this racquet is more comfortable than guessed from RA rating. I have the Wilson H25 pro stock which is RA 71, and 100 sq in too, but with the same string setup was slightly uncomfortable for me. Yes, specs are not everything.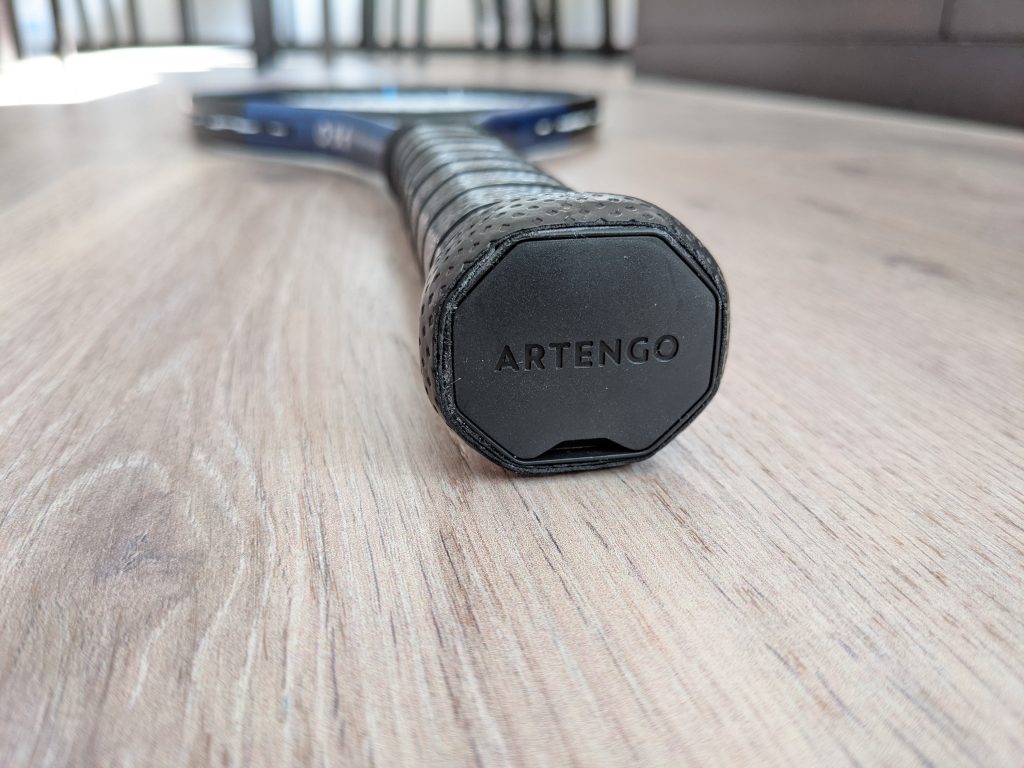 A quality frame at a good price
The fact that this racquet is longer than standard doesn't cause a difference as big as I guessed before. Maneuverability isn't slightly worse but gives some extra racquet head speed. Among the pro players, there are examples of players using longer racquets than standard. Djokovic also has a longer stick, some info exists about 27.1″, others say 27.25″.
I think stringing has a lot of possibilities. If somebody has a stronger, less sensitive hand, they can play with a stiffer and/or thicker gauge string like 1.30 mm. Tension is also a possibility, for a younger player or woman maybe 22-23kg (48-50 lbs) will be nice, but Artengo sponsored Oliver March plays at 28/26kg with a gut/poly hybrid. For me, the next string to test will be Artengo TA 990 1.20mm.
I think Artengo TR 930 Spin Pro is a strong choice on the market, I dare to compare it with any big manufacturer's similar type product. The price/value ratio is excellent. For 100€/£89.99 price, you can get a racquet which costs much less than most new racquets. You can buy two racquets for the price of one, which is an advantage for players who break strings.
The top racquet range of Artengo next to 900/990 Pro and 930 Spin series is TR 960 Precision, offers box-beam, more classical head shape, smaller 98 sq in head size, lower RA available also in 18×20 pattern. I'm curious!
Thanks, Ferenc for the review! Have you tried an Artengo racquet, what do you think of them?