The Pure Aero 98 is the follow-up to the beloved Pure Aero VS. I won't hesitate to say it's an improvement in my Babolat Pure Aero 98 review.
Babolat Pure Aero 98 Review
The Babolat Pure Aero VS brought the more control-oriented Aero into the spotlight again, thanks to being adopted by players like Carlos Alcaraz and Holger Rune. It provided a good balance of power, control, and spin despite the 98 sq inch head size and 16×20 string pattern. Several high-level friends made the switch to the frame, with the only knock being that it was a bit harsh on the arm at times. Babolat have now changed the layup and made this racquet softer, which is why this Babolat Pure Aero 98 review was a very positive experience.
Specs
Head Size: 98 in / 632.26 cm
Length: 27in / 68.58cm
Strung Weight:11.4oz / 323g
Balance: 12.79in / 32.49cm / 6 pts HL
Swingweight: 327
Stiffness: 65
Beam Width: 21mm / 23mm / 22mm
Composition: Graphite
Power Level: Low-Medium
Stroke Style: Medium-Full
Swing Speed: Medium-Fast
Racquet Colors:Black/Yellow
Grip Type: Syntec Pro
String Pattern:
16 Mains / 20 Crosses
Mains skip: 7T,9T,7H,9H
Two Pieces
No Shared Holes
String Tension: 50-59 pounds
There is nothing drastic about the specs as listed by Tennis Warehouse. They are very similar to the Pure Aero VS.
Tech
What's new in the Babolat Pure Aero 98 is NF² Technology which uses flax inserts at 3/9 in the head to soften ball impact. This change is significant and results in a much softer feel without creating an over-dampened response.
Another update is FSI Spin technology with slightly tighter string spacing. The result is greater control (and confidence) when maximizing stroke speed in the service of power and spin.
Sometimes the "tech" part of a racquet can feel like just marketing, but in this case the changes are felt.
How does it play?
The Babolat Pure Aero 98 plays like intended, with excellent access to power and spin for a 98 sq inch racquet. The ball lifts from the string bed and you can create some really nasty spin and weight on your shots with this racquet.
But the most important aspect compared to the VS is that the feel and comfort is better. This was noted by all fellow play-testers (Steve and Jesús). What I particularly enjoy is that they didn't make the racquet too dampened or muted, so you can still feel the ball. It pretty much plays like a smaller Babolat Pure Aero (click the link for my review), which is a good thing.
It packs excellent power on serves and groundstrokes and you feel connected enough to caress a drop shot for a winner. It's a fantastic racquet for top spin-oriented players who like to dictate play from the back of the court.
Who is it for?
The Babolat Pure Aero 98 is for high level intermediates to advanced players. They require a fast swing speed to play controlled and despite being softer than the predecessor, they are still firmer in terms of stiffness. It's not a racquet I'd recommend to someone with a history of tennis elbow, for example.
But if you like to hit heavy from the baseline, perhaps you play a lot on clay, where top spin generation is important. Then I think you'll love the Aero 98.
Babolat Pure Aero 100 vs 98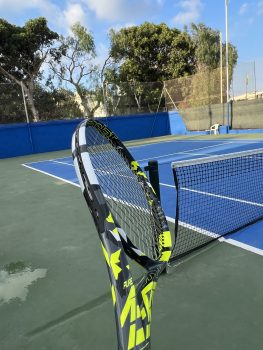 The Babolat Pure Aero 100 was also a significant step in the right direction this year, thanks to the denser string pattern. The 98 offers better control and is faster through the air. But it's not quite as forgiving and powerful as the 100.
Summary
The Babolat Pure Aero 98 is an excellent update. The VS was already a very good racquet, but they improved it where it matters, making this a modern classic that will be in the hands of many strong, up-and-coming tennis players in the future. You need to keep up your swing speed with this racquet, but if you do, you have a real weapon on your hands. Flatter, traditional players might not like the high launch angle and aerodynamic design, but this racquet is not made for them. It's made for players that want to hit the ball like Alcaraz. Well, only Alcaraz hits the ball like Alcaraz, but you know what I mean.
If you like to create havoc for your opponent with heavy groundstrokes, this is perhaps the weapon you have been waiting for.
Where to buy the Babolat Pure Aero 98?
Please consider purchasing the Babolat Pure Aero 98 from one of our affiliates, Tennis Warehouse, Tennis Warehouse Europe or Tennis Only. They offer it in a matched package of two racquets as well, which is a good idea if you want to limit the possibility of getting two slightly different racquet due to quality control.
What do you think of the new Aero 98?
Have you tried the new Babolat Pure Aero 98? What are your thoughts? Please help other tennis nerds on their racquet journey by commenting below.