Babolat has made it into a tradition to launch Roland Garros and Wimbledon specific lines of their racquets, wear and gear. This time they reveal the Babolat Pure Drive Wimbledon edition and more…
The Babolat Pure Drive is one of the most popular racquets of all-time and a decent racquet for all levels of players since it offers great power and spin and good playability. The usual knock that players have on the Babolat Pure Drive series is that it is too powerful and it can be quite stiff on the arm with its RA rating of 70+ (strung).
The latest version of the Babolat Pure Drive – the Babolat Pure Drive with FSI technology (Frame String Interaction technology  which is supposed to have a tighter pattern in the sweet spot area and a grommet system to give more feel of where you hit the ball) came out in 2015 so it is high time for an update. On Instagram this image was shared of the next edition of the Babolat Pure Drive that is supposed to be out in time for US Open this year.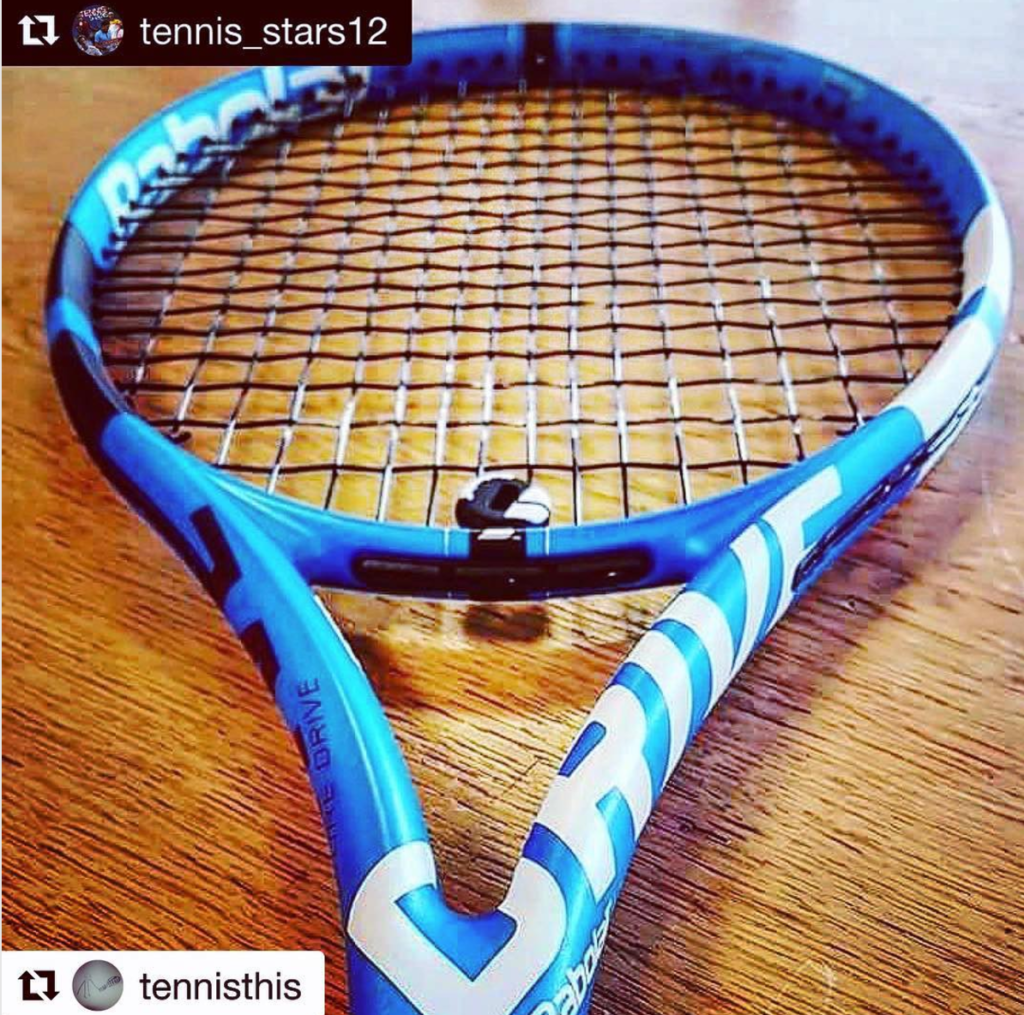 One of the commenters on the post said it looked really ugly and I find the paint job looks a little cheap to be honest, but it could be the picture. What do you guys think of it?
Anyway, before the 2017 Babolat Pure Drive is released they have launched their Babolat Pure Drive 2017 Wimbledon Edition
and it looks like this:
BABOLAT PURE DRIVE 2017 WIMBLEDON EDITION

As you can see the colors are a bit brighter and there are some nice Wimbledon details on the frame. Previous editions of the Pure Drive Wimbledon edition
has included more green and I'm a bit surprised to see that this is more focused on a more "electric blue" color, when the Wimbledon colors are green, white and purple.
If you want to read more about the Babolat Pure Drive, I've written about the first edition which I used to play with and I've reviewed the FSI edition of it here, Donskoy used the Babolat Pure Drive to beat Federer earlier this year and Ferrer used the Babolat Pure Drive Plus for a year although he now seems to have changed again.
What do you think of the 2017 Pure Drive Wimbledon edition paint job? Would you consider buying it? I'm personally sticking with my Babolat Pure Strike 2017, but I'm keen to test the new Babolat Pure Drive 2017 when it comes out so stay tuned to this blog.
In case you want to buy the Babolat Pure Drive 2017 Wimbledon Edition
or other tennis racquets, you have the usual suspects of Tennisnerd partners below.
WHERE TO FIND THE BABOLAT PURE DRIVE WIMBLEDON 2017
Europe
Racquet Depot
Pro Direct Tennis
USA/CANADA
Tennis Express
Do It Tennis
Amazon.com
BABOLAT PURE DRIVE FSI 2017 WIMBLEDON EDITION STRUNG SPECS:
Head Size: 100 in² / 645 cm²
Length: 27 in / 68.5 cm
Strung Weight: 11.2oz / 317.51g
Balance: 12.95in / 32.89cm / 4 pts HL
Swingweight: 317
Stiffness: 72
Beam Width: 23.5mm / 26mm / 23mm /
Composition: Graphite
Power Level: Low-Medium
Stroke Style: Medium-Full
Swing Speed: Medium-Fast
Racquet Colors: Teal/ Black/ White
Grip Type: Syntec Pro
String Pattern:16 Mains / 19 Crosses
Mains skip: 7T,9T,7H,9H
Two Pieces
No Shared Holes
String Tension: 50-59 lbs / 23-27 kg