I have created another pro player racquet video and this time I talk about Dominic Thiem's racquet. He has made major strides in his game and will be a real threat next year.
2019 was Dominic's best year on tour so far. He earned almost 8 million dollars in prize money, won 5 titles and had an impressive 49-19 win-loss record. He is currently number 4 in the world. And after winning a Masters title in Indian Wells, reaching the final in the French Open and the final of the ATP Tour Finals, it is clear that Dominic has gone from a clay-court specialist to a much more well-rounded player. But what is Dominic Thiem's racquet?
Dominic has played with a couple of different racquets over the years. As a junior, he actually used the lighter Wilson Six One 95 Team
(Amazon link). A very control-oriented racquet. I would guess he might have customized it a little bit, but not sure.
After the Wilson, he moved over to HEAD and a HEAD Prestige MP. Another control-oriented racquet with a tight string pattern. Maybe he built up those big swings and massive swing speeds by playing with low-powered racquets? He definitely needs the control that is for sure.
Ps. If you want to purchase Dominic Thiem's tennis gear, check out my affiliates Tennis Warehouse, Tennis Warehouse Europe or Tennis Only (AUS). If you buy anything through my links, Tennisnerd gets a small commission. DS.
Still, his game seemed to move to another level when he moved to the Babolat Pure Strike
in 2014. Thiem used the 18×20 pattern version. The Pure Strike was made for the aggressive baseliner and Thiem really fits that description.  When the new Pure Strike was released in 2017, Thiem used the cosmetic and was the main poster boy for the racquet. He was still using the old mold, just in a new paint.
Now we are on the third generation of the Pure Strike and it looks as if Thiem has switched if you look closely at the design of the racquet. He still uses the 18×20 pattern, but the mold might have been changed slightly. It is the end of the head guard and the lack of woofer grommets in the throat makes it clear that he has updated his racquet.
The Year of Strings and Wins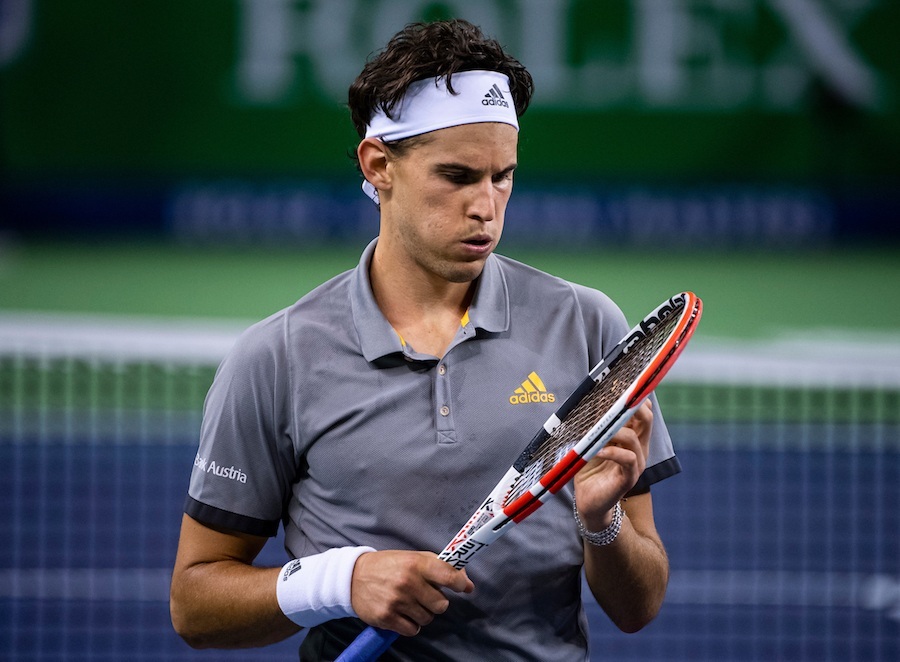 It is clear that Thiem does pay attention to his gear. During 2019 he was experimenting a lot with strings. When he switched to the Pure Strike he used RPM Blast
, then he moved over the RPM Blast Rough f
or a bit more power and spin, then he started experimenting with other brands and tried a hybrid of HEAD Hawk and HEAD Experimental Tour when he won Indian Wells.
He seemed to stick with this setup for a while until Babolat released RPM PWR. This is another string that follows the trend of a softer more powerful polyester string. They are moving closer to the multifilament strings in a way, but with better spin potential and durability.
No matter what gear Dominic Thiem uses, he will be a dangerous player to face in 2020. His confidence is higher on all surfaces, he has a good team now with Nicolas Massu and he is in great physical shape.
Dominic Thiem's Racquet Specs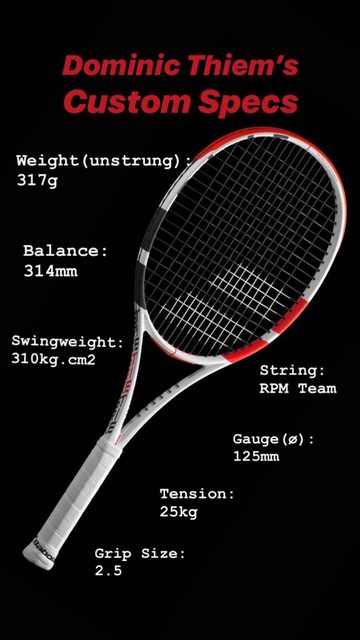 The above image is what Babolat published on their social media. The string information is outdated but based on the specs, you would get something like 336 grams, 32,6 cm balance, and 340 SW strung. Definitely a spec that allows a pro player to swing through really fast. And if you have seen Dominic Thiem play, you know that this is the style he likes!
Thanks for checking out Tennisnerd! How do you think Thiem will do in 2020? Please comment below.