It is time for another classic racquet review, this time a more modern one. Here is the HEAD IG Radical Pro Racquet Review.
The HEAD IG Radical Pro belongs to the well-received HEAD Innegra line that came out in 2012. The HEAD IG series is still very popular on the pro tour, especially the HEAD IG Prestige MP with the pro stock code 293.2. I have reviewed that racquet here. The Innegra line incorporated a wonderful flex and connection to the ball and is definitely one of the best HEAD lines in history in my opinion. Despite the low stiffness ratings, the racquets still possessed decent power and the IG Radical Pro does not fail in this respect. It actually offers both power and spin enough to compete in the modern game.
*My tennis friend Adam Bonello made this HEAD IG Radical Pro racquet review possible by lending me two of his racquets. He is actually selling four of these, if anyone is interested in trying this stick.
HEAD IG Radical Pro Racquet Review – Specs and tech

The HEAD IG Radical Pro comes with specs that make many tennis nerds salivate. It is that blend of open pattern, low stiffness rating, thin-to-medium beam that makes it playable for a wide range of players. You can camp out behind the baseline or attack the ball and head towards the net. It is a versatile racquet that does most things well.
About Innegra from HEAD: "The HEAD Innegra™ hybrid-composite structure is integrated into the racquet for shock absorption and improved stability. As a result vibrations are reduced by up to 17% on ball impact for unique control and precision. This protects the player from the forces of a ball impact."
Strung specs without customization:
Head size: 98 sq inches
Length: 27 inches (Standard)
Weight: 325 grams strung
Balance: 3 pts HL
String pattern: 16×19
Stiffness rating: 62 RA
Beamwidth: 22 mm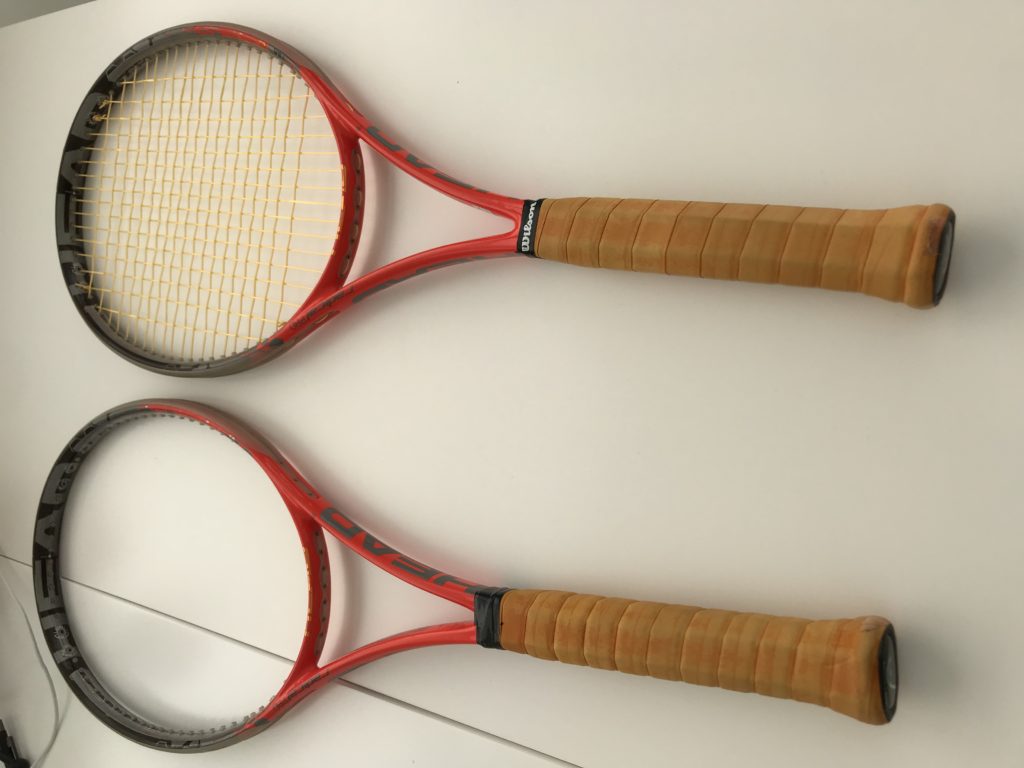 Customization
I used this racquet customized to 340 grams strung with a 32,5 cm balance and a 339 SW. There was about six grams of lead tape at 3 and 9 and a Wilson leather grip. I did also play it without the lead tape added and I did sense a little lack of stability.
Strings
This racquet was strung with Luxilon 4G Soft at 23 kg (51 lbs) for this play-test. I could even have gone up a bit in tension since this racquet is both powerful and spin-friendly. My recommendation would be to go for a poly (or hybrid) at a medium tension (22-24 kg or 50-54 lbs) with this racquet. Since it is comfortable, it won't be too jarring on the arm. Since it is a spin-friendly frame, I don't think it will play as well with a multifilament.
HEAD IG Radical Pro Racquet Review – How does it play?

Feel/Touch
The HEAD IG Radical Pro has a noticeable flex when you hit the ball. Some people like that sensation when they play, others don't. I like it, but tend to play better with slightly crisper frames myself, but the connection to the ball is great with this frame.
Power/Control
There is ample power for a control-oriented racquet. You can't compare it to a tweener, but this offers more power than the current HEAD Graphene 360 Radical Pro for example, despite the lower stiffness. I really enjoyed the power on serve for example.
Spin/Slice
There is plenty of spin on tap here as the string pattern is fairly open. Sometimes I struggled a bit with the high-ish launch angle. Maybe an 18×19 or 16×20 pattern would have suited this frame a bit better? Despite the open pattern, I found that the racquet knifes the ball really nicely, as the balance makes the racquet carve through the air. It doesn't create as skidding a slice as a Blade 98 or a Gravity Pro, but it's a shot it handles well.
Maneuverability
This racquet feels quite fast through the air and this really helps on serve and at the net.
Comfort
The low stiffness rating and the Innegra material makes this racquet very comfortable.
Playing style
This racquet is versatile and suits for a wide group of players, from baseliners to net-rushers.
Skill level:
Intermediate to pro.
HEAD IG Radical Pro Racquet Review – Summary and Video
The HEAD IG Radical Pro, together with pretty much the whole Innegra line from HEAD, deserves to be called a modern classic. I can see why tour players still use these frames under various paint jobs because they feel and perform great for a wide variety of playing styles. It offers good power, spin, comfort and feel in a nice design. I truly recommend testing this frame for yourself, but they can be quite hard to find used these days…
Have you tried the HEAD IG Radical Pro? What did you think about it?