The solid feel of a pro-stock frame is almost impossible to get if you just take a frame off the shelf and string it up. This is how to customize a tennis racket.
A pro-stock frame is a frame made specifically for a pro-player, in most cases customized to the exact specs of the unique player it´s intended for. Every player is unique, and everyone has their own required specs that they want to use in their frames. Some players want a very soft frame, some like it stiff (in the flex..), some low overall weight but heavy swing weight and so on.
Do the companies then make frames with all those different specs? NO, they don't! What they do is to make a so-called hairpin in a very light weight. If you would just add a pallet or mold the handle around the hairpin and install the grommets and a base-grip, the weight would be between 250-270 grams unstrung. Way to light for most players around the world on all levels of play. The hairpin is made in a special mold, that might look very much like the retail version. In some cases it´s actually the very same mold like the retail version of the frame it´s intended to look like, but in a much lighter package and in most cases with a lower stiffness rating in the flex. A stiff frame generates more power and a softer frame more control and feel. Most pros prefer the softer flex.
How to customize a tennis racket – baking the hairpin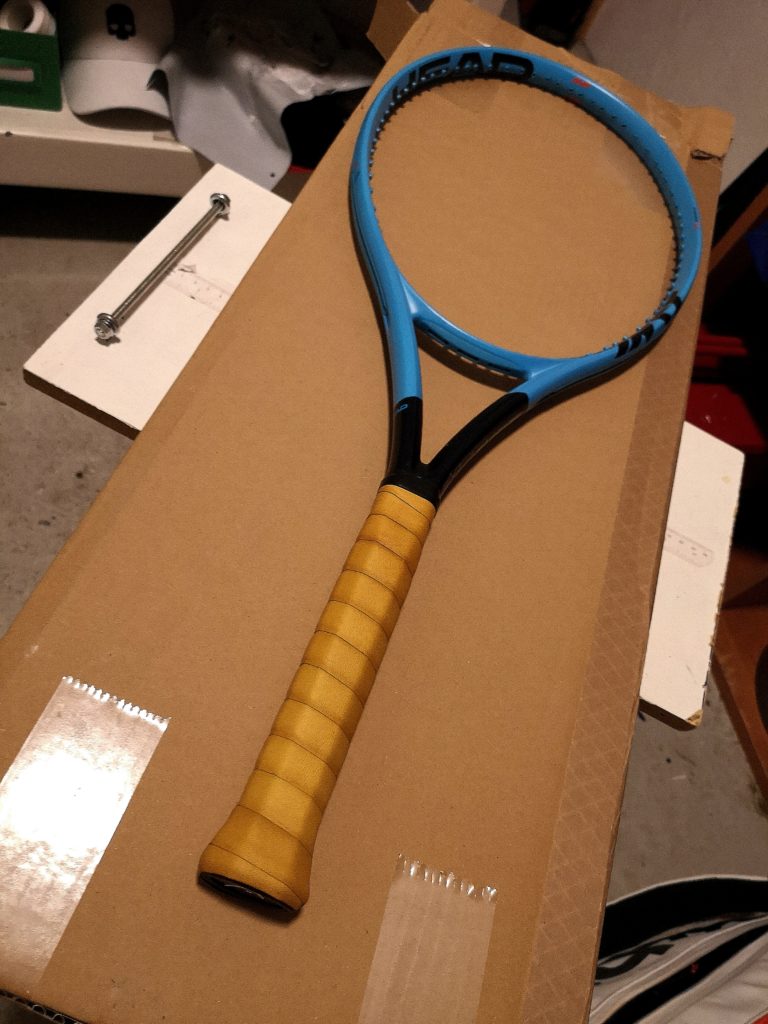 When the hairpin is baked in the oven (yes, it´s just like baking a pizza 10-15 minutes in 300 degrees Celsius) and painted in the seasonal paint job, it´s either sent to a pro shop like RPNY, P1, Ring&roll etc for customization, or it´s customized in the so-called "pro-room" in the brands HQ. Most brands have this pro-room. What they do there is to add lead at various locations, inject silicone into the handle and add a leather grip (in most cases). With these methods, they customize the weight, balance and swing weight (how heavy the frame feels to swing) and this totally changes the feel of the frame.
Good thing though is that it´s pretty easy to do this yourself! Swingweight is a bit tricky so we skip this (important) step but it requires a very expensive so-called RDC (racquet diagnostic center) machine and since I don't have one I don't care about it. [You can also use the manual method as suggested by Tennis Warehouse. Swing weight is key if you want to match your racquets (unless they already come matched in SW) so worth investing the time or getting a machine. – Jonas]
When customizing a frame, it´s important not to have a too heavy frame to start with. For example, if you have an old head Youtek Speed Pro with 335 gram unstrung weight, it´s already on the heavy side. If you customize it could be well over 360 grams and it´s only Del Potro that could swing it! Best is to find a so-called "lite" frame that´s in the 270-290 grams unstrung range. Then you can do the full package with lead, silicone, and leather.
How to customize a tennis racket – Silicone in the handle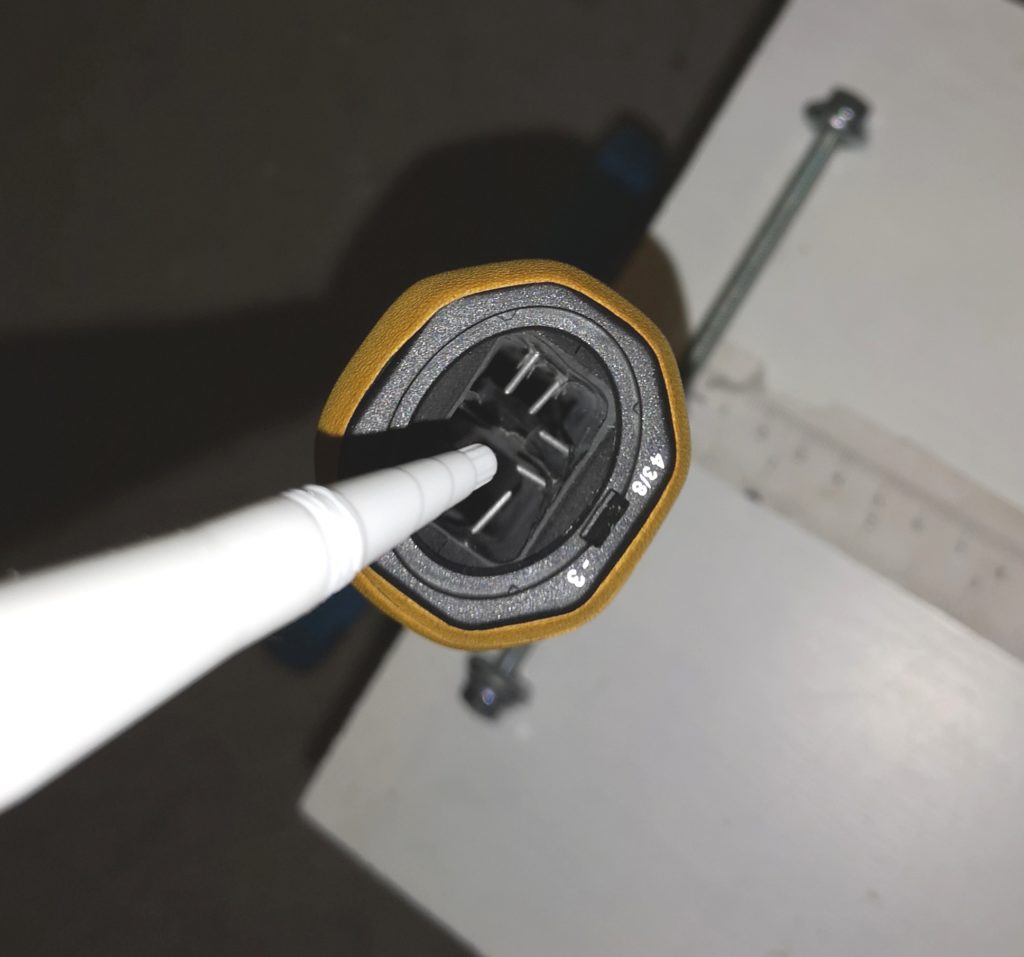 The first step for you is to know what weight and balance you want to have when the frame is ready-customized. Always when customizing calculate with unstrung weight and balance.
What you do first is to install the leather grip (yes, it´s mandatory to use a leather grip as base grip, no questions asked!). When it´s installed, you weight and see the balance. Use a digital scale to see the start weight of the frame with the base grip on. Then use a balance board to see the balance. When you have all the specs, you can use this page to see where to place the weights: http://twu.tennis-warehouse.com/learning_center/customization.php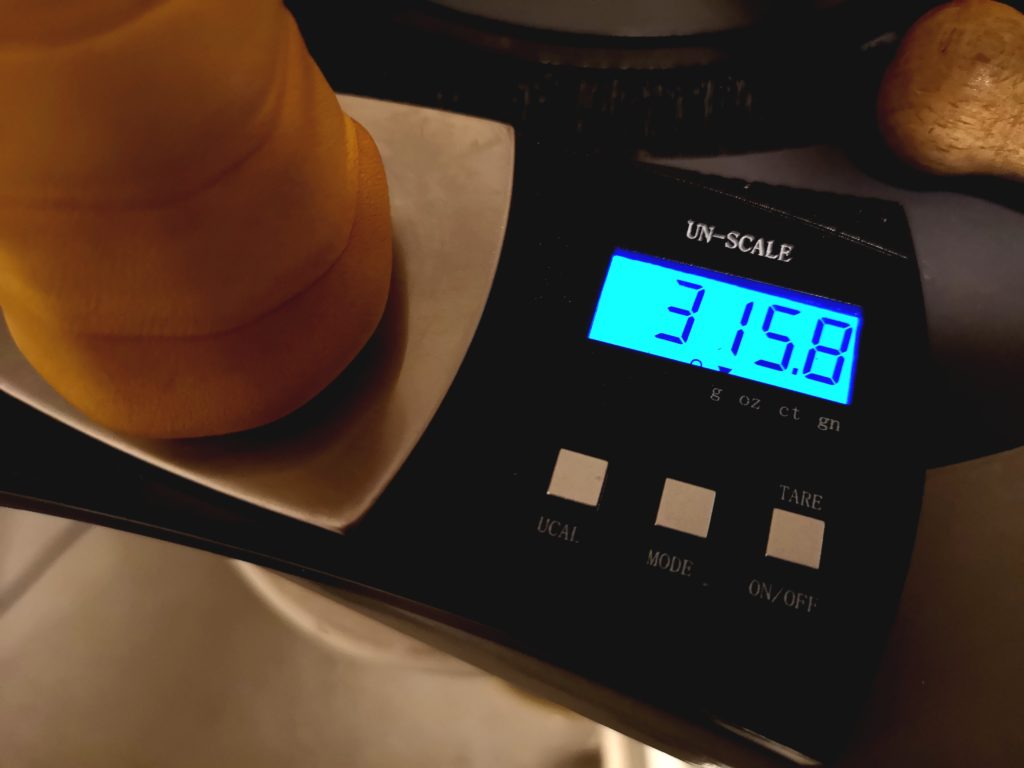 For example, it can advise you to add 10 grams of lead in the top and 15 grams into the handle. When it comes to the handle it´s easiest to inject silicone with a silicone gun like in the picture. Most butt-caps have a trap-door that you open up and inject the weight you want to add. It will take some trial and error before you get it right, but install small amounts each time and weight it between. Don't forget to place the trap-door on the scale as it´s about 3 grams.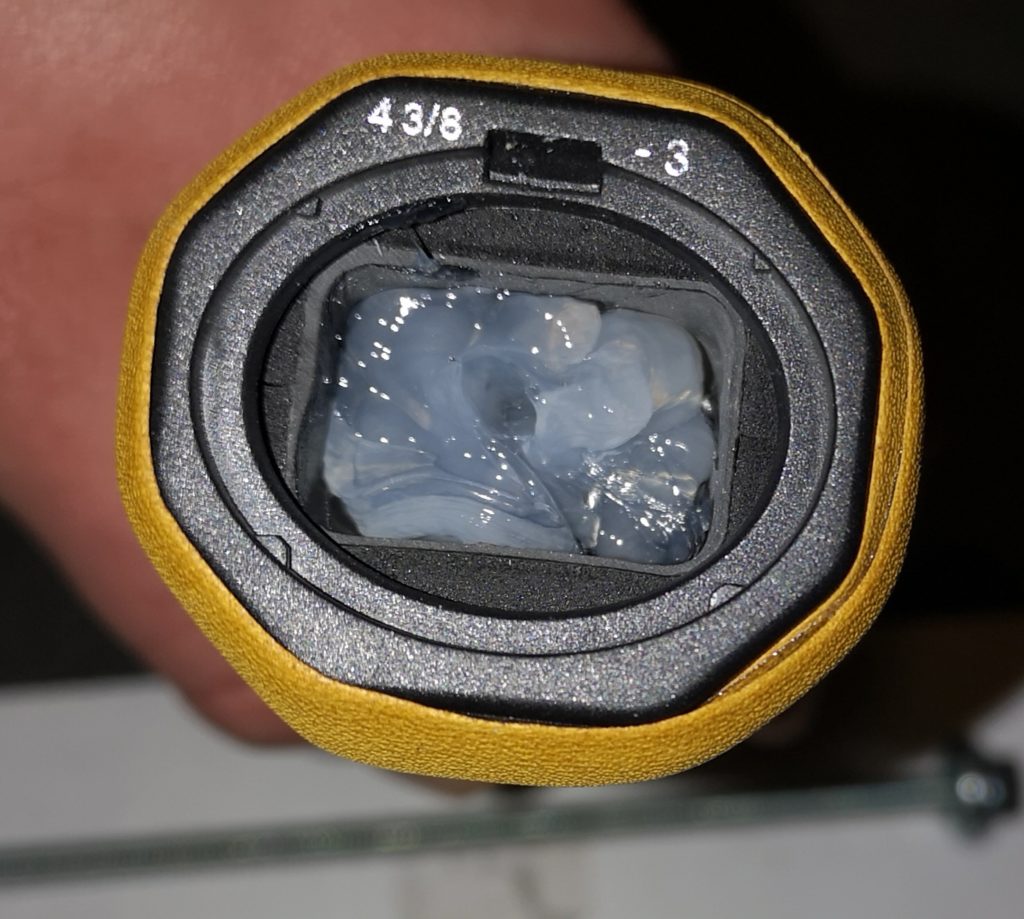 How to customize a tennis racket – Lead in the head
When silicone is ready, it´s time for the lead. I see some talk about tungsten tape these days, but lead is easier to work with and tungsten also translates to "heavy rock" on Swedish and it´s not cool on a tennis frame. Lead-tape it is and best is to buy a big roll of lead as it´s really fun to customize frames. Cut the lead tape to right weight and then fold it a couple of times. I often place lead from 10 to 2 on the frames as I like polarized (the weight of the frame polarized to the top and bottom) but you can pretty much place the lead wherever you want on the frame. I always remove the grommets in the top and place the lead-tape, the install the grommets again. There are millions of instructions on YouTube how to remove and install grommets so it´s not exactly rocket science, apart from Babolat grommets. They are a pain in the ass to install! Don't know why!?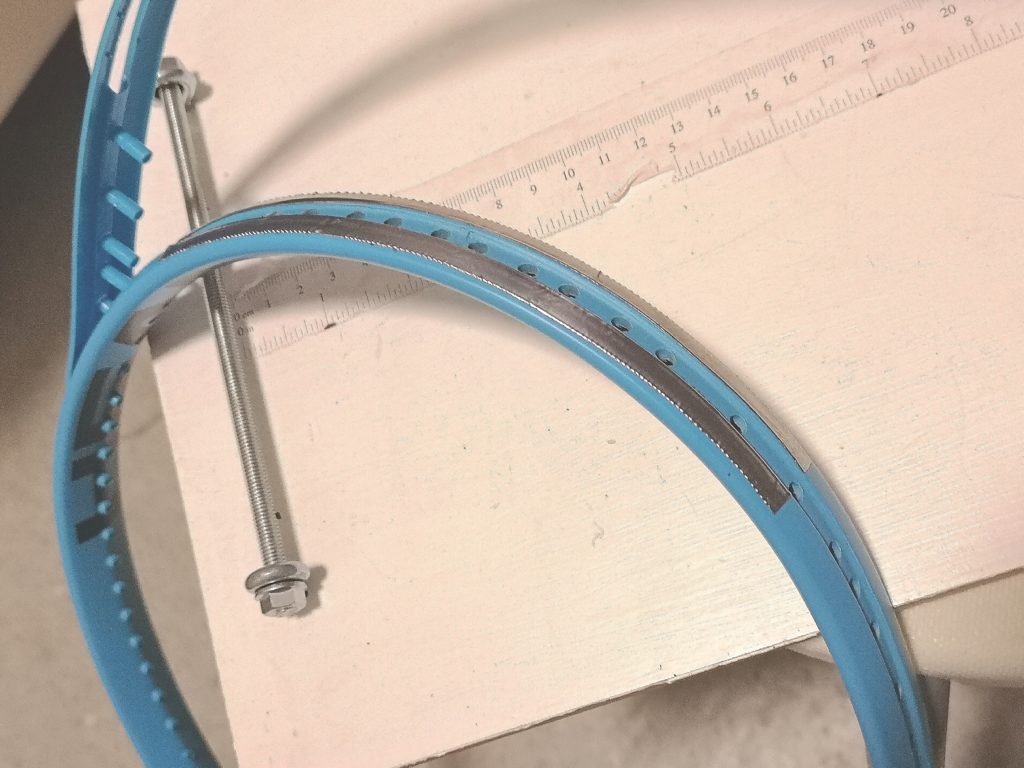 When everything is installed, it´s time to check weight and balance again and don't forget to take note of the final specs in case you want to duplicate it on a 2nd or 3rd frame. I personally have fallen totally for the retail version of Babolat Pure Strike VS with some magic touch added. I add lead, leather and a small bit of silicone. I also use two overgrips (Wilson pro grip). First layer without overwrap and second layer normal wrapping. Strung at 48 lbs with Babolat RPM Blast 1.25 mm it´s an amazing combination of power, spin and control. Like a Babolat Pure Drive with the feel and control of a legendary Head Pro Tour 630 (well, almost..)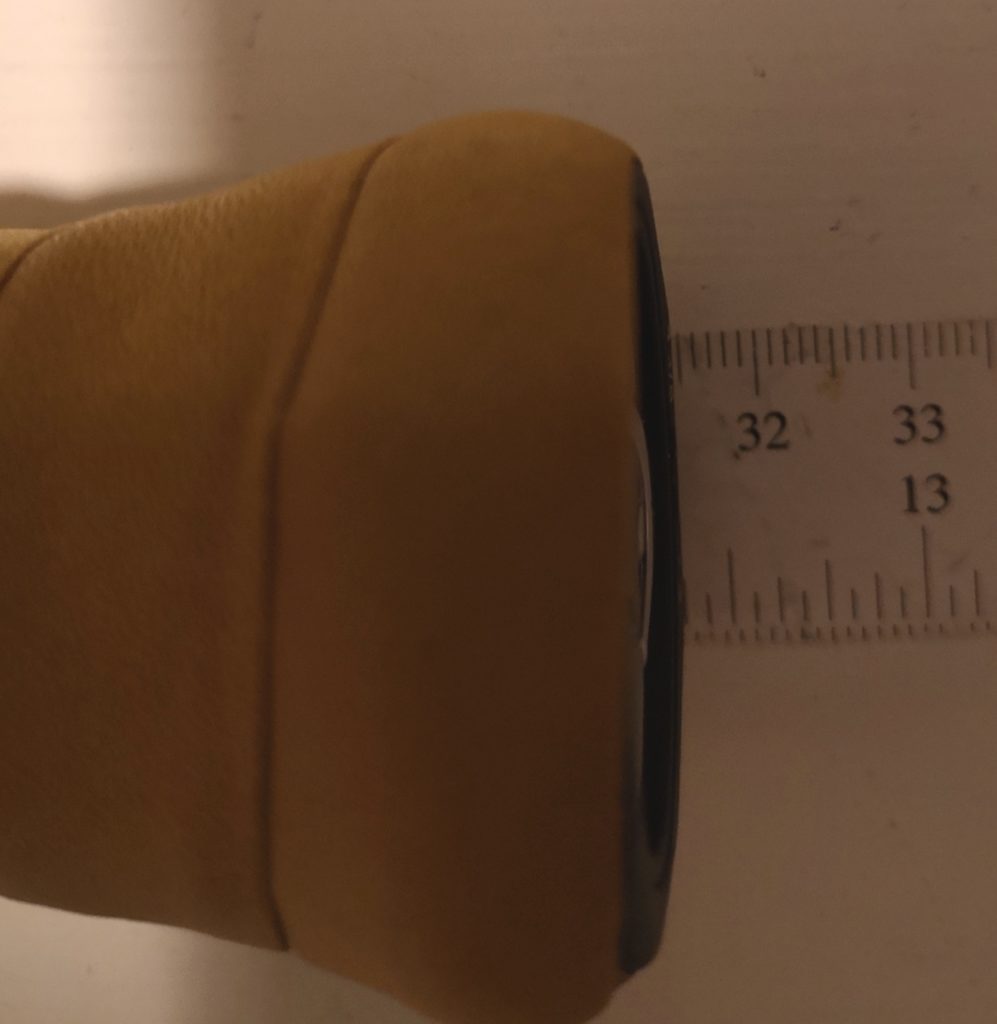 For this article, we used the new Head Graphene 360 Instinct MP
. Starting weight was 298 grams with a 32 cm balance. When ready from the customizing it weights around 315 grams and a 31.5 cm balance. This frame is new and un-used and now for sale for 120 euros. I also have one more Graphene 360 instinct MP frame, new and unused. Not customized. Same price, 120 euros. Contact the Tennisnerd for more information.
Thanks, Henrik for the guest post! Do you ever customize your own racquets in this way? Do you have any tips and tricks to share? Let me know in the comments below.