Lacoste is not a brand you associate with tennis racquets these days. But now they have released a racquet called Lacoste L20.
The Lacoste L20 is a racquet created together with Tecnifibre. Lacoste acquired Tecnifibre in 2017 and is now influencing the design of the racquets as you might have seen with the predominantly white-red-blue racquets.
Most of you know that Rene Lacoste was a tennis player. He won seven grand slams in the 1920s and was nicknamed the "crocodile" after his style of play. This is what Wikipedia tells me: Lacoste was primarily a baseline player who relied on control, accuracy, and deeply-placed groundstrokes to put pressure on his opponents. In addition, he possessed an excellent passing shot and backhand slice. Lacoste was a studious tactician who meticulously analysed his opponents and kept detailed notes on their strengths and weaknesses.
Sounds a bit like a Djokovic/Medvedev style of player, right? Well, both guys are sponsored by Lacoste so the brand has chosen their ambassadors wisely.
But this post is not about Rene Lacoste, it is about the new Lacoste L20 racquet.
Ps. See the video under the Summary section Ds.
The specs and tech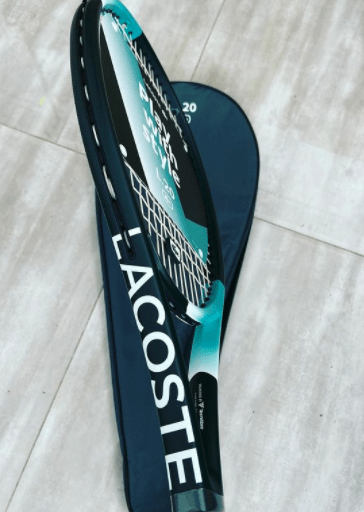 The L20 tennis racket is focused on beginners and lower-level intermediate players.  It features the famous anti-vibration system invented by René Lacoste – which involves 40g of steel encased in an elastomeric material. The unstrung specs are:
Weight: 290g
Balance: 31.5 cm
Length: 68.5 cm / 27 inches (standard)
String pattern: 16×19
Construction: Graphite 100%
String: Tecnifibre TGV 1.30 multifilament
My strung specs were: 305g, 32.5 cm with a 288 swing weight (!)
So this racquet is pretty light and not stable enough against heavy hitters.
How does it play?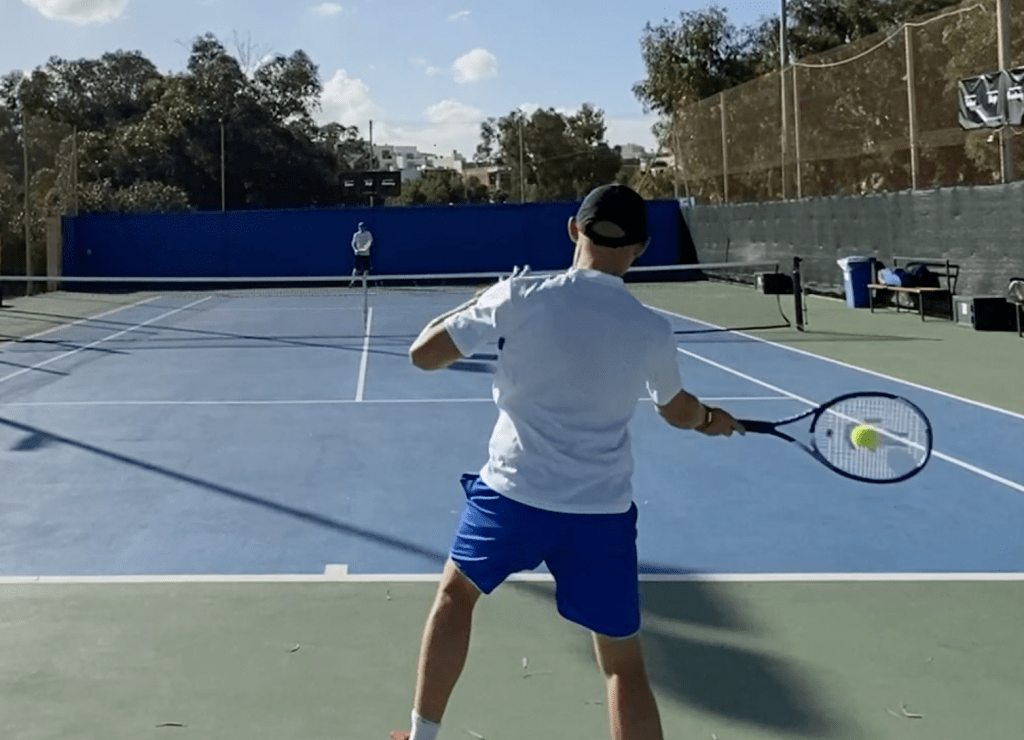 The racquet feels fast and comfortable. Perfect for most beginners, with a large sweet spot, soft feedback and easy power. I liked the response from this frame and just wished it was 20 grams heavier and had a sweet spot around 320 strung. Then it would be a nice racquet also for more advanced players.
But for beginners and lower-level intermediates, I think this racquet is a good choice. Well-dampened, easy to swing, some free power. I also think Tecnifibre TGV
is a good string choice for this frame and the type of player it is for.
The slightly different design of the racquet will appeal to many it seems like from my initial Instagram post. It's not quite as sweet-looking as the half-wood, half-graphite LT12 racquet they released in 2015, but I like it.
Summary
The Lacoste L20 looks great, plays nice, but is not really for anyone above the 3.0 NTRP rating. But for beginners, casual players and lower-level club players, it's worth considering. It's Lacoste, so it's not cheap – the retail price is €290. Not sure whether the racquet is sold out or not, but I can't find where to buy it at the moment. Maybe it's sold out, because it was listed for sale on this link earlier.
It would be interesting to see more Lacoste frames, perhaps a more advanced player frame?