Any of you readers who play around or use vintage tennis racquets from time to time? It can be great fun and sometimes it's also beneficial to your game.
There are many "old but gold" tennis racquets out there. I don't mean wooden racquets here, but racquets from the 80s and onward. As some of you loyal readers know, one of the most popular racquets on the ATP tour is more than 20 years old – the HEAD Pro Tour 630 (or 280 in the US). Now it is called PT57A and is used by Andy Murray, Gilles Simon and many more along with its cousin PT57E (based on the HEAD iPrestige racquet).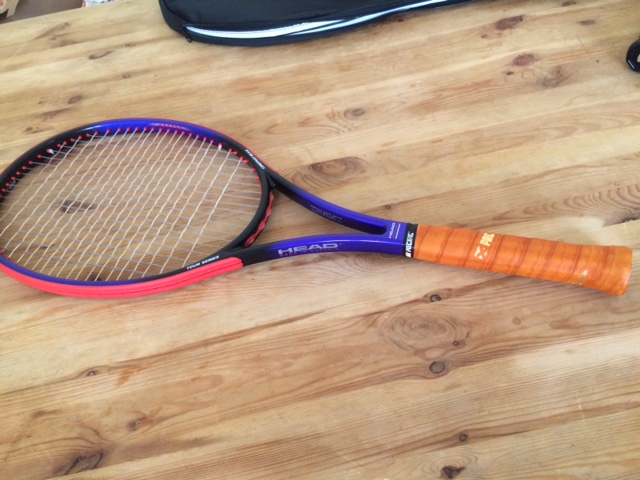 Obviously not only Murray and Simon use older racquet molds with new paint jobs. Most professionals on the tour still play with pro stock racquets based on older ones as you can see in this list of ATP pro racquets.
I am myself always open to testing older tennis racquets and I know some of them have pleasant playing characteristics. The HEAD Pro Tour 630 for sure, but also racquets such as the Wilson Pro Staff 85 as used by Pete Sampras and Stefan Edberg and the HEAD Prestige 600 (used by Ivanisevic to name one and still played by Robin Haase today!).
HEAD was actually making loads of great racquets back in the days and I'm currently playing around with a HEAD Liquidmetal Radical Tour, which strung (this one has a thick leather grip) weighs around 355 grams and at only 6 pts head light is quite a beast to swing. I really enjoy heavy racquets however so it's a fun ride for me so far.
The Radical series made popular by Andre Agassi (who played the HEAD Radical Oversize), and later on championed by Andy Murray, has a great heritage. There are a lot of fans of the various editions of the HEAD Radical Tour (the Bumblebee, the Candycane and the Zebra) and they still are all great playing racquets if you like a slightly heavier and more flexible sticks than the modern racquets of today.
In the picture below you have three great HEAD racquets. The HEAD iPrestige (Mid in this case), the HEAD Prestige Tour 600 (not as "classic" as the Classic) and the HEAD Radical Tour (candycane edition).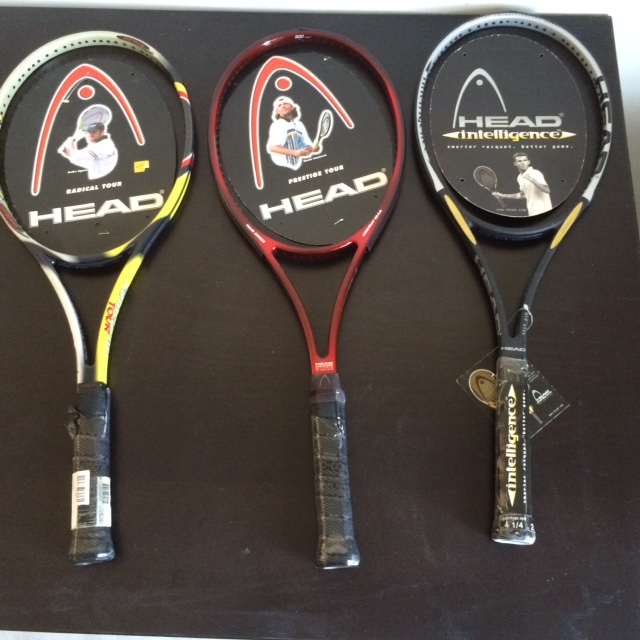 So you can definitely play solid tennis today with a 20-year-old racquet. Getting a whippy top spin shot with lots of racquet head speed is not going to easy for an amateur player with a racquet weighing 350 grams, but that's not the only way to play tennis. Tennis has become faster over the years and racquet companies have tried to answer the question on how to maintain stability while dealing with increasing swing speeds and more spin-friendly strings. This is how racquets are becoming stiffer and lighter and dampening/stability materials like Countervail, Textreme, Graphene, and more, are becoming more and more important.
Racquets are supposed to give more power and stability, strings are supposed to give more spin and control and somewhere along the line the equation isn't all that easy to maintain with lots players becoming injured. It's not only the gear of course, the sport requires more from the body now than ever before. I think this is something for players and the ATP tour to think about seriously now. Just look at how the 2016 and 2017 seasons turned out. Rafa and Roger opted out of the second half of 2016 and Djokovic, Murray, Wawrinka, Nishikori and Raonic all stopped play early in 2017! Players need to stay healthy for the sport to remain healthy and racquets and strings are a part of this too.
I get a little off topic here, but there are many good things to be said about older racquets and in many cases you're fine playing a ten or twenty year old racquet today. Although it's always fun to try new stuff too!
I will be writing about more vintage racquets in the future and will conducts some hopefully interesting oldie-but-goldie play-tests as well. Is there any particular racquet you like to see? Please comment below. I'm also curious to know what vintage racquets you're using and why. Thanks for reading.