The Tour family of racquets became a hit when Prince introduced them in 2015. Here is my Prince ATS Tour racquet review the 98 and the 100.
Most important for this review is the entry of the Tour 98, an entirely new model in the Prince Tour series. And an important one as the 98 sq inch head size is very popular among advanced players.
The other models in the line-up, like the 95 and the 100P, will be reviewed shortly as I'm expecting a shipment.
Tech
Like with most racquet line updates, there is not a huge change in performance from the 2019 Textreme Tours to the 2022 ATS Tours. Textreme and Twaron are still a part of the layup, with the ATS meaning "Anti-Torque system", featuring the materials in the shaft and at 10 and 2 in the upper hoop. The idea is to increase stability but another result of it is also an increase in swing weight.
Specs
There are no large shifts in the racquet specifications, but the stiffness is quite a bit lower (measured in RA units). A low 60 RA strung usually means that the frame flexes a bit more on impact than most modern racquets (high 60 RA).
Prince ATS Tour 100 (310g) Specifications
Head Size: 100 in / 645 cm
Length: 27in / 68,5cm
Strung Weight: 326g / 11,5oz
Unstrung Weight: 310g/10,9oz
Balance: 31,98cm / 7 pts HL
Unstrung Balance: 31cm/10 pts HL
Swingweight: 323
Stiffness: 62
Beam Width: 22mm / 23mm / 20mm
Composition: Textreme/Twaron/Graphite
String Pattern: 16 Mains / 18 Crosses
Mains skip: 8T,8H
Prince ATS Tour 98 Specifications
Head Size: 98 in / 632 cm
Length: 27in / 68,5cm
Strung Weight: 323g / 11,4oz
Unstrung Weight: 305g/10,8oz
Balance: 32,49cm / 6 pts HL
Unstrung Balance: 31,5cm/9 pts HL
Swingweight: 325
Stiffness: 62
Beam Width: 23mm / 23mm / 20mm
Composition: Textreme/Twaron/Graphite
String Pattern: 16 Mains / 19 Crosses
Mains skip: 8T,8H
As you can see the head size is the main difference in the specs. Most other factors are quite similar in between the 98 and the 100.
How do they play?
Both the Prince Tour 98 and the 100 are power-oriented without going all the way to stiffer racquets like Pure Drives, HEAD Instincts, or Wilson Ultras.
You get a fair share of spin, but they're not exceptionally aerodynamic like spin-focused racquets (Aero, SX, Extreme etc). Think of them more like modern, middle-ground racquets that are versatile and perform well for a wide range of player types. Since they have relatively high swing weights, you need to be an advanced player to benefit fully from them.
But if you like a stable racquet with good comfort, feel and a nice balance of power/spin/control, the new Prince ATS Tour racquets should go on your demo list.
Comparing the 98 and the 100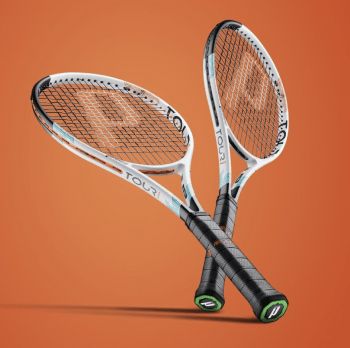 It sounds logical that the 98 is faster through the air thanks to the smaller head size. It also offers better control, but less power than the 100. If you're an attacking player relying on precision, the 98 is the way to go. Spin-oriented baseline players will likely prefer the Tour 100.
Compared the Prince ATS Tours to other brands
The Prince 98 is somewhere in between an Ezone 98 and a Blade 98 in power level. The Ezone is slightly more powerful, while the Blade is a more control-oriented racquet than the Prince. I think a lot of players will enjoy the blend. I think it's also somewhere in between a Pure Strike 98 16×19 and a TF40 16×19.
The Prince 100 is more in line with a HEAD Speed MP/Pro. A bit more spin-friendly than the Pro, but similar in weight and power level.
Compared to previous version (2019)
The Prince ATS Tour 100 is a crisp yet arm-friendly feel. It's more comfortable and stable than the predecessor at the cost of being tougher to manoeuvre.
Where to buy or demo?
Check out my affiliates Tennis Warehouse, Tennis Warehouse Europe, and Tennis Only to find these Prince Tour ATS racquets. If you use my links here or in my YouTube description, to buy anything from these online stores, I will get a small commission. This helps Tennisnerd stay alive and is much appreciated. Thanks.