The 100X is the new Phantom Pro. It comes in two weights and patterns. I deal with both in this Prince Phantom 100X Racquet Review.
The previous Phantom Pro was extremely flexible for a modern frame. This update is a bit stiffer but is still below 60 RA strung, which means comfort won't be an issue. They have also added the Anti-Torque system (Textreme and Twaron at 10 and 2 in the hoop as well as the shaft). The idea with ATS is to stabilize the frame. The 100X series also comes with the CTS beam, which goes from 18 to 22 mm. So if you like thin-beam racquets that play like more modern frames – check out the 100X series. The 305 is perhaps one of the best racquets I have tried in a long time, and I will tell you why in this Prince Phantom 100X racquet review.
Specs
I have reviewed both the 305g 16×18 version and the 320g 18×20 in this review. Below are the strung specs of my racquets:
Head size: 100 sq inches
Beamwidth: 18-20.5-22 mm
Strung specs (w overgrip)of the Prince Phantom 100X 16×18 305: 327g, 31.7 cm balance, 322 SW.
Strung specs (w overgrip)  of the Prince Phantom 100X 18×20 320:  345g, 31 cm, 334 SW.
It is clear that the 305 version will be more spin-friendly and easier to use, while the 320 version will be more controlled and demanding.
I tested the racquets with a bunch of different strings: Solinco Confidential, Dunlop Explosive Spin, RS Paris Octagon.
How do they play?
I believe the two different Prince Phantom 100X racquets play exactly as intended. You get more spin with the 305 and more control and stability with the 320. Both racquets are plush, comfortable, and offer a great sense of connection to the ball. Since I am gravitating towards lighter racquets these days, the 305 is my favorite. It is such an impressive racquet that I find it difficult to fault. The spin and power are both there; the feel is excellent, it handles both flat and topspin shots well. It is one of the most complete racquets I have tried in a while. The only issue I had with it is that on some occasions, it felt slightly unstable, but that was very slight, and overall I found the stability impressive for the weight, swing weight, and flex rating.
The 320 also had a great feel. It offered a bit more directional control, a lower launch angle, a slightly more penetrating slice. But it wasn't as easy to swing, and I like the free spin the 305 version offered me. Since the swing weight of my racquet was 334, it was a bit more challenging to generate enough topspin to achieve control, but for advanced players, this might not be a problem. When I switched between the racquets, I noticed that with the lower launch angle of the 18×20, I was clipping the net a lot more with that frame.
Summary – Pros and Cons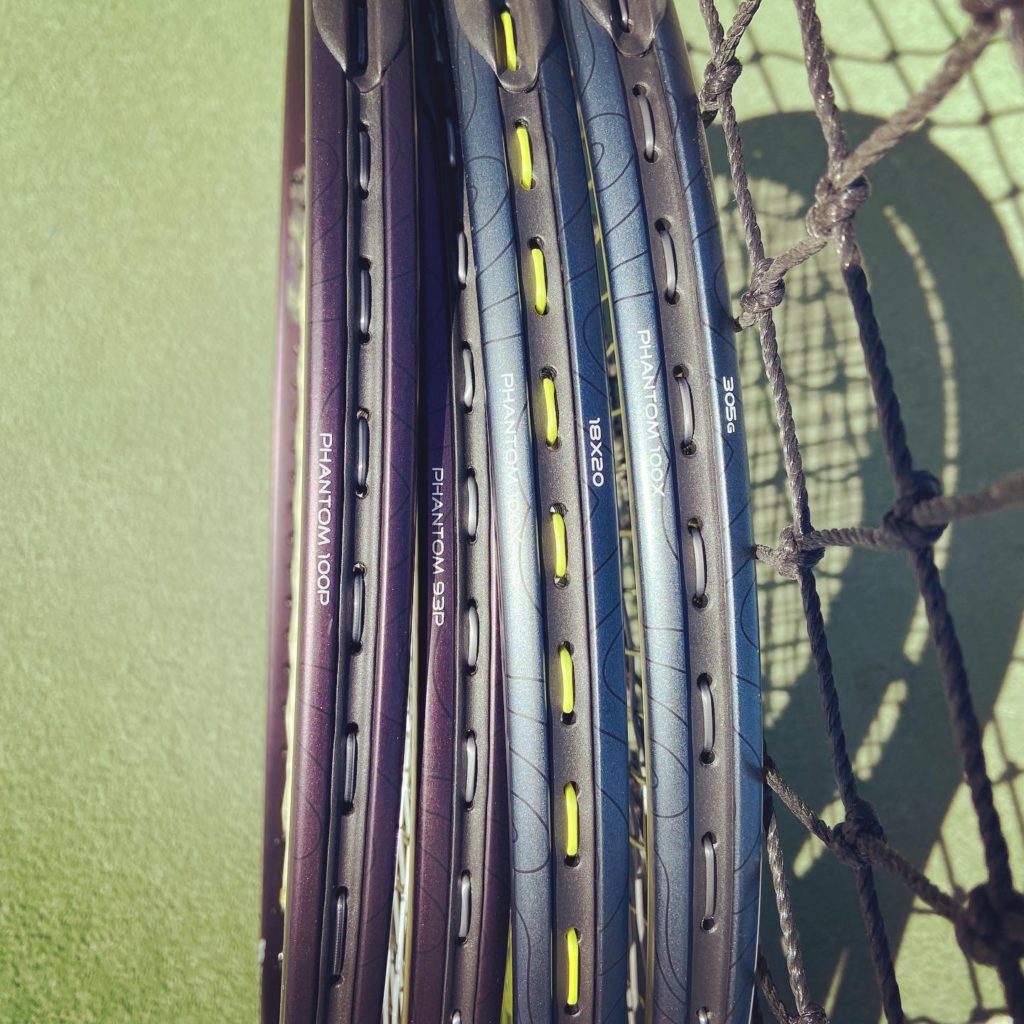 Let's look at some pros and cons of the Prince Phantom 100X racquets.
305 16×18
Light and easy to swing
Great spin potential but not an annoyingly high launch angle
Impressive stability for its weight and flex
Very plush and comfortable
320 18×20
More control and stability than the 305
More difficult to swing
Lower launch angle
These racquets are both excellent, and I enjoyed this play-test. The Prince Phantom 100X 305 is something so rare as a modern frame that is plush, spin-friendly, and still controlled. It reminds me a bit of the Gravity Tour but offers a bit more comfort and spin. It is simply put a brilliant, all-round racquet. Definitely already on the list for the Gear of the Year 2020.
The 320 is also a nice racquet, but I did struggle a bit more with the weight and string pattern of that frame. You get more things for free with the 305. But if you like a bit more weight on your racquets and like to attack the ball with a flatter game – the 320 would likely be your best bet.
Have you tried the Prince Phantom 100X? What did you think of it?