Carlos Alcaraz won in Queens, which means he is back to number one in the rankings. Bublik also had a great week in Halle, to capture his first ATP 500 title.
Carlos Alcaraz won in Queens
Alcaraz is only 20 years old, but it feels like he has been around for quite a while already. And he is already conquering all the surfaces, with his first grass court title, at the prestigious ATP 500 in Queens. It has become so natural to watch him winning, that the only real concern for his tennis dominance is his fitness (avoiding injuries), as he is expending a lot of energy launching himself around the tennis court to hit spectacular shots. Learning to manage his energy and intensity could be a part of him maturing into an even better player, and that is a frightening thought for other players.
Alcaraz defeated Alex de Minaur in the final 6-4 6-4.
"It means a lot to me. Being able to win this amazing tournament in the first time that I played here for me is fantastic," Alcaraz said in his on-court interview. "To know that I'm [capable of] a good level on grass, obviously [to be] champion of every tournament feels special."
The title in Queens means that Alcaraz is up to five titles for the year, tied with Daniil Medvedev.
Bublik is showing his talent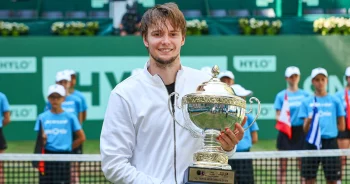 We all knew that Alexander Bublik was talented and could hit crazy shots. But we haven't seen him string it together often for a whole tournament. At the ATP 500 in Halle, he did. He showed some spectacular tennis, great serving and, most of all, somewhat surprisingly, competitive composure.
"It really means the world to me," said Bublik. "I've been struggling for half a year and now having this a reward, I don't take it for granted. It was hard work. I was walking through the little hall of fame here before entering the court for the very first time against Struff [in the second round], and I was like 'Wow, the different names, a lot of guys I'm familiar with. That would be nice maybe to have it one day."
"But I could not even imagine that I would win this tournament, and I'm really, really happy."
Bublik was struggling with racquets for a while, went from his Ezone 98 to a Gravity Pro briefly, (which I've been talking about on my YouTube channel) but now seems to have found home with his Tecnifibre Tfight 305.