Aussie youngster Alex de Minaur is making waves in the Brisbane ATP tournament after beating Raonic, Johnson and Mmoh. But what racquet is he using?
18-year-old de Minaur uses a blacked-out Wilson pro stock racquet similar to David Ferrer. It's a pro stock version of the Wilson Steam 99
with a 16×18 string pattern. He uses Luxilon 4G
strings.
Alex de Minaur doesn't have a massive power game, but has a smart tennis mind and fights for every point. With this game style it's ideal to have Lleyton Hewitt as your coach so de Minaur can for sure be a top 20 player in a few years if he keeps this up. If he can go further than that is hard to say, based on his game, I would say it might prove difficult unless he does big strides with both technique and physique.
Do you want to know what other racquets the ATP pros use? Check out this post.
What is so special about this Wilson Steam 99 mold then? It's hard to say. It is a powerful racquet with a high stiffness rating, but obviously with a pro stock mold this might be lowered to suit players like David Ferrer and Alex de Minaur. Below are the specs of the retail version of the Wilson Steam 99.
WILSON STEAM 99 RACQUET SPECS
Head Size: 99 sq. in


Weight: Strung — 11.3 oz Unstrung — 10.7 oz

Balance: 2 Points Head Light

Beam Width: 24 mm


Composition: Basalt


Flex: 70


Grips Type: Wilson Sublime

Power Level: Low-Medium


String Pattern: 16 Mains / 18 Crosses
Mains skip: 7T, 9T, 7H, 9H
One Piece
No Shared Hole

Swing Speed: Medium-Fast

There is actually a pro stock Steam 99 on prostocktennis.com, but it's been sold. Here are the specs of that racquet:
Specifications
State:

Pro stock

Brand:

Wilson

Condition:

New

Head size:

99 sq. in. / 639 sq. cm.

Length:

27 in. / 68.6 cm.

Unstrung weight:

10.8 oz. / 306 gr.

Unstrung balance:

319 mm (plastic on the handle)

Stiffness:

64

Grip type:

Wilson Synthetic (plastic on the handle)

String pattern:

16 Mains / 18 Crosses

Pro stock code:

n/a (GR277A / Steam 99 pro stock)

Paint:

Blacked out

Silicone:

Yes (partially removed by player)

Lead:

No (at least not visible)

Pro stock code printed in throat:

Yes (GR277A)

Sticker player code in throat:
Head size: 99 sq. in. / 639 sq. cm.
Length: 27 in. / 68.6 cm.
Unstrung weight: 10.8 oz. / 306 gr.
Unstrung balance: 319 mm (plastic on the handle)
Stiffness: 64
Grip type: Wilson Synthetic (plastic on the handle)
String pattern: 16 Mains / 18 Crosses
Pro stock code: n/a (GR277A / Steam 99 pro stock)
Paint: Blacked out
Silicone: Yes (partially removed by player)
Lead: No (at least not visible)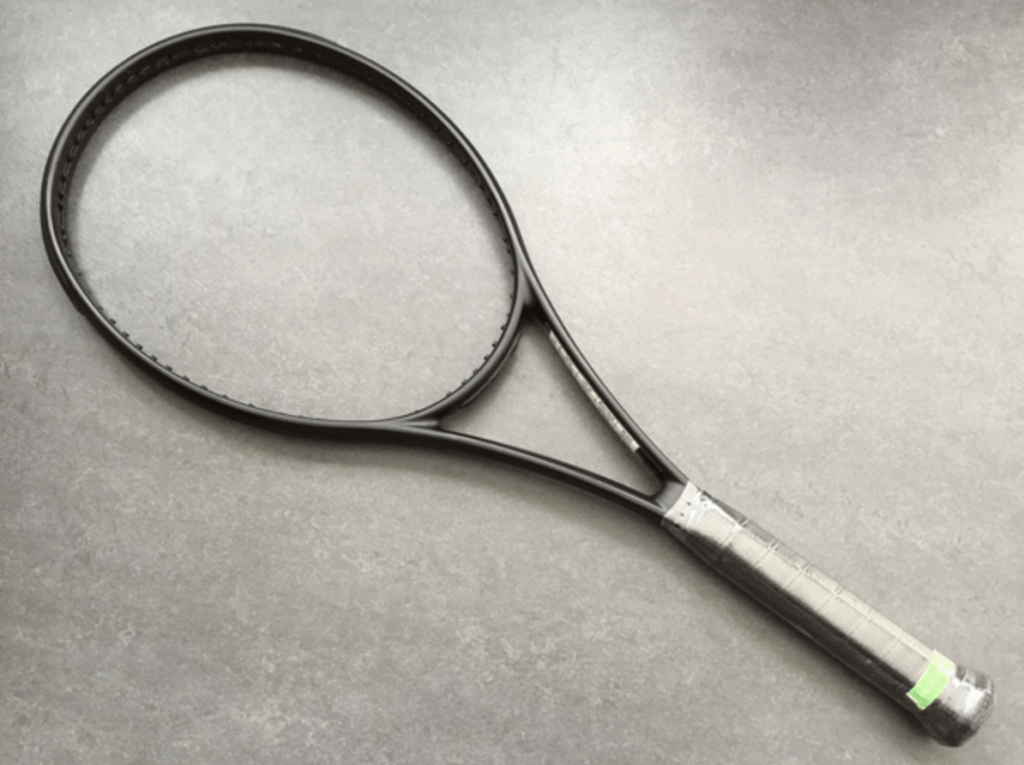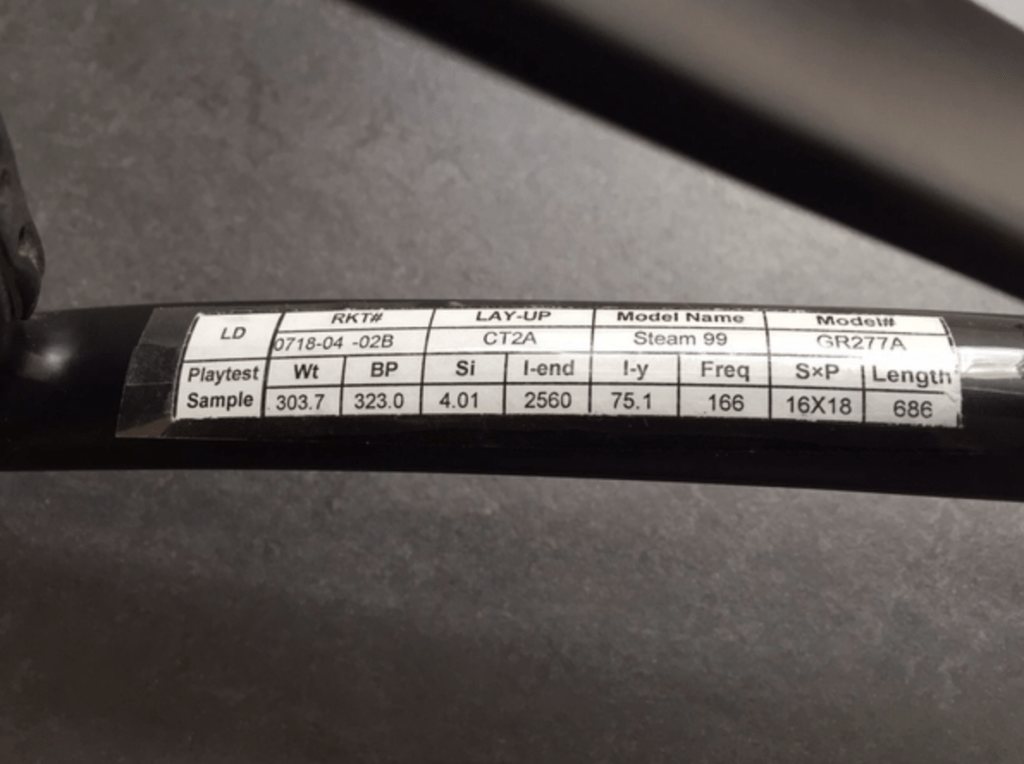 ***
Do you like Tennisnerd? Don't miss a word or video by stalking us on social media. Every like and follow is appreciated!

YouTube
Instagram
Twitter
Facebook Page
Amazon Influencer
Buy tennis gear
EU
Racquet Depot
Pro Direct Tennis

USA
Tennis Express
Do It Tennis
Amazon.com
Racquet buying guides
Here is a great racquet buying guide to get you started.
What tennis racquet should I buy?
Top tennis racquets to buy right now
The Gear of the Year 2017
The Gear of the Year 2016
Tennis racquets for juniors
Tennis racquets for kids
Popular posts
What the ATP pros play
Questions about pro stock tennis racquets
Is a pro stock racquet better than a retail one?
Do professional players change racquets?
Racquet Commitment Issues