Juan Martin Del Potro is back on clay and won his first match against the erratic but often spectacular Dustin Brown. For racquet fans however, the biggest news is probably that he's finally been "given" a paint job to endorse by Wilson. For a long time Del Potro used a Hyper Pro Staff 6.1 95 with a K-factor Six-One 95 paint job (yeah, slightly crazy) despite that the model was out of stock, which I'm sure felt very strange for Wilson to agree to. Now it seems he's agreed to sport at least another paint job with something that looks like a Burn FST 95 but has PWS (Perimeter Weighting System) so it is very likely still his trusted Hyper Pro Staff 6.1 95 mold. But who knows? Only Wilson and Del Potro I guess and Wilson just tweeted this: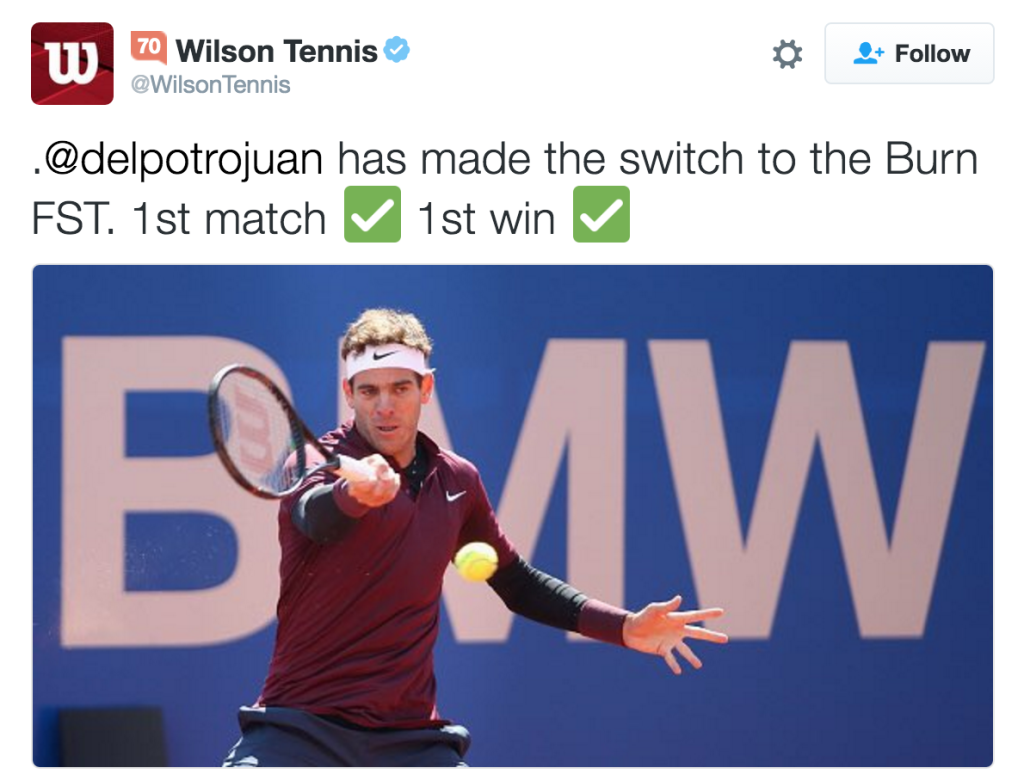 For all tennis nerds and racquetaholics, it's obvious that a Burn FST 95
doesn't have PWS technology. So
there's something else under the paint. The racquet manufacturers are persistent that pro players are using new models, despite a large group of people knowing for sure that it's not true. They want to sell frames of course, but then it would be more fair to release the actual Del Potro racquet to the audience. However, I'm not sure it would benefit amateurs to swing a heavy mid-size racquet in their weekly matches so that's where the conundrum lies.
Wilson Burn FST 95 Tennis Racquet
Since Babolat was sued for not being honest about their racquet endorsements, maybe the industry needs to simply be transparent around who plays what. Maybe the tweet above should have read: "Del Potro has made the switch to the cool Burn FST 95 paint"?
What are your thoughts about racquet endorsements and pro player racquets vs what you can buy in the shop?
Update: Prostringing uploaded some pictures of Del Potro's new racquets on the Tennis Warehouse forum. Enjoy!