Juan Martin Del Potro is exciting to watch but sadly his career has been plagued by injuries. But what is Del Potro's Racquet?
The curious thing about Juan-Martin Del Potro is that he's been reluctant to use so-called paint jobs of his racquets. For a long time, Del Potro used a Hyper Pro Staff 6.1 95 with a K-factor Six-One 95 paint job despite that the model was out of stock, which I'm sure felt very strange for Wilson. Now he has agreed to use other paint jobs. First with something that looks like a Burn FST 95
but has PWS (Perimeter Weighting System) and then the Pro Staff 97 CV
, but underneath the paint is his trusted Hyper Pro Staff 6.1 95. I was fortunate enough to test Del Potro's racquet and can confirm what it is.
Del Potro's Racquet – What is underneath the paint job?

Like most pros, Del Potro has used the same racquet under various paint for the main part of his career. Professional players are usually very particular about their gear and Del Potro is no different. He gets his racquets customized and ready to go from the Wilson Pro Room.
Talking about the Wilson Six One 95, it is one of the most popular racquets on the pro tour. I'm a long-time fan and part-time user of the racquet and I have tried all the different generations, from the Pro Staff 6.1 Classic to the latest reissue.  Although it can be quite heavy for some players (332 grams unstrung), it truly deserves its legendary racquet status as a trusted weapon for advanced players who like stability and control.
Del Potro's Racquet Specs – Up close and personal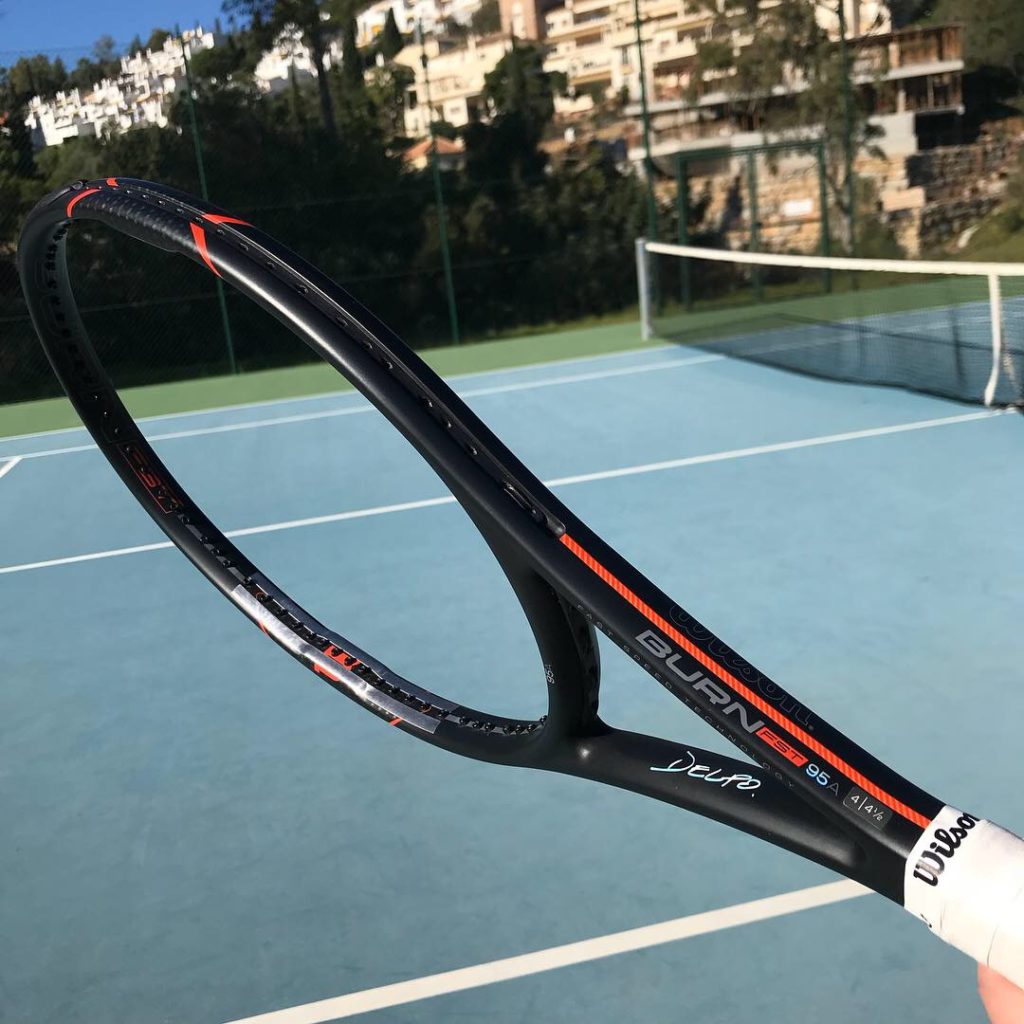 Below are some pictures of Juan-Martin Del Potro's Wilson Burn FST 95
– as you can see it says 18×20 and there is plenty of lead tape
at 3 and 9 on the frame. Del Potro uses a nice blend of Luxilon Alu Power
(in the mains) and Wilson natural gut
(in the crosses). A comfortable, versatile and spin-friendly setup that works for a lot of professional tennis players.
Del Potro's strung racquet specs:
Racquet: Wilson Hyper Pro Staff 6.1 95
Paint job: Wilson Burn FST 95
Length: 27.10 inches
Weight: 367 g
Balance: 31,4 cm
Grip: Custom (HEAD shape) 4 1/2
Lead: at 3 and 9 o'clock
Grip: Wilson leather grip, Wilson over grip
Strings: Luxilon Alu Power (mains) @ 26 kg
and Wilson natural gut (crosses) @ 26 kg
Del Potro's Racquet – Video