Juan Martin Del Potro is a fan favorite on the ATP World Tour and has since his US Open title in 2009 been plagued by injuries. Now he's back. But what is Del Potro's Racquet?
The curious thing about Juan-Martin Del Potro is that he's been reluctant to use so-called paint jobs of his racquets. For a long time Del Potro used a Hyper Pro Staff 6.1 95 with a K-factor Six-One 95 paint job despite that the model was out of stock, which I'm sure felt very strange for Wilson. Now it seems he's agreed to sport at least another paint job with something that looks like a Burn FST 95 but has PWS (Perimeter Weighting System) so it is very likely still his trusted Hyper Pro Staff 6.1 95. I was fortunate enough to test Del Potro's racquet and can confirm what it is.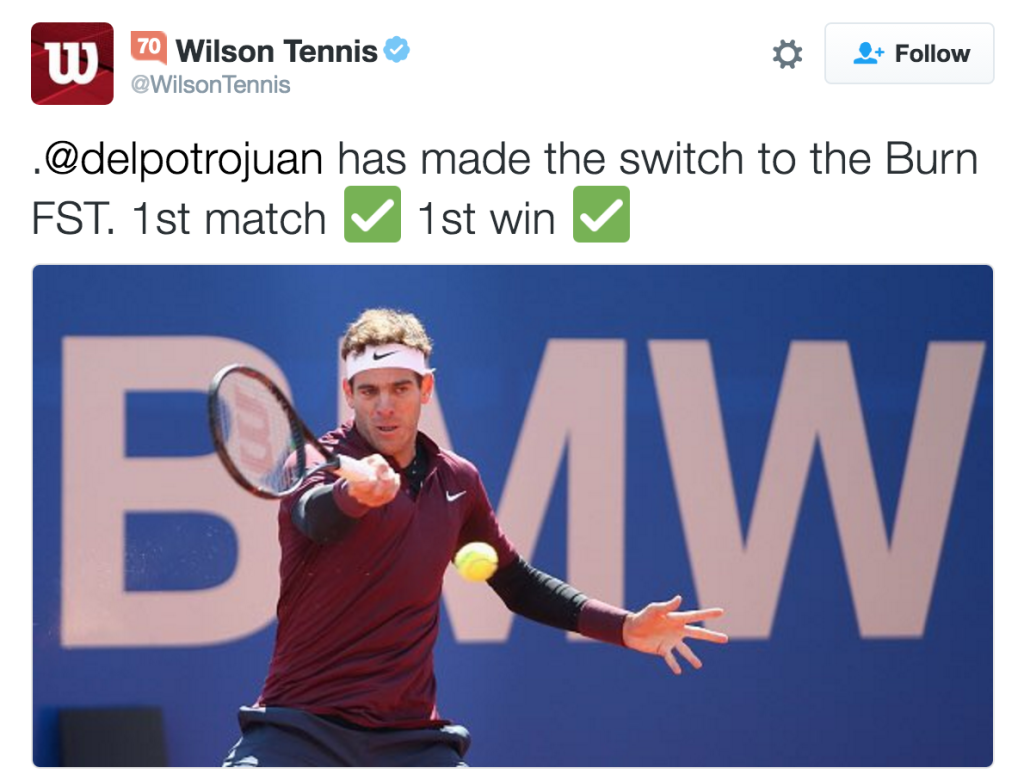 For all tennis nerds and racquetaholics, it's obvious that a Burn FST 95
doesn't have PWS technology. So there's definitely something else underneath the paint.
Del Potro's Racquet – What is underneath the paint job?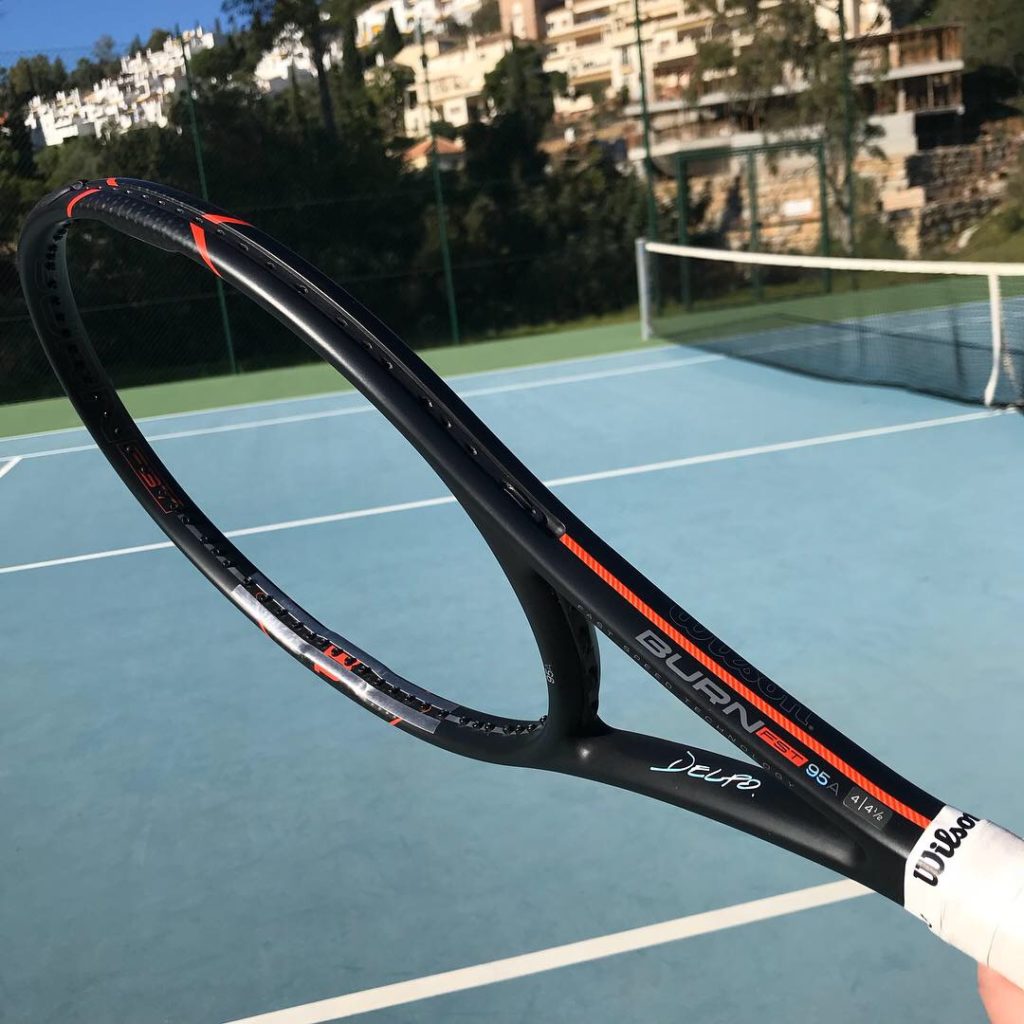 Since Babolat was sued for not being honest about their racquet endorsements, maybe the industry needs to simply be transparent around who plays what. Maybe the tweet above should have read: "Del Potro has made the switch to the cool Burn FST 95 paint"? Nah, not a good marketing move. But why not sell Del Potro's racquet in its actual form and call it the "Autograph version"?
Not that there's something wrong with the Wilson Burn FST 95
. It looks great, is quite spin-friendly (16×19 compared to the usual Wilson Six One 95 string pattern of 18×20) but it can be rather stiff to players with sore elbows and wrist. The 71 strung RA is rather high.
If you're interested in a Del Potro's racquet, but don't enjoy the Wilson Burn FST 95, I'd suggest you check out the recently re-released Wilson Six One 95 (at Amazon here
) which is a real classic among racquet fans and gives you feel and power in a pretty user-friendly package thanks to its head-light balance.
I'm a long-time fan and part-time user of the Wilson Six One 95 and although it can be quite heavy for some players (332 grams unstrung), it truly deserves its legendary status similar to a HEAD Pro Tour 630 (which is what Andy Murray and many other ATP professionals use under paint jobs).
Del Potro's Racquet Specs – Up close and personal
Below are some pictures of Juan-Martin Del Potro's Wilson Burn FST 95
– as you can see it says 18×20 and there is plenty of lead tape
at 3 and 9 on the frame. Del Potro uses a nice blend of Luxilon Alu Power
(in the mains) and Wilson natural gut
(in the crosses). A comfortable, versatile and spin-friendly setup that works for a lot of professional tennis players.
Del Potro's strung racquet specs:
Racquet: Wilson Hyper Pro Staff 6.1 95
Paint job: Wilson Burn FST 95
Length: 27.25 inches
Weight: 367 g
Balance: 31,4 cm
Grip: Custom (HEAD shape) 4 1/2
Lead: at 3 and 9 o'clock
Grip: Wilson leather grip, Wilson over grip
Strings: Luxilon Alu Power (mains) @ 26 kg
and Wilson natural gut (crosses) @ 26 kg
Del Potro's Racquet – Testing it in Marbella
Buy the Wilson Burn FST 95, Wilson Six One 95 or other tennis racquets and gear:
Europe
Racquet Depot
Pro Direct Tennis
USA/CANADA
Do It Tennis
Amazon.com
(Visited 27,215 times, 11,901 visits today)