The Mubadala warm-up tournament in Abu Dhabi is where we can see pro players experiment with racquets. But Denis Shapovalov using the Ezone 98?
It seems unlikely based on his history with the Yonex VCORE 95 ("Shapo" is using the SV 95 version). If you're interested in the various different VCORE 95s, you can check out my comparison video/post here. In Mubadala people have spotted Denis Shapovalov using the Yonex Ezone 98 (as recently reviewed by yours truly). But is it really the Ezone 98 or just a paint job of his old VCORE 95?
How do you find out unless you string his racquets, knows someone who does or work for Yonex? If you have good high-res imagery where you can zoom in and count the string pattern and study the mold of the racquet closely, you might not need long to understand whether he's actually testing the new Yonex Ezone 98 or just endorsing it from 2022.
Is it actually the Yonex Ezone 98?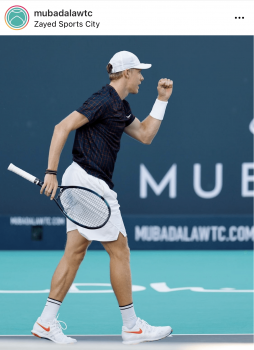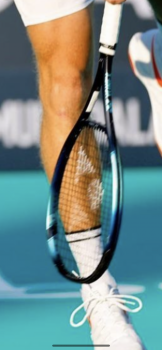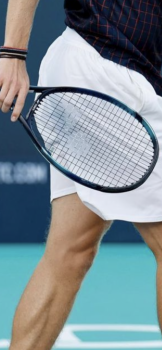 Counting the string pattern, unless I'm drunk, the image tells me it's actually a 16×19 pattern. Also, the racquet mold does look more like an Ezone 98 than a VCORE 95 from what I can tell. Does this mean he is making the switch or just testing something new? That's hard to tell of course, especially since Mubadala Abu Dhabi is an exhibition tournament, but it would be interesting to see Denis with a new racquet in 2022. The trend with both Murray and Shapovalov is that they're looking for bigger head sizes and more power going into the new season. It's pretty clear which direction tennis is going these days, like it or not…
I was quite impressed by the new Yonex Ezone 98 in my review and one of the aspects that I liked the most was the increase in control from the previous version. Maybe this is also what appeals to Denis? Time will tell!
If you want to pre-order the new Yonex Ezone 98, check out my affiliates Tennis Warehouse, Tennis Warehouse Europe and Tennis Only.