Babolat has announced that Dominic Thiem commits to Babolat racquets and strings and extends their partnership. The press release does not say for how long the partnership will be extended for.
On Monday, October 29th, Eric Babolat and Dominic Thiem announced that their partnership will continue and that Dominic Thiem commits to Babolat racquets and strings. According to the press release the contract "represents total confidence in Babolat". Thiem joined Babolat in 2014 and has since used the Babolat Pure Strike with 18×20 string pattern and RPM Blast strings. If you want to know more about Dominic Thiem's tennis racquet, check out this Tennisnerd post.
The story of the Babolat and Thiem partnership is described as below in the press release:
When Dominic Thiem joined the Babolat Team in 2014, he immediately became part of "the family." Passion for tennis provided a strong basis of the "BABOLAT-THIEM" story. What makes the story unique is that Thiem is supported by a group built out of strong relationships,
who all believe in and share human values. Babolat was a natural fit for Thiem, as human values are important and dear to the French brand. The partnership between the player and the French tennis manufacturer has proven incredibly successful: Dominic Thiem has been ranked in the ATP Top 10 for the 3rd consecutive year.
The objectives remain the same: innovate, improve, and win."
Dominic Thiem commits to Babolat Racquets and Strings – Specs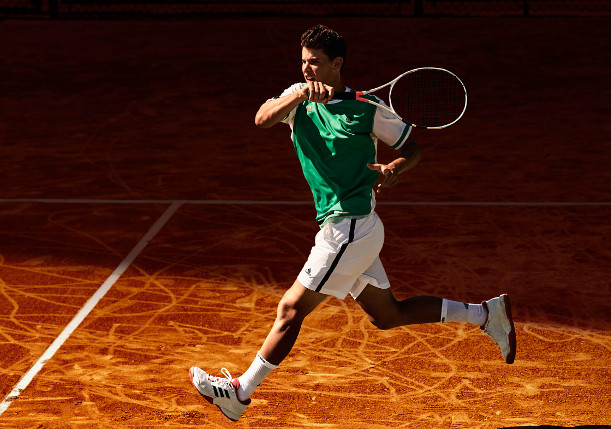 Dominic Thiem is currently playing with a Babolat Pure Strike with the following unstrung specs according to the press release:
Weight: 315 grams
Balance: 32 cm
Swing weight: 311
Strings: Babolat RPM Blast Rough
and Babolat VS 1.30
(tension 25 kg).
As far as I know, Thiem is still playing with the first edition of the Babolat Pure Strike (black/red) in an 18×20 string pattern. This is then painted to look like the new one (white/red), which according to most tennis players is the superior version offering better feel and comfort. But a professional tennis player has his reasons for choosing the equipment he does and mimicking the specs or racquet setup of a pro is rarely a good idea.
What do you think of Dominic Thiem and his racquet? Does he have a chance to become a world number one? Please comment below!