John Isner might go down in history as the guy who won the longest tennis match ever when he beat Nicolas Mahut 6–4, 3–6, 6–7(7–9), 7–6(7–3), 70–68 in Wimbledon 2010, but besides that amazing feat of serving – he's won 10 titles and been ranked within the top ten (currently at #19 in the world rankings). So he's a player that a lot of people look up to (pun intended!). This might make them ask the question: what tennis racquet does John Isner use?
(If you're interested in what racquets other ATP pro's actually use..read this.)
Isner has been a long-time Prince user and before his recent change to a extended Prince TexTreme Warrior 100
 he used an XL-size O3 white (seen in the paint job of an EXO3 black). He's been back and forth with strings, but is currently using the Tecnifibre Red Code
. This setup served him well in Paris Masters and current world number one, Andy Murray, had to use all the shots in his tennis vocabulary to beat him and take the title 6-3 6-7 6-4.
Isner is a lot about his thunderous serve, but also plays a competent baseline game (better than for example Karlovic) and has soft hands around the net. Talking about the serve, it obviously helps to be 208 centimeters (6 foot 10) tall, but his technique is really great too. I found this video illustrating the serve. Disregard the annoying voice…
Here are John Isner's racquet specs according to the website prostocktennis.com where you can also buy an actual racquet of his.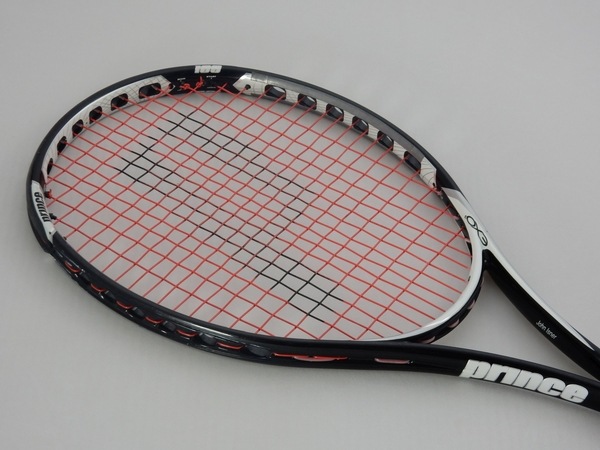 Head size:100 sq. in. / 645 sq. cm.
Length:27.4 in. / 69.6 cm.
Strung weight:12.2 oz. / 346 gr.
Strung balance: 331 mm
Stiffness:59
Grip size:L5 (5/8)
Grip type:Prince Duratec + Tourna Overgrip
String pattern:16 Mains / 19 Crosses
Paint: EXO3 100
Silicone:No
Lead:Yes
Pro stock code:TX151P-100 27 TK4B