China is bringing loads of excellent players to the ATP Tour. Shang beat Shelton yesterday. But what is Juncheng Shang's racquet?
Juncheng Shang's Racquet
Juncheng Shang is only 18 years old, but already nearing the top 100 players in the world. After beating Ben Shelton at the Washington Open ATP 500, he is likely to soon be inside the elusive group of players. I got some questions about his racquet after his rise in the rankings. It's a rare one to see on the ATP Tour.
Juncheng Shang's racquet is the Babolat Pure Drive 98 (click the link for my review)—the more control-oriented option of Babolat's popular powerhouse.  You can tell by looking at the red grommet strip in the pictures.
He uses what looks like Babolat RPM Hurricane, a classic among Babolat strings and a bit softer than the popular RPM Blast.
I don't know if he customizes his racquet in any way (it might not be necessary as the swing weight of the Pure Drive 98 is pretty high) and what tension he uses, but if you have any of this information, let me know in the comments below or via Instagram).
The Pure Drive 98 is a firm and powerful racquet, especially for being a 98 sq inch racquet. It is the update to the Pure Drive VS , and we deemed it a significant improvement here at Tennisnerd. Still, it's quite firm and players struggling with tennis elbow, might need to think twice before using this stiff racquet.
Going for a softer string and/or lower tension is usually the way to go for these firmer racquets.
What's in the future of Juncheng Shang?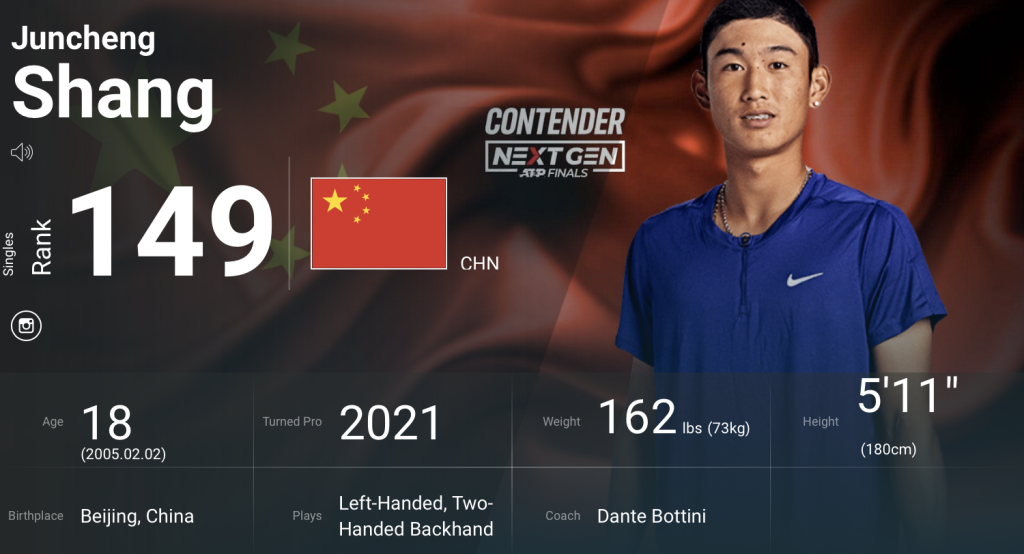 Shang has all the shots and moves well. He doesn't seem fazed by playing higher-ranked players. The potential is significant. One issue could be the height as 180 cm is on the shorter side of the ATP Tour and will affects serve and reach a bit. But he compensates by being an ultra-fast mover and solid returner.
What do you think is in store for Juncheng Shang?