I recently posted about Dominic Thiem getting a signature model made by Babolat and now Head posted above picture on their Instagram account with the caption: "Sascha and our design head can sure be proud of this new beauty. Looks like they are (clap icon). More news coming soon". EDIT: Racquet is now out and it's called Head Graphene XT Speed MP Ltd. Edition and has the following specs:
Strung Specifications of Head Graphene XT Speed MP Ltd
Head Size: 100 sq. in. / 645.16 sq. cm.
Length: 27in / 68.58cm
Strung Weight: 11.1oz / 314.68g
Balance: 13in / 33.02cm / 4 pts HL
Swingweight: 320
Stiffness: 67
Beam Width: 22mm / 22mm / 22mm /
Composition: Graphene XT/Graphite
Power Level: Low-Medium
Stroke Style: Full
Swing Speed: Fast
Racquet Colors: Anthracite / Black
Grip Type: Head Hydrosorb Comfort
String Pattern: 16 Mains / 19 Crosses
Mains skip: NONE
Two Pieces
Shared: 7T,8T,7H,8H
String Tension: 48-57 pounds
There has been numerous questions on tennis forums on what model Zverev plays with. Is it the legendary PT113B that Djokovic has been using so successfully (yeah, he's not playing the Head Speed series, but a racquet from the Ti./iRadical mould) or is it actually the model he endorses – the Head IG Speed MP?
It's very hard to know for sure unless you're working for head or in his team, but the question know is if he's getting a new paint job to his old racquet or if he's actually testing a new signature model for him.
Tennis racquet companies has been lying for years of what racquet the pros actually play, but since a court ruling some time ago they need to be more careful and instead say that they "endorse" a certain model. Like Head does in the below example for Djokovic: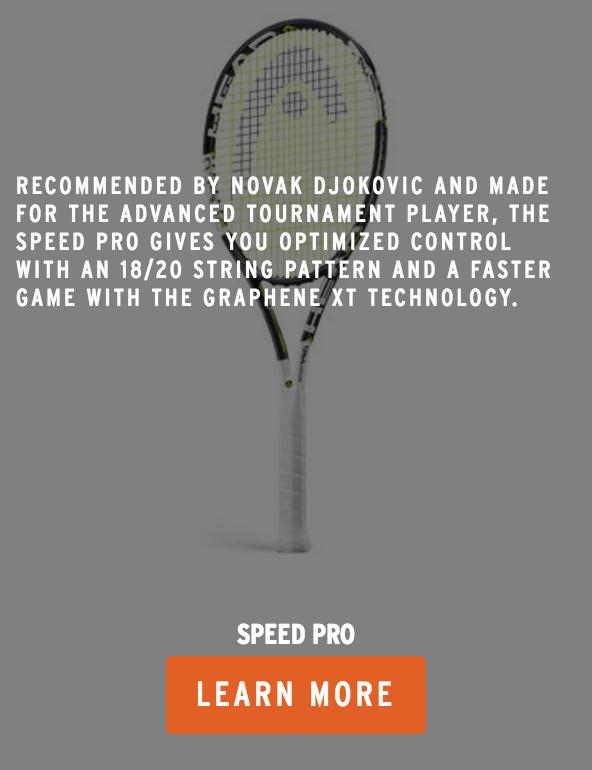 Notice the word "recommend". Djokovic's real racquet is far from the Speed Pro.
Here are the specs of Djokovic's racquet according to the racquet nerds on Tennis Warehouse forums:
Strung Weight: 359g (plenty of lead)
Strung balance: 32.8cm
SW: 370
Flex: 60RA strung
Grip: 4 3/8, custom with side bevels extended making it more rectangular. Uses two overgrips over Head Calfskin. First overgrip wrapped with no overlapping, top overgrip normal.
Lead: placement all around the hoop, under the grommets then continues inside the hoop as shown on pictures.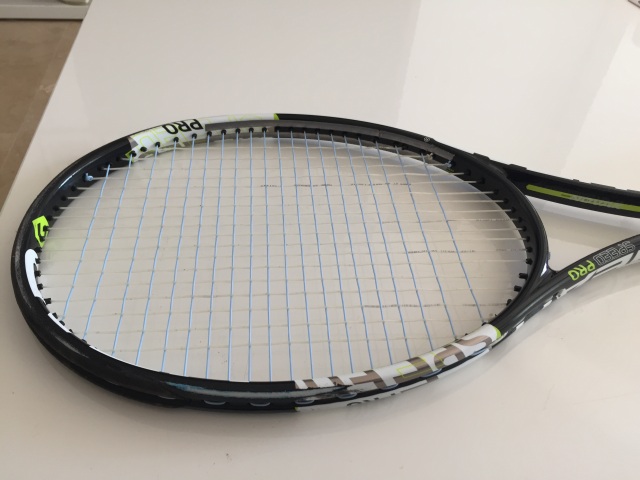 Pic from TT forum poster "NikeUp".
Very few amateur players could comfortably play with a racquet that has a swing weight of 370 which means that no one would buy it despite it being the same model as their hero plays with. Wilson took a slightly different take with Federer's RF97A where they dared to sell a model that weighs as much as it does (340 gr unstrung), still, people bought it.
Then there are of course pro players who play with slightly lighter racquets. The younger guys are simply used to the newer models and although they are surely adding lead tape and silicone, the racquets are lighter than what Federer and Djokovic plays. It's the way the game has evolved, you need to swing faster to get more spin and to be able to swing fast you need less mass, but with less mass the ball is not as powerful so you need to add more stiffness to the frame. This results in light and stiff frames which can be fine for juniors in top shape who hit the ball in the middle of the racquet, but not good for amateurs with poor footwork who shank the ball frequently (Hello, tennis elbow!).
Does Zverev play with the old retail IG Speed MP under a new paint job or the Head Graphene XT Speed MP Ltd. Edition or something else? I don't know. If I do get to know, I will post an update here.
I do know Zverev's string setup however. Here it is:
Mains: Head Hawk Touch
1.25 @24kg
Crosses: Babolat VS Touch
1.30 @25kg