What was Pete Sampras racquet? Sampras used a customized Wilson Pro Staff 85 with natural gut strings that weighed close to 400 grams!
Since there is not much tennis going on at the moment, I wanted to devote some extra time to the legends of the sport and their gear. After having dealt with Andre Agassi in a recent post and video, it only felt natural to write about Pete Sampras racquet.
Pete Sampras used a Wilson Pro Staff 85 for pretty much all of his professional career. The racquet was launched in 1983 and used also by Stefan Edberg, Jim Courier, and Roger Federer. Sampras used Pro Staff 85 racquets from St Vincent (they were also produced in Chicago and China) and had them customized by Priority One.
Pete Sampras Racquet Specs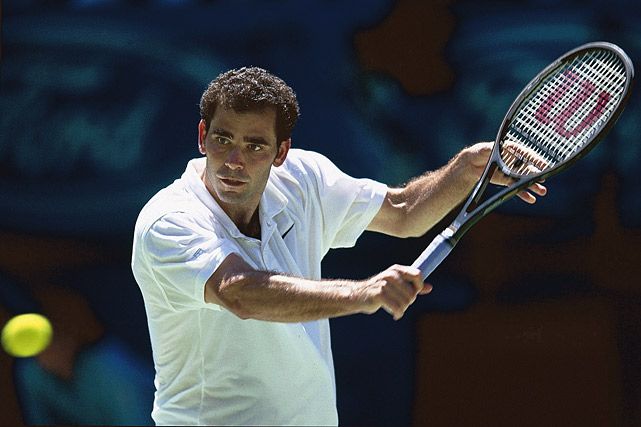 Pete Sampras had lots of lead tape added to his racquet at 3 and 9. He also used power pads, a dampener and strung his racquet with Babolat VS natural gut at 70 lbs or 35 kg tension! His racquets had customized grip pallets and he used a leather grip with a Tourna overgrip. His racquet specs were 384 grams, 32,3 cm balance (6 pts HL) and had a swing weight of 367 strung. With an 85 sq inch head size, the racquet needs a lot more weight to increase stability and power and Pete's racquet was a real weapon. However, it was very heavy to swing and took its toll on his body.
After his career, Pete actually alluded to that he was close-minded not to have considered changing his racquet to something more forgiving. He did do that for his exhibition matches and has since been seen using a Babolat Pure Storm GT with plenty of lead tape at 3 and 9 to increase the swing weight. I am not sure what string he used after he left the Pro Staff 85, but he is definitely using a polyester string.
What Racquet did Sampras use? Video…