Pierre Hughes-Herbert is perhaps more famous for his success on the doubles tour with his countryman Nicolas Mahut, but in the ABN AMRO ATP 500 Tournament in Rotterdam he has just reached the semi-finals, beating Dominic Thiem in the quarters in straight sets after some aggressive tennis and beautiful volleys. This makes all us racquetholics say: "I'm sure the racquet must have somethng to do with it!" So what racquet does Hughes-Herbert use?
Hughes-Herbert is using a Yonex Vcore Tour G 97
in the paint job of the latest Yonex Vcore Tour Duel G 97
. This is a heavy frame that doesn't require much, if any, lead tape added to it. I'm sure he adds some silicone in the handle for that head light, easy-to-volley feel.
When Yonex sponsors a player they seem quite adamant that he/she should use both racquet and string and Hughes-Herbert strings his Vcore Tour G 97
with Yonex Poly Tour Fire 1.25
It will be interesting to see how far Pierre Hughes-Herbert can take his aggressive game also on the singles court. I'm sure playing doubles helps a lot in achieving stable volley and being able to mix it up compared to most players who seem quite attached to the baseline. Hughes-Herbert is currently ranked 109 in the world singles rankings (#2 in doubles!), but I'm sure he will soon be inside the top 50 if he keeps this up.
Pierre Hughes-Herbert is using Lacoste tennis wear
and Nike Vapor Tour 9.5 tennis shoes
.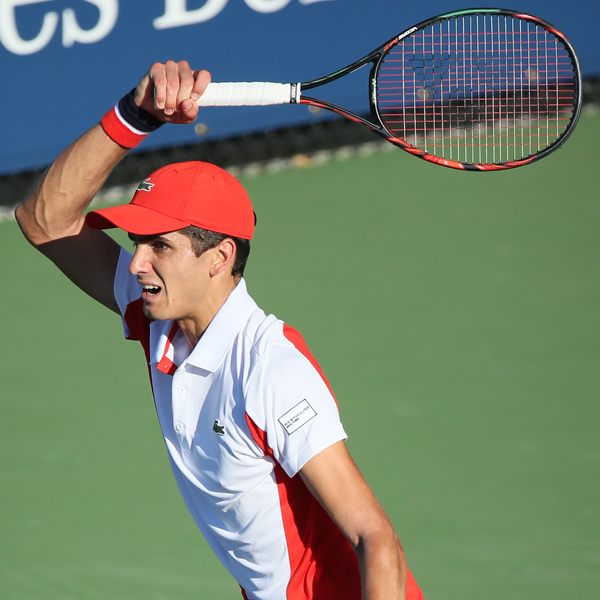 Do you want to find out racquets and gear is used by other tennis professionals on the ATP Tour? Check out this list!