A lot of people wonder about Roger Federer's Tennis Racquet and if you can buy it in the stores. This post deals with Roger Federer Autograph racquet.
Roger Federer's tennis racquet is nothing magical, but his game style and results easily make you think it is. Federer uses his own Wilson Pro Staff RF 97 Autograph
racquet that you can buy in the store. He uses Champions Choice
strings. If you're interested in what racquets other ATP pros actually use…read this post about pro player racquets.
For many years, Roger Federer played with the Wilson Pro Staff 90, a 90-inch racquet with a small but efficient sweet spot. Then after his slumping results and an injury-packed 2013, he decided it was time to make the move to bigger pastures and worked together with Wilson on a new, more powerful racquet, with a bigger beam and a larger racquet head. It became the Wilson Pro Staff Roger Federer Autograph 97
(racquet names ARE getting longer!), abbreviated to the RF97A.

If you want to buy Federer's racquet, check out one of our affiliates, Tennis Warehouse, Tennis Only, Tennis Warehouse Europe.
Roger Federer's Racquet – A signature frame
Federer allegedly worked very closely with Wilson to create his specs and to offer them to the public, instead of using a paint job like Djokovic's racquet and Murray's PT630 (PT57A pro stock code) with a 16×19 string pattern for example. We still have the conspiracy theorists on the tennis forums claiming that what Federer plays with is completely different, but I really believe Federer plays with at least a very close version of the same stick that is being sold to the public. What could potentially be different is the stiffness rating as amateur retail racquets are often stiffer (pros can generate much more power with their swings), but it's hard to be sure. According to Federer himself, he was excited by the idea that offering the public the ability to use the same racquet as he is.
Buy Roger Federer's Gear here.
Roger Federer's Tennis Racquet Customization and Strings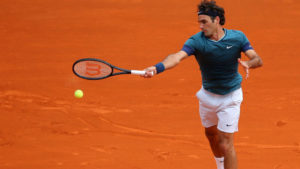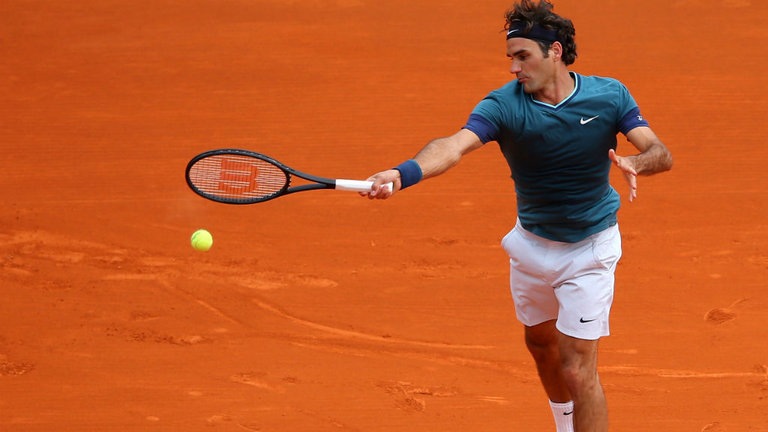 Wilson even wrote the string specs (Wilson's Champion's Choice) on the frame, although they didn't add whether there is any lead tape, string savers or power pads. My guess is that he still uses string savers and power pads and I know that racquet customization company P1 customizes his handle.
The Wilson Pro Staff Federer Autograph is a racquet that requires a lot from the user, but when they bring the goods, the racquet can be a wonderful hit. Like with everything, you need to be honest with yourself if your game benefits from the weight. I'm used to heavy racquets and found it close to magical at times, but after a few sessions, I got some wrist pain that I think is either due to the wrong choice of string or the stiffness of the frame and that's why I moved away from it the end. I do however, suggest that accomplished players give it a serious spin, it's a racquet that can help your game if you're eager to put the work and movement into it.
Roger Federer's Tennis Racquet Specifications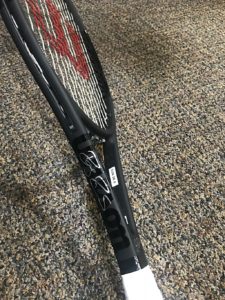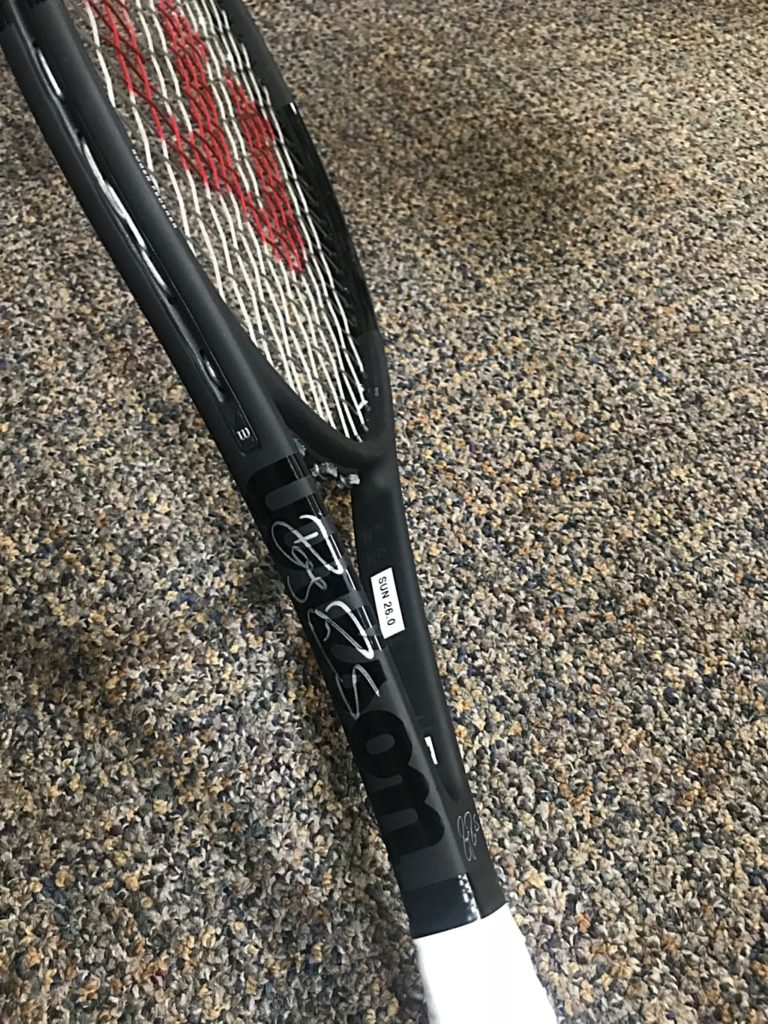 Wilson Pro Staff Roger Federer Autograph 97
Head Size: 97 sq. in. / 625.81 sq. cm.
Length: 27in / 68.58cm
Strung Weight: 12.6oz / 357.2g
Balance: 12.38in / 31.45cm / 9 pts HL
Swingweight: 335
Stiffness: 68
Beam Width: 21.5mm / 21.5mm / 21.5mm /
Composition: Braided Kevlar & Graphite / Basalt Fibers
Power Level: Low
Stroke Style: Full
Swing Speed: Fast
Racquet Colors:Red/ Black
Grip Type: Wilson Premium Leather
String Pattern: 16 Mains / 19 Crosses
Mains skip: 7T,9T,7H,9H
One Piece
No Shared Holes
String Tension: 50-60 pounds
Federer's actual specs (no lead added, just a slightly heavier batch)
Weight: 12.9 ounces / 366 grams
Balance: 31.5cm / 9 pts HL
Stiffness: RA 68
Swingweight: 340
What are your thoughts about the Wilson Pro Staff 97 Roger Federer Autograph? Does it entice you? Please comment below!
***
Do you like Tennisnerd? Don't miss a word or video by stalking us on social media. Every like and follow is appreciated!

YouTube
Instagram
Twitter
Facebook Page
Amazon Influencer