American 25-year-old Ryan Harrison was hailed as a great promise a few years ago, but after a string of disappointing results followed by injuries, most tennis fans seemed to have forgotten about him. But now he's back at the top of people's minds again after reaching his first ATP final in Memphis Open. Harrison is a long-time Babolat user, but he's not using the racquet he's endorsing.
Harrison used to be endorsing/playing the Babolat Pure Drive, but has recently moved to a Babolat Pure Aero VS
 which he strings with a hybrid of Babolat VS Touch
(natural gut) and Babolat Pro Hurricane Tour 17
.
Harrison has a big-hitting game and started out with the orange/black Babolat Pure Storm (which was an excellent frame), moved over to a Babolat Pure Storm Ltd GT and has reportedly then used the Babolat Pure Drive and now recently the Babolat Pure Aero VS (the old Aero Storm mould).
What has remained consistent is his string setup, but other than that he seems to have experienced with different frames. I would originally have thought this was just paint jobs, but in Harrison's case it actually seems like he did try a bunch of different frames. Finally he seems to have found his home with a setup. Let's see what he can accomplish in today's final against another big hitter, Nikoloz Bashilashvili (who by the way is still using a really old Head Prestige model in new paint!).
If you want to get a racquet very similar to the Babolat Pure Storm Ltd, I would recommend the Babolat Pure Control
 or Pure Control Tour
, while it's still available. The control racquet type is moving towards extinction so make sure to grab one while they're still around.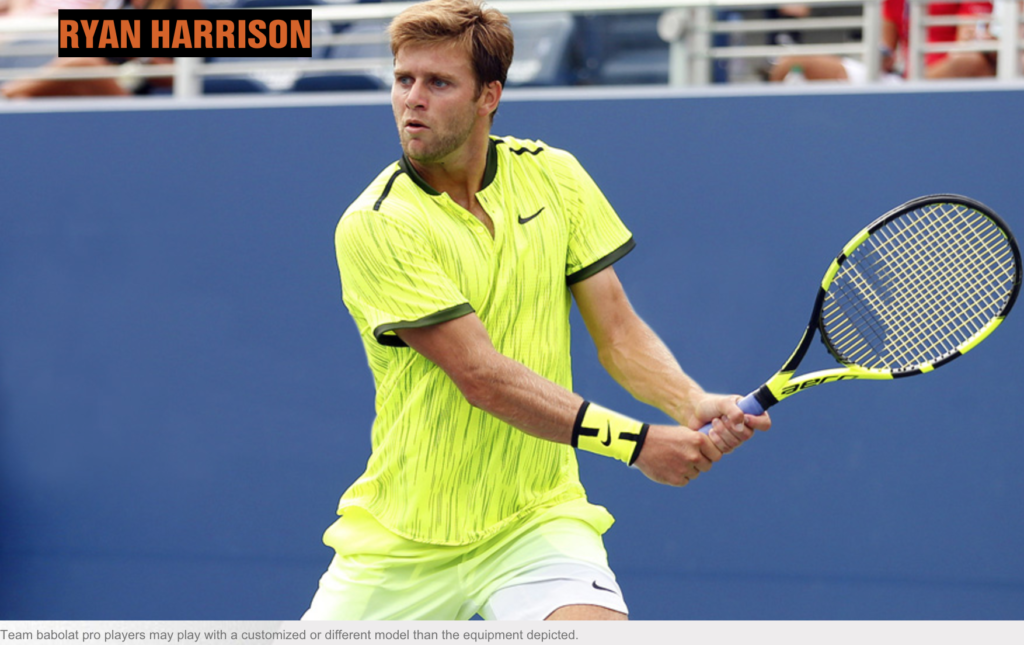 Notice the writing at the bottom of the picture: "Team Babolat pro players may play with a customized or different model than the equipment depicted." This is now a necessary text for most racquet suppliers since the pro's actually rarely use the racquet they endorse. And this is one of the things Tennisnerd is more than keen on pointing out. It doesn't mean that the racquets sold in stores are bad, it just means that you should always take advertising with a large chunk of salt.